From a censored artist who is afraid to get messy, to a rape victim-turned vigilante, director Natalia Leite and writer Leah Mckendrick aren't afraid to bare all in their unconventional movie M.F.A. (KIZJ: 3.5/5)
Review by FF2 Associate Katusha Jin
"Noelle" (Francesca Eastwood) is a young painter, who hides under her hoodie and draws rigorously in her sketchbook. Despite this innocent setup, director Natalia Leite is quick to plunge the movie into an uncomfortable, foreshadowing tone with Sonya Belousova's pulsating, electric music.
Whilst struggling to find a topic for her master degree thesis, the naïve artist is distracted by "Luke" (Peter Vack), an attractive boy in her class and is flustered when he invites her to a party at his place. Unsure of whether she is "trying too hard", Noelle consults her roommate, "Skye" (Leah Mckendrick), who assures her that "trying" is a good look. Noelle dresses in a gently suggestive, beige dress, and turns up at Luke's party. It isn't long before their drinking and artistic discussions take them up to the bedroom. The scene quickly escalates from a cute kiss between an attractive boy and a flustered girl, to a horrific, animalistic rape. This moment creates an indelible mark in Noelle's life.
Noelle, both scarred and hurt, takes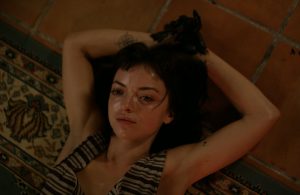 her leave and jumps into her pool in an attempt to wash herself clean. Skye finds her the next morning and is quick to notice that something is off. As Noelle describes her awful night, Skye reassures her that she believes her account, but dissuades her from telling anyone else. Nevertheless, Noelle approaches the school counselor, but is questioned in return and made to feel guilty instead. Distraught by the unjustness of the situation, Noelle turns up to Luke's place to confront her attacker and ask for an apology. However, things don't go according to plan, and in self-defense, Noelle pushes Luke off his bannister from the second floor.
From this point onward, M.F.A. takes on a completely different turn, becoming a witch-hunt for the murderer of past rape offenders. "Kennedy" (Clifton Collins Jr.) is the leading detective on the case and follows Noelle closely. So much had been done to bury past rape cases, whereas a murder case is investigated so thoroughly. This injustice propels Noelle to take on the responsibility to hunt down other rape offenders.
Francesca Eastwood gives a thrilling performance. Even when the writing sounds skeptical at best to the audience, Eastwood manages to ground the stirring emotions of the story to its intended shocking nature. The music by Sonya Belousova is incredible in creating a gripping sensation throughout.
Natalia Leite's portrayal of a character's emotional growth through painting was sensual, dirty, exposing, and raw; all of these appropriate for Noelle's journey. However, the comments from various students about her art comes across as comical, and the script should have left more space for silence. The soapy dialogue challenges the believability of the story, but I appreciated Leite's stylistic choice of incorporating art into expressing the trauma of rape, particularly in a system skewed against so many unspoken victims.
© Katusha Jin (10/14/17) FF2 Media
Top Photo: "Noelle" (Francesca Eastwood) at a party.
Middle Photo:"Noelle" (Francesca Eastwood) on her apartment floor looking at her changed artwork.
Bottom Photo: "Noelle" (Francesca Eastwood) reaching for a hammer on the male shower-room floor.
Photo Credits: Eilene Beniquez
Does M.F.A. pass the Bechdel-Wallace test?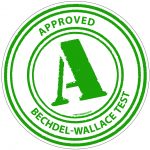 Yes.
There multiple moments where  is a moment where "Noelle" (Francesca Eastwood) and her roommate, "Skye" (Leah Mckendrick), discuss matters, such as what Skye did over the weekend, and what clothes are appropriate for a party.