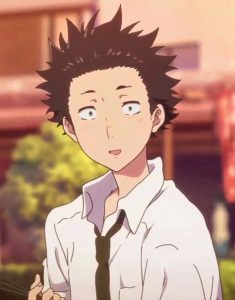 When a young boy decides to bully the new deaf girl in class she transfers elementary schools and the rest of the class turns on him. Years later, this same young man is determined to find the girl he bullied and make amends for the terrible things he has done. Based on Yoshitoki Oima's manga of the same name, Naoko Yamada's A Silent Voice (Koe no katachi) tells a moving story of friendship and redemption. (RMM: 4/5)
Review by FF2 Intern Roza M. Melkumyan
In the opening scene of the film, "Shoya Ishida" (Miyu Irino) prepares to commit suicide going so far as to step onto the rail of a bridge. Coming to his senses at the sound of fireworks in the sky, Shoya steps back off of the railing onto the bridge and relives his memories of the sixth grade and the arrival of "Shoko Nishimiya" (Saori Hayami), a new student. Shoko, nearly deaf, uses a notebook to communicate with the other students, who don't know sign language. In the beginning, some classmates hesitantly write in the book and try to befriend Shoko. One student, "Naoka Ueno" (Yûki Kaneko), even helps her take notes.
The other students soon grow tired of trying to communicate with Shoko, and say hurtful comments about her, knowing that she can't hear. Shoya has trouble understanding her and does not like Shoko from the beginning. Despite his clear disdain for her, Shoko continues to reach out to Shoya in an attempt to become friends. Frustrated and still confused by the deaf girl, Shoya leads the class in bullying her relentlessly: he trips her in the hallways, writes mean words in her notebook, and rips her hearing aids out of her ears–injuring her–before throwing them away. Though Shoko has borne this harsh treatment, the loss of several pairs of hearing aids, which are expensive, and the physical and emotional pain her classmates have caused lead her mother to pull her from school. The class and teachers collectively blame Shoya despite their participation in his cruel treatment of her, and begin to bully him in the same way.
Once ostracized from his classmates, Shoya carries the guilt of his past actions into high school where he has no friends. Feeling this is a justified punishment, he does not look into the eyes of his classmates or try to make friends with any of them. Shoya brings Shoko's old notebook to her as an excuse to see her. Startled by the presence of her old bully, Shoko is surprised to learn that he has learned sign language in order to communicate with her.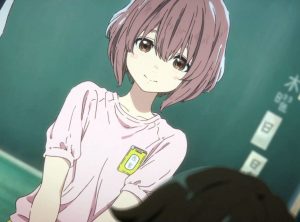 One day, Shoya helps a classmate, "Tomohiro Nagatsuka" (Kenshô Ono), fend off a student who tries to steal his bike. Shoya offers his own instead, pacifying the student, who then steals his bike. Later that day, Nagatsuku returns the bike to Shoya saying he found it in an abandoned lot. The two strike up a friendship, and Nagatsuku drags Shoya around to his favorite places. The next time Shoya visits Shoko, a young boy blocks the doorway and bans him from seeing her. Shoya decides to speak with Shoko regardless and later discovers that the boy is, in fact, Shoko's younger sister "Yuzuru Nishimiya" (Aoi Yûki). Yuzuru knows about Shoya's past with Shoko, and worries that her sister will get hurt again. Shoya makes it clear to both Nishimiya girls that he only wants to be friends and make up for his past actions, and the three, along with Nagatsuku, begin to spend more time together.
After Shoya helps Shoko connect with her only friend from elementary school, "Miyoko Sahara" (Yui Ishikawa), the three run into Ueno who makes it clear that she blames Shoko for Shoya's alienation and suffering. Though suspicious of Ueno's intentions, Shoya focuses on mending his past and current relationships. With an increasing circle of friends, it seems that Shoya is finally able to eradicate his shame as he learns to enjoy life more. However, the memory of the past remains strong and Shoya, along with the other characters, must learn to forgive themselves for their past actions.
A moving story of love and redemption, A Silent Voice focuses not only on Shoya's journey to becoming a better person, but on various other characters, including Shoko and Yuzuru, who learn that their actions affect others. In their adaptation of the manga, director Naoko Yamada and writer Reiko Yoshida explore what it means to take responsibility for one's actions, touching on themes such as bullying, disability, guilt, and misunderstanding while weaving in an endearing story with characters that the audience can sympathize with. Though the plot moves too slowly at times, the compelling characters keep the audience invested. Moments of genuine humor mingle with the serious issue of teen angst and suicide making for a film that deals with taboo issues with forthright honesty.
A Silent Voice's beautiful animation of lush cherry blossoms and sparkling rivers bring light and color to a story heavily tinged with pain and sadness. Characters search for the meaning of life and friendship in this film which takes a look at the troubles that teenagers face. This film is worth a watch.
© Roza M. Melkumyan (10/20/2017) FF2 Media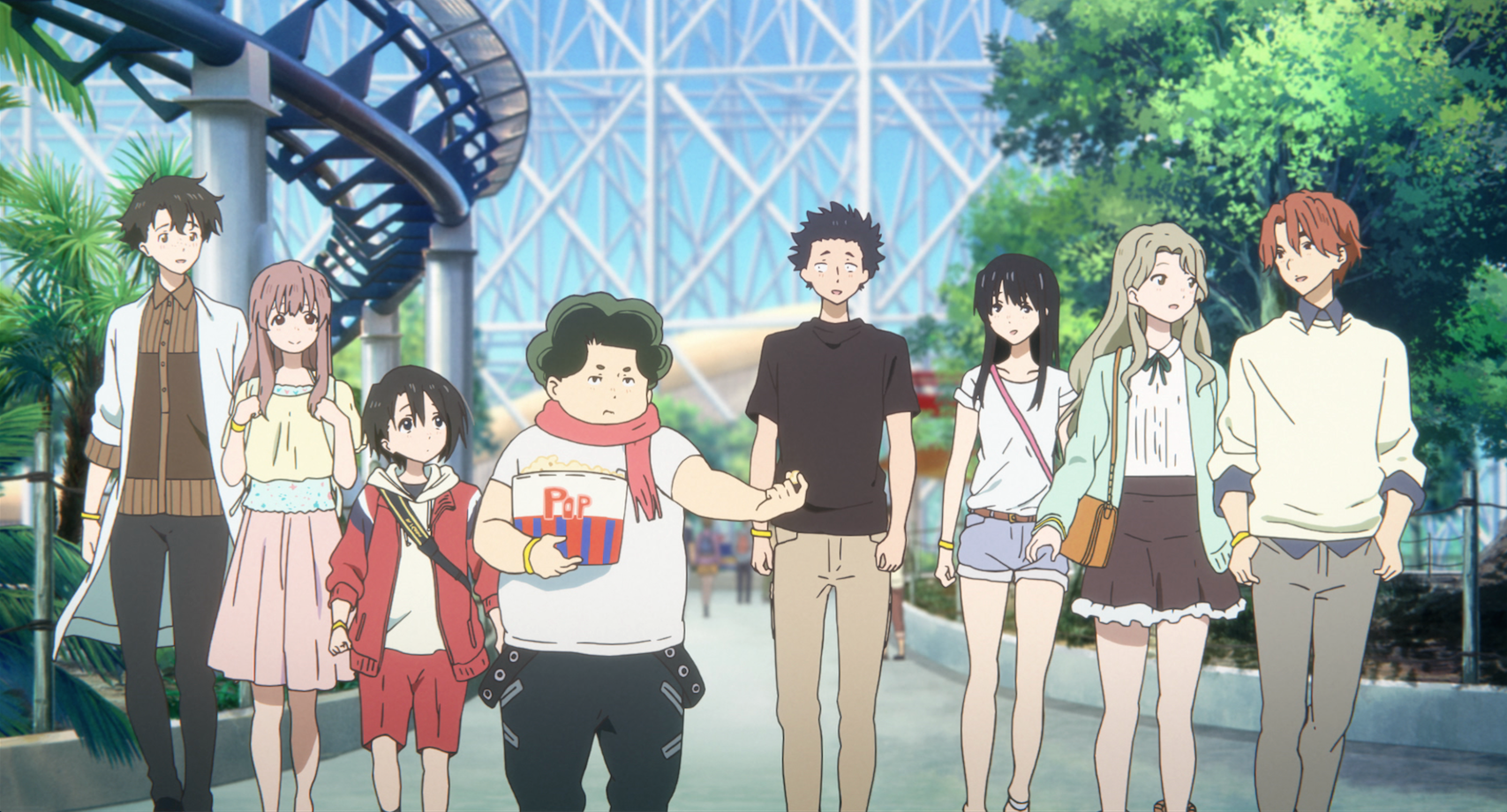 Top Photo: Shoya accepts a gift from Shoko.
Middle Photo: A young Shoko introduces herself to a classmate.
Bottom Photo: Shoko, Shoya and friends spend a day at the amusement park
Photo Credits: Eleven Arts
Q: Does A Silent Voice pass the Bechdel-Wallace Test? 
Yes.
For example, Yuzuru speaks to her grandmother, "Ito Nishimiya" (Ikuko Tani), about Shoko's wellbeing.