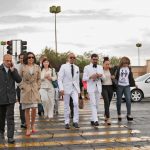 Director-screenwriter-producer Cristina Herrera Borquez documents Victor and Fernando's battle to becoming a legally married gay couple in her film No Dress Code Required. Originally titled Etiqueta No Rigurosa, this documentary spans over a few years where the couple's love and hope for a licensed recognition, turns into despair and disappointment, which then becomes a mission and duty. (KIZJ: 4/5)
Review by FF2 Associate Katusha Jin
Victor and Fernando are a loving gay couple who run a beauty salon located in Baja California, Mexico. Fernando was born into a lower-middle-class family in Sinalua Guasave. Although he came from a healthy family, he still had issues fitting in with the other children, especially boys, his age. He recollects playing with his sister's dolls and giving them makeovers secretly. He does admit, however, that that people around him knew he was gay very early on, even before he did. On the other hand, Victor grew up in a family with eight children, with only their mother to take care of them. He was raised in Mexicali Valley, Guadalupe Victoria City, and spent his days working in the fields with his mother to make money for the family. He described their living conditions as being "very poor" and they moved around so often that they were nicknamed "the circus family".
Borquez takes their story from their childhoods, to their experiences coming out and growing into young adults. She chronicles their initial meeting at a bar, and how it grew into the powerful bond they are willing to challenge their government for. After having prepared countless brides-to-be for their special day, a day came in 2013 when they decided it was their turn to get married.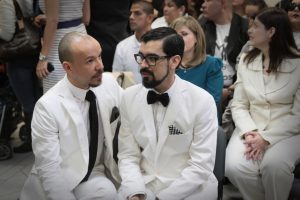 Although the Mexican Supreme Court recently ruled gay marriage as being legal, Victor and Fernando reside in Baja California, where the governor and mayor of its capitol, Mexicali, oppose gay marriage. Desperately wanting their union to be accepted legally in their home state, the couple abandons any plans of marrying in Mexico City and stay in their hometown to fight for the recognition of their love.
The encouraging feeling at the start takes on a heavy turn when the couple gets rejected time after time due to reasons that are progressively more ridiculous than the previous. The reasons are explained heartbreakingly, citing that a man is unable to produce life, and that gay couples ruin the meaning of a family.
Although the camerawork is shaky, the nature of a documentary is recording real life events, which this film does very well. The music by Gustavo Pomeranec is light-hearted and simple, but it keeps us hanging on for hope with its repetitive theme; it is perfect in preventing the documentary from becoming a drama. Juggling not only the position of a director, screenwriter, and producer, Borquez also shares the title of editor and director of photography with Javier Campos Loez and Cristina Flores Valenzuela. For much of the first portion, the film feels more like a biographical retelling of the couple's childhood and how they met. The really interesting part isn't until the government interferes and takes over-the-top measures to prevent a gay marriage. In terms of storytelling, No Dress Code Required loses its spark during its lead up to the final conclusion, but as a documentary of an ordinary couple's fight against the inequality of rights, the movie is promising. Borquez is a talented filmmaker who has pieced together a real-life fairytale.
© Katusha Jin (11/03/17) FF2 Media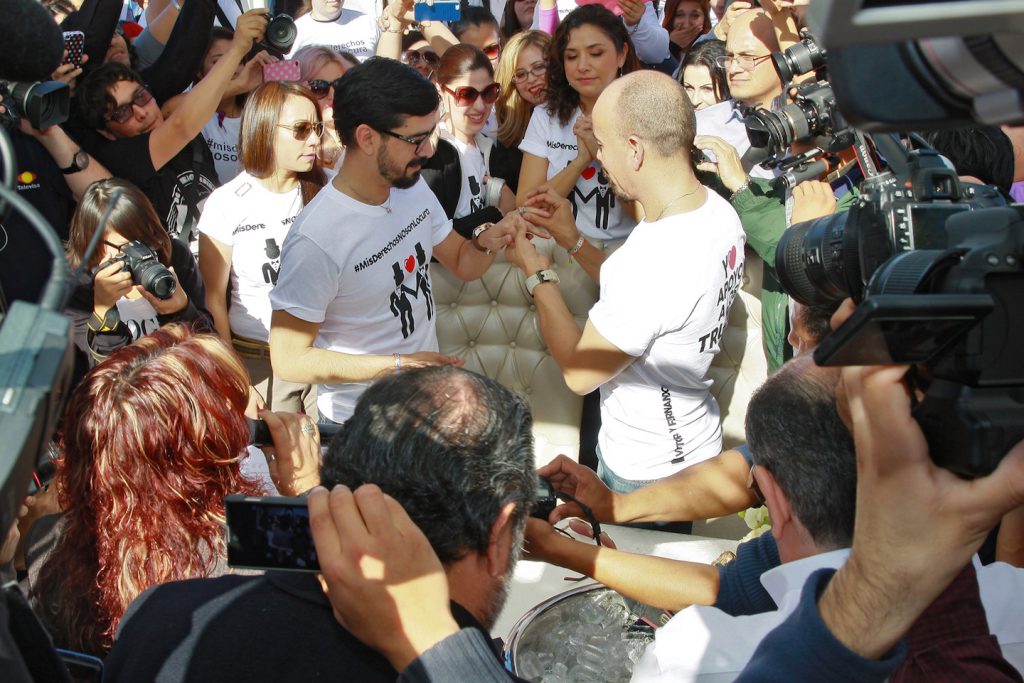 Top Photo: Victor and Fernando on their way to their first marriage appointment.
Middle Photo: Victor and Fernando waiting to be married.
Bottom Photo: Victor and Fernando finally at their ceremony.
Photo Credits: Outside Pictures
Does No Dress Code Required pass the Bechdel-Wallace test?
No.
There is a short moment where a female witness comes up to sign a document and asks a government official where to sign. However, this is barely audible and is also off-screen. The movie is about a gay couple with two male lawyers, so it makes sense that there isn't much dialogue between women that is not about men.