Big Sonia, co-directed/produced by Leah Warshawski, tells the life story of Sonia Warshawski (Leah's Grandmother), a Holocaust survivor with a heart of gold, a loving family, and a small tailoring shop named John's. This heartfelt documentary simultaneously tells the tragic story of Sonia's life during the Holocaust, and the happy life she was able to build for herself in Kansas as an adult. Complete with beautiful, heartfelt interviews of family and adoring friends, and colorful animation that uniquely displays the more terrifying moments of Sonia's past, Big Sonia is a poignant documentary capturing a story everyone should hear. (RAK: 5/5).
Read FF2 Media interview with Leah Warshawski HERE.
Review by Rachel Kastner
Sonia Warshawski is a colorful old woman, the kind of lady who takes pride in her hair, makeup and outfits. At the start of the documentary, she sits in front of a microphone in a recording studio, for an interview with NPR in Kansas. The interviewer asks how well she remembers her experiences. Sonia responds, "It never will leave me, and it's really a long story…It was a miracle."
But Sonia doesn't strike you as someone who survived concentration camps. Her colorful look matches her happy smile and big personatlity. In a small drive-in mall in Kansas City, Sonia runs a tailor shop, named John's. Flowers, sequins, beautiful colored scarves and fabrics line the walls and tables. John's is the only functioning store left in the mall, but you wouldn't know that if you were standing inside Sonia's shop. The customers keep coming in. Sonia greets every single one with a cheery disposition. Interviews with some of the customers gives a glimpse into just how special Sonia is. Some of them have been coming to Sonia for over 25 years!
Sonia explains that when it is a slow day, she doodles. She pulls out tens of doodles to show the camera. This is when the animation begins. Seamlessly, Big Sonia employs animation throughout the documentary. Often, the animation sequences follow Sonia's stories of her past. The light, happy music and bright animations keep us from falling into the tragedy of the past. Sonia describes doodling as a therapy for her, and this is how the film employs it as well. The animations make it easier to listen to Sonia describe her traumatic childhood.
We are witness to Sonia's testimony of her childhood as a 13-year-old in Poland. "If there is Hell I was in that Hell." We watch animations of her as the war took over her life, and as Sonia's voice narrates, we learn that Nazis found her family while they were in hiding. Her brother and father were killed, her little sister ran away, and she and her mother were sent to concentration camps. Sonia becomes emotional as she explains the horrors she witnessed as child. The store functions as a distraction of sorts. Sonia keeps herself busy so as not to think too much about the past. That is why she is so driven to fill her life with color, flowers, and people. 
But Sonia also has committed herself to telling her story. The documentary follows Sonia as she goes to middle schools, correctional facilities and other public events to speak about her experiences. Sonia is the only Holocaust survivor in the Kansas City area who is speaking out. The immense importance of Sonia's work is palpable. Interviews with some of the kids who have heard her speak show that they were very moved by her. She has a special way of relating to people of all ages, creeds, and cultures. Unlike other documentaries about survivors, where the audience might sometimes feel like the camera is an unwanted presence, Sonia makes the viewers feel welcome in her shop and in her home. With ease, her interviews draw audiences in, and offer them intimate and special details from her past.
Leah's film makes it clear how much Sonia fiercely loves her family and her business. So when Sonia gets a letter informing her that her lease is being cancelled and that she will have to give up her store, her family and the community are worried about her. Her daughter says its the most important thing in her life. How will she do without having that? She's been so driven by it.
Sonia explains that she has been through worse things in her life, and she knows she will be able to survive this. And we believe it. Because if Big Sonia was able to capture anything, it is that Sonia Warshawski has an appreciation and love for life so strong that nothing can bring her down.
One of the most moving scenes of the documentary shows Sonia visiting a local prison — Lansing Correctional Facility — to speak to inmates about her experiences. She talks to them about what she went through, and it is clear that they are touched. Her experiences during the most harrowing moments of history, and her ability to stand up and do good in the world for herself and her family, are inspiring. The interviews with the inmates following her speaking session are some of the most heartfelt moments of the film. One of the inmates, Cetewayo, says that although sometimes he felt pity for himself, after hearing that Sonia could survive Hitler and her awful childhood, and could still contribute in the world, he knew he could too. She tells them, "It is what you are inside, not to judge someone by how they look, or what is your religion, but as a person, what kind of person you are."
Big Sonia is a gift to anyone who watches it. The story alone is enough. Sonia has survived bullets, deaths of family members, concentration camps, yet she maintains a beautiful flower garden, puts her makeup and hair together every morning, and goes on. Sonia's ability to be happy even after all she has gone through is a testament to the human ability to find good in life.
Leah Warshawski's film tells her grandmother's story in a colorful and inspiring tone that matches how Sonia lives her life. The score, animation, and interspersed interviews make watching the film a pleasure. This documentary is a beautiful way to keep Sonia Warshawski's memory and message alive. If you can get to this film, I urge you to see it!
© Rachel Kastner (11/19/17) FF2 Media
Top Photo: Sonia at home.
Middle Photo: Sonia in her garden
Bottom Photo: Sonia with directors Todd & Leah.
Photo Credits: Leah Warshawski © 2016 Inflatable Film LLC
Q: Does Big Sonia pass the Bechdel-Wallace Test?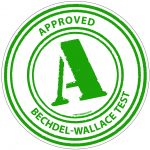 Yes!
In the initial NPR interview conducted between a female interviewer and Sonia, the two women are speaking about Sonia's life experiences, her shop, and the family she lost in the Holocaust.
SaveSave