Written by Susan Coyne based on a book by Les Standiford, The Man Who Invented Christmas re-imagines the classic novel A Christmas Carol. In mid-19th century London, "Charles Dickens" (Dan Stevens), having just published three unpopular novels in a row, has to write a new story to save his growing family from debt. He comes up with the familiar story of the miserly Mr. Scrooge and the ghosts who teach him the importance of kindness and generosity. If he wants to finish the story, Dickens has to learn some of those same lessons himself. Though not as full of fantasy and pathos as the original story of A Christmas Carol, Dickens's personal journey makes for a charming Christmas movie. (AEL: 3.5/5)
Review by FF2 Intern Amelie Lasker
Dan Stevens plays a frazzled and passionate "Charles Dickens." After the publication of his novel Oliver Twist, Dickens was an adored public figure, but now a slew of uninspired novels have disappointed his readers. With home renovation expenses piling up, a father who spends money naively and frivolously, and another child on the way, Dickens is under a lot of pressure to write something good. Out of desperation, he decides to put out his next novel himself, and to finish it in just a few weeks.
London used to be Dickens's creative source, but now he is only disgusted with his city and the cynical people in it. From the wealthy and selfish strangers he encounters, Dickens creates the character of "Mr. Scrooge" (Christopher Plummer). Scrooge is grumpy and friendless, and nothing matters to him but money. He materializes in front of Dickens and shows him the classic story we know, in which a heartless old man who is visited by magical visions on Christmas Eve.
The story doesn't unfold so easily for Dickens. He finds himself haunted by his own dark past, and isolated from his family and friends, just like his character Mr. Scrooge. Dickens has to deal with the darkness of his childhood in order to overcome his own selfish tendencies and connect with the people around him.
Set in a classic and charming 1840s London, and with a dark and foggy color palette to match, The Man Who Invented Christmas is warm and fun, especially for children. Dickens's wife "Kate" (Morfydd Clark), and their young new Irish housemaid "Tara" (Anna Murphy), although flat as supporting characters, add to writer Susan Coyne and director Bharat Nalluri's imaginative story of kindness and generosity.
© Amelie E. Lasker (11/27/17) FF2 Media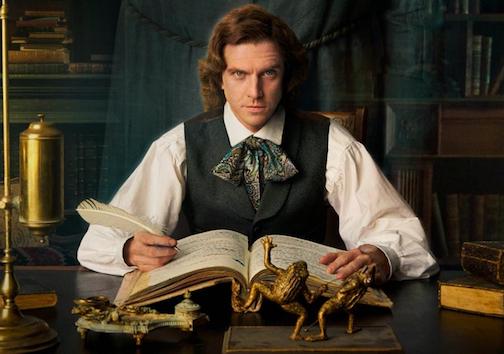 Top Photo: Dan Stevens as "Charles Dickens" and as Christopher Plummer as "Ebenezer Scrooge."
Middle Photo: Dan Stevens as "Charles Dickens" and Morfydd Clark as "Kate Dickens."
Bottom Photo: Dan Stevens as "Charles Dickens."
Photo Credits: Bleecker Street Media
Q: Does The Man Who Invented Christmas pass the Bechdel-Wallace Test?
No.