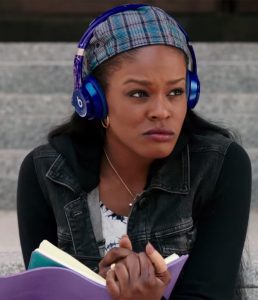 When an aspiring rapper enrolls in a poetry class to fulfill a credit requirement, she thinks it will be easy. However, her professor challenges her to write with meaning. Director RZA and writer Nicole Jefferson Asher deliver a film that fails to reach its full potential, as sequences of rap battles and poetry slams leave the audience wanting something more hard-hitting. (RMM: 3/5)
Review by FF2 Intern Roza M. Melkumyan
In a boxing ring surrounded by cheering spectators, aspiring rapper "Coco Ford" (Azealia Banks) has just won another rap battle. At the after party, Coco and her rap-group approach a recording artist hoping to advance their careers. When he dismisses them with the critique that they haven't adequately displayed their talent, a headstrong Coco returns to strike a deal: the group has three months to create and submit three music demos to prove their potential.
Determined to realize her dreams, Coco tells her mother, "Nichelle" (Lorraine Toussaint), that she needs to put her college education on hold while she works on new music. In an overused maneuver to advance the plot, Nichelle leaves Coco no option but to manage both her education and her budding career at the same time.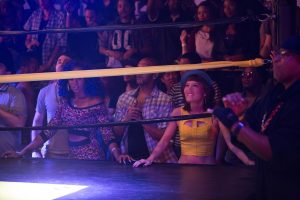 At the suggestion of her friend "Julie" (Hana Mae Lee), Coco enrolls in a supposedly-easy poetry class. Coco haughtily insults the Teacher's Assistant, "Derek" (Lucien Laviscount), but as she soon discovers, "Professor Dixon's" (Jill Scott) class is anything but easy. She does not just teach poetry, she "lives poetry" and dislikes both Coco's attitude towards the artistic medium and her affinity for rap music.
Though Derek initially shares Dixon's disinclination towards Coco, he soon sees her potential and sets out to help her. He takes her and a group of students to a local slam poetry club led by Dixon's husband and poet, "Coltrane" (Common). A new lyrical medium to her, slam poetry strikes Coco with its power, passion, and consciousness. With Derek's continued guidance, Coco begins to write more personal and meaningful poetry. The deadline for the demos is fast-approaching and Coco wants to move into a new lyrical direction fueled by her poetry. As expected, the group resists, offering Coco another obstacle that she will undoubtedly shatter by the film's end. Add in the inevitable romantic advancement of Coco's relationship with Derek, and the film has delivered its clique quota.
Amidst the colorfully graffitied streets, the gritty, beat-filled arenas, and the dimly lit poetry clubs, something is missing in Love Beats Rhymes. One seeks profundity, but it is nowhere to be found. Here sit two very compelling topics, rap and poetry, that are not often put into dialogue with each other, and the film does not give them space to fully inform each other and make each other better. I want the power of spoken word to hit me, but it holds back from delivering something genuine and profound. Although much of the film lives in poetry slams and rap battles, it doesn't deliver artistically. I have seen real slam poetry that knocks you over with its sharp words and passionate messages and I have listened to rap music that transports you to the world of the the artist and makes you feel the beat inside you. Love Beats Rhymes, however, takes these rich areas of artistry and only scrapes the surface of the meaning and the emotion that they can offer. Even though Derek delivers his final poem and proclamation of love earnestly, its weaknesses are twofold; the sparsely spaced sentences make for a stilted poem while Derek's relationship with Coco has not developed sufficiently for the poem to deserve its bold content.
Director RZA and writer Nicole Jefferson Asher offer a very cool area of artistry in their narrative, but fail to do it justice. A dynamic and little-discussed topic, the poetry of rap, is trapped within the cage of a formulaic plot. A girl wants to follow her musical dreams but feels she can't break free. Enter love interest, who adds romance to her life while guiding her to her goal. Azealia Banks' often flat delivery of lines makes for cringe-worthy scenes that fail to engage the audience. When she shares a romantic moment with Derek on a boat, not even Lucien Laviscount's expressive eyes can save the scene. On the other end of the spectrum, Jill Scott's Dixon borders on cartoonish as she breathes every line as though she were performing in a one-woman staged production. It is perhaps excusable for her to make her first class appearance this way, with a flourish of the arms and the assertion that she "makes loves to poetry" so as to make an impression. But the heavy-handed drama in her voice stales as it encroaches upon every subsequent conversation. The development of her character's takes a backseat to her larger-than-life persona.
Love Beats Rhymes tries, but it doesn't quite deliver. Perhaps most frustrating is the recognition that it has potential, but restricts itself to a formulaic plot with sub-par musical and spoken performances. Not even Common can save this movie. I do recommend watching it, if only to explore an area you may not know much about. However, don't feel bad if you don't get around to it.
© Roza M. Melkumyan (12/1/2017) FF2 Media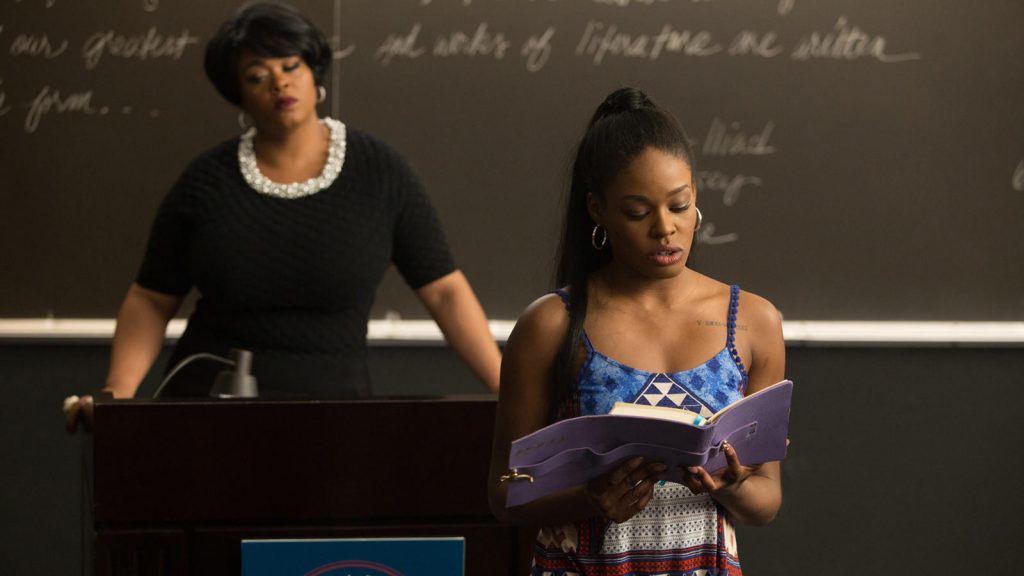 Top Photo: Coco listens to Professor Dixon's lecture.
Middle Photo: Julie watches the rap battle from the audience.
Bottom Photo: Coco reads her poem for the class.
Photo Credits: Atsushi Nishijima
Q: Does Love Beats Rhymes pass the Bechdel-Wallace Test?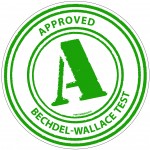 Yes.
Coco and Professor Dixon have a conversation early on about the lyrics in contemporary rap music.