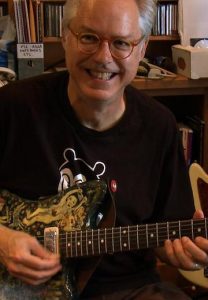 Written and directed by Emma Franz, Bill Frisell: A Portrait shows us the work of guitarist and prolific composer Bill Frisell and of the friends and fellow great musicians who surround him. This movie is not going to pull you along: rather, you have to be willing to sit with Bill and his friends and listen to the music carefully. (AEL: 3/5)
Review by FF2 Intern Amelie Lasker
Bill Frisell is a guitarist and composer well-known in the jazz world. As his friends tend to describe him, he is extraordinarily talented, but he doesn't force his talent on audiences and collaborators. He just wants to make music people can enjoy, and if they can recognize the complex intelligence in it, all the better.
Joey Baron, musician and friend of Frisell's, tells an especially moving anecdote of the time he and Frisell performed at a center for blind and visually impaired children. There's humble wit to the way Frisell's friends talk about him and his performances: Baron describes one of the girls in the audience enjoying the music so much that she blurted out, since she didn't know what Frisell looked like, "Is the guitar player cute?"
Frisell is quite compelling as a character. He is funny sitting in his room with all his CDs, surrounded by Gary Larson paraphernalia, describing how he loves all of his guitars so much he wishes he could play them all at once.
The film ends up feeling like a compilation of charming anecdotes, lacking a common thread, or at least one that would be apparent to someone without extensive musical knowledge. Filmmaker Emma Franz doesn't really give us a way into appreciating Bill's music. The movie certainly tells me how the music is special, but it's hard to feel it¾perhaps because of the editing, or perhaps because I'm not willing enough to take the music in.
© Amelie E. Lasker (12/9/17) FF2 Media
Top Photo: Bill Frisell in his home.
Middle Photo: Bill Frisell playing music with a friend.
Bottom Photo: Bill Frisell and his wife, Carole D'Inverno.
Photo Credits: Film Transit International
Q: Does Bill Frisell pass the Bechdel-Wallace Test?
No.
Frisell and the music greats who surround him are all men.