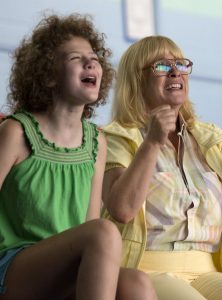 Writer/director Colette Burson's semi autobiographical film depicts the angsty hilarity of feeling out of place in hellacious middle school. The quirky comedy is all things 1982 and charmingly so, with teenage Aurelie starting a new school with a hair perm gone wrong. Both bizarre and charming, the sincerity of Permanent is refreshingly sweet and a timeless take on coming-of-age. (BKP: 4.5/5)
Review by Managing Editor Brigid K. Presecky
Much like an early episode of the TGIF staple Boy Meets World when Cory Matthews straightens his curly mane, Permanent is another young adult story with hair at the center. When pre-teen Aurelie (an impressive Kira McLean) moves to Virginia with her mom and dad in 1982, she longs to fit in with the other girls, like anyone her age. With Farrah Fawcett hair aspirations, Aurelie begs her parents (Rainn Wilson and Patricia Arquette) for a permanent 'do – but they can only afford the local beauty salon. The "perm" goes awry, leaving the poor girl with an untamed afro that even butter can't smooth – perfect for the beginning of the school year.
With an oddball tone a la Little Miss Sunshine, Burson's film is a slice of life with a touch of zany humor. Aurelie is the curly-haired fish out of water along with her father, making the film a family comedy suited for a broad age range; the frustration of being an outsider isn't assigned to a particular age. Burson captures the uneasiness that comes along with every era of a life and does it in a screwball, slapstick way.
Oscar-winning Arquette is the highlight as Aurelie's nerdy mother who settled for less and tries to connect with her husband and daughter. Her one-liners and bizarre antics provide the bulk of the comedy, making Permanent a must-watch for fans of random, blunt senses of humor. Wilson, too, gives a spot-on performance as a toupeed father who wishes he could do it all over again and make better choices. It's a different turn from Wilson's famed Dwight Schrute but close enough to make fans nostalgic for his deadpan timing. If the sentence "newborns are slippery," means anything to you, Wilson's performance here is not to be missed.
Speaking of nostalgia, the '80s era is a character in its own, with unflattering fashion choices adorning all the Virginian characters. The specificity with the furniture and set design create a believable glance into this young girl's adolescence, full of bubble gum t-shirts and pastel-colored short shorts. Layered with the awkwardness of puberty, the hilarity of the film is rooted in its relatability and characters who are reminiscent of extended family members at  Christmas dinner – eccentric and utterly realistic in their ridiculousness.
Although 2017 may seem like the hub of nostalgia (an overused term used by bitter critics to describe any relatively sweet, coming-of-age story), it's stories like Permanent that remind viewers what it felt like – or in some cases – still feels like to feel bullied, weird and out of place. It is also a nice reminder to invest in a good beautician.
© Brigid K. Presecky (12/15/17) FF2 Media
Read FF2 Media's interview with director Colette Burson HERE.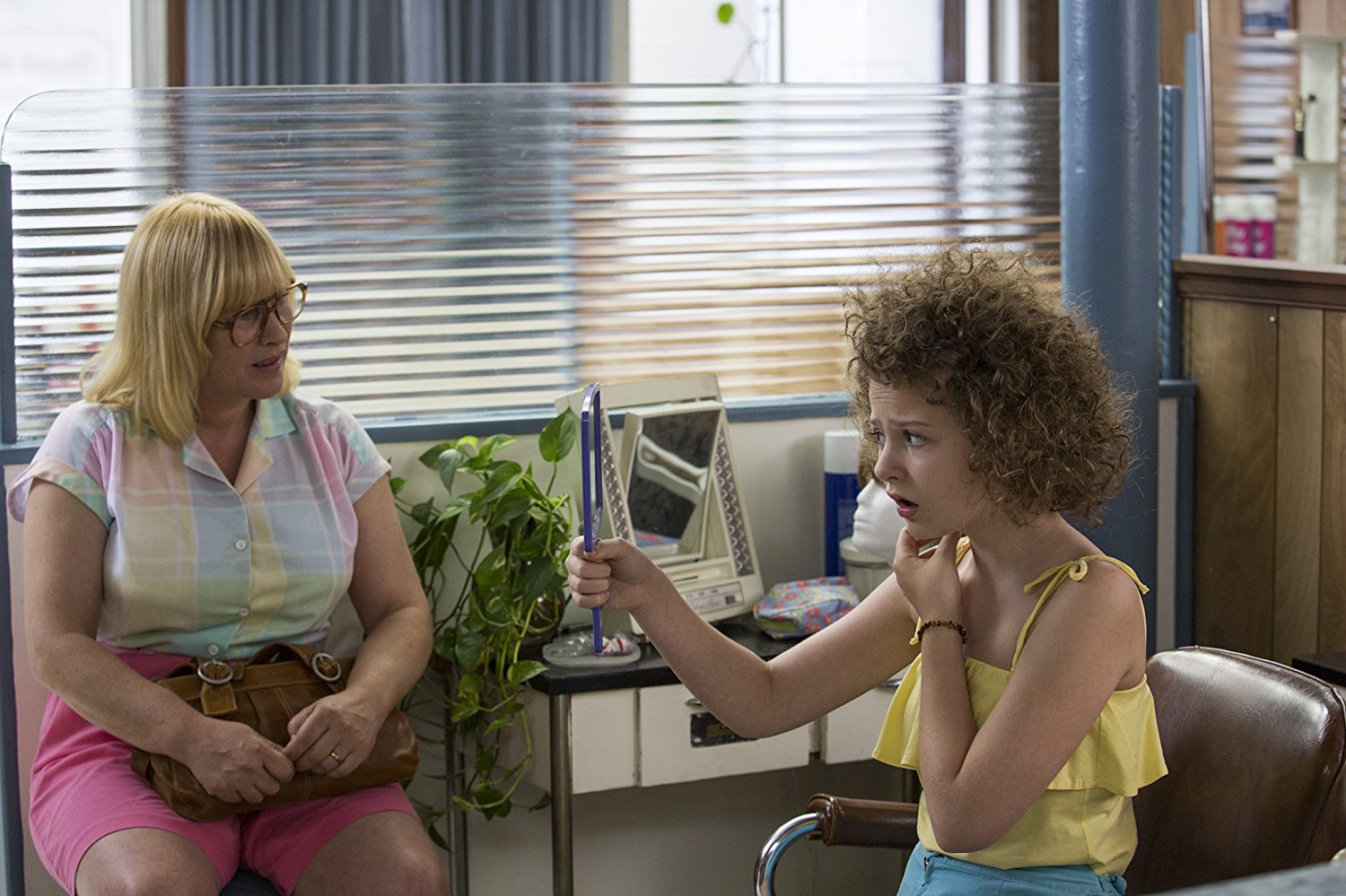 Top & Bottom Photos: Patricia Arquette and Kira McLean in Permanent (2017)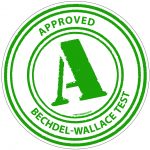 Middle Photo: Patricia Arquette and Rainn Wilson in Permanent (2017)
Photo Credit: Magnolia Pictures
Q: Does Permanent pass the Bechdel-Wallace test?
With flying colors.
Aurelie has many scenes with girls in her class, her mother and her teacher.