Directed by Markus Rupprecht and co-written with Donna Logan, Drawing Home is a movie set amidst stunning, picturesque landscapes that is the Canadian Rocky Mountains. A young female artist, "Catherine Robb" (Julie Lynn Mortensen), from Boston in the 1920s, has a promising relationship with "John D. Rockerfeller III" (Jeff Gladstone). But her mother's plan to climb the social ladder begins to go astray when her daughter meets the young painter "Peter Whyte" (Juan Riedinger). (KIZJ: 2.5/5)
Review by FF2 Associate Katusha Jin
"Catharine Robb" (Julie Lynn Mortensen) is an aspiring landscape painter who is about to start art school. She is born in Massachusetts to a relatively wealthy couple, "Sir Russel Robb" (Peter Strauss) and "Edith Morse Robb" (Kate Mulgrew). The prologue dives straight into the center themes of the story: Catherin's love of landscape painting, her strained relationship with her mother, and her romantic interest.
As a gift of encouragement before Catharine starts art school, "John D. Rockerfeller III" (Jeff Gladstone), one of the most eligible bachelors of the time, sends her an expensive perfume. Her father follows shortly with the gift of a car. Pampered and loved by all those around her except her strict mother, Catharine begins her journey as a painter. However, her romantic interest shifts away from the wealthy John to "Peter Whyte" (Juan Riedinger), a fellow artist in her painting class.
The movie then begins to follow Peter and his much more modest life back home near Banf National Park in Alberta, close to the native Stoney Nakoda people. As he develops a relationship with mentor "Carl Rungius" (Rutger Hauer), the latter offers his cabin as an art studio for Peter to work in. When Catharine hears news of her loving father's passing, she mourns for a while before receiving an intriguing letter from Peter describing his first success as an artist. Catharine is quick to hop on a train to pay a visit to her classmate in the cabin.
It isn't long before Catharine ends her romantic relationship with John and turns her full attention to the budding landscape painter, Peter. Although Catherine's nanny, "Jean Caird" (Kristin Griffith), encourages the relationship, to the young lady's dismay, her mother abhors it.
Playing her debut film role, Julie Lynn Mortensen gives a performance that has a more stage-like quality. Supported by other known actors such as Kate Mulgrew, the acting potential could have been better developed with more guidance from director Markus Rupperecht.
Whereas the beauty of the pictures on the screen filmed by cinematographer Patrick McLaughlin is unquestionable, the level of writing is not. The speed of the movie is rather uneven, making it difficult to stay with the characters. Their lack of depth makes it is harder for the audience to connect and sympathize with the tumultuous events of their lives.
Although Drawing Home has good intentions of creating a beautiful, romantic depiction of the true story of an artist's love, the script is littered with awkward blank spaces. The audience is spoon-fed exactly what the characters are thinking, resulting in the viewer being dictated what to think. In the end, too much is said and too little is shown in a film that could have been a delicate, touching story of a city girl who finds home in the mountains.
© Katusha Jin (12/22/17) FF2 Media
Top Photo: "Catherine Robb" (Julie Lynn Mortensen) and "John D. Rockerfeller III" (Jeff Gladstone) on the beach.
Middle Photo: "Peter Whyte" (Juan Riedinger) selling his first painting in the cabin under the guidance of "Carl Rungius" (Rutger Hauer).
Bottom Photo: "Catherine Robb" (Julie Lynn Mortensen) and"Peter Whyte" (Juan Riedinger) painting in the Canadian Rocky Mountains.
Photo Credits: Michelle Faye Fraser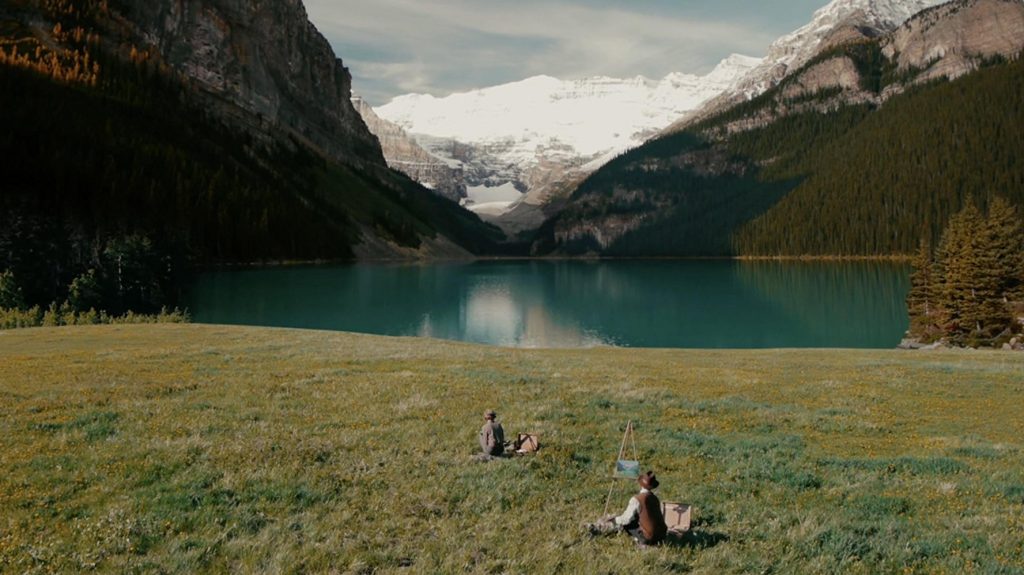 Does Drawing Home pass the Bechdel-Wallace test?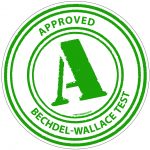 Yes.
In one of the beginning scenes "Edith Morse Robb" (Kate Mulgrew) tries to push her daughter, "Catherine Robb" (Julie Lynn Mortensen), to choose portrait painting over landscape painting.