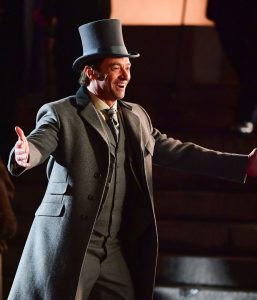 The Greatest Showman loosely follows the real-life story of "P. T. Barnum" (Hugh Jackman) and his rise from poverty to success. The free and colorful spirit of the circus comes to life through spectacular musical numbers that conveniently gloss over the cruelty towards people and animals that circuses often exhibit. Certainly not the first filmmakers to offer a story of the American dream, director Michael Gracey and writer Jenny Bicks spin the life and achievements of P. T. Barnum into an over-produced, family-oriented spectacle that entertains but fails to impress. (RMM 2.5/5) 
Review by FF2 Intern Roza M. Melkumyan
The Greatest Showman opens on the love story of the young and imaginative "Phineas Taylor Barnum" (Ellis Rubin) and the charming "Charity Hallett" (Skylar Dunn). After the now-grown Charity (Michelle Williams) returns from finishing school, the equally matured Phineas (Hugh Jackman) comes, as promised, to give her a new life, which her elitist father regards with contempt. Phineas struggles to maintain a job and though Charity is content with their less-than-prosperous lifestyle and the family that the two have created – their daughters, Helen (Cameron Seely) and Caroline (Austyn Johnson), Phineas is set on affording them a better life.
After Phineas is fired from yet another job, he decides to take a risk and start the Barnum Museum, which holds a variety of exotic stuffed animals and other curiosities. The museum doesn't become a success until it gains a handful of "living" additions. Phineas searches for his very own living oddities and curiosities and soon finds a bearded lady, a five-hundred-pound man, and a whole cast of misfits whose talents shine despite their lower positions in society. The filmmakers' Barnum recognizes their potential for success, and brings them together as a family while hoping for his own family to rise above its inferior social class.
Though Barnum has achieved wealth and success through his hit circus act, the elite New York society, including his father-in-law, still does not accept him or his children, as he witnesses when Caroline's ballet classmates reject her friendship. In an effort to win over this circle of society, Barnum enlists the help of the prominent and wealthy Phillip Carlyle (Zac Efron), who feels trapped within the walls of his affluent lifestyle. At the circus, he sees the trapeze artist, Anne Wheeler (Zendaya), perform her routine and immediately becomes enamored with her, supplying the film with its story of star-crossed lovers as obviously played upon in the couple's song, "Rewrite the Stars."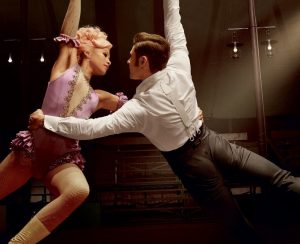 If it was the intention of director Michael Gracey and writer Jenny Bicks to produce something unoriginal and clichéd, then they have succeeded. Barnum's success feels undeserved, as he only fails for five minutes of the film before winning big with his sensational circus act. I wanted to see how he actually established his act, and when the cast members performed their first numbers I wondered where the film could possibly go next. Plot aside, I really couldn't stomach the music. As somebody who loves musical theatre, the music here is less than memorable. The songs are uplifting enough, with messages equivalent to phrases like "be yourself" and "dare to dream," but their expression of these messages are stale and overused. The songs are terribly generic with melodies and lyrics that are filled with versions of those clichéd phrases strung together into glossy, over-produced tracks.
Despite a weak soundtrack and under-explored plot, the film is dazzling in its style. The sets are not just beautiful but provide the audience with a sense of magic and whimsy that a child wants to feel when he or she goes to the circus or the theatre. Often, such inaccuracy to the time period can produce an awkward effect. Though the more modern and especially colorful costuming is not accurate to the time period it depicts, the late 1800s, it fits the film's overall mesmerizing aesthetic.
Though The Greatest Showman boasts spectacular dance numbers, vibrant costumes, and an all-star cast that will certainly appeal to families, it fails to give its audience something more substantial than a glitzy and glamorous picture of show business. As a musical, its story is just as forgettable as its songs and creates a vastly inaccurate image of an American businessman. I'd skip this at the theater and wait for the on-demand option.
© Roza M. Melkumyan (12/22/17) FF2 Media
Top Photo: P. T. Barnum stands excited.
Middle Photo: Anne and Phillip share an aerial dance.
Bottom Photo: P. T. Barnum and his circus act pose for a photo.
Photo Credits: Niko Tavernise
Q: Does The Greatest Showman pass the Bechdel-Wallace Test?
Yes, but barely.
Caroline's ballet classmates reject her because of her lower social standing. However, one could argue that this conversation still pertains to a man as they point out her father's profession to be inferior.
When I watched this film, I couldn't help but feel bored and a little exasperated. This is another rags-to-riches, pull-oneself-up-by-one's-bootstraps type of story that conveniently glosses over anything that could make its protagonist anything but a hero. What irritates me about this film is that many people will likely walk away from it marveling at how wonderful and innovative P. T. Barnum was, while history holds all the controversial facts about his practices as a businessman and promoter of entertainment no matter what cruelty or dishonesty were involved. Of course, Barnum was innovative for his time and provided the members of his act with the opportunity to use their unique differences to become successful and thoroughly entertain their audiences. Living in the present day, however, I still feel uncomfortable with Barnum's depiction in this film because of the cruelty with which "freaks" like those featured in The Greatest Showman were often treated in the late 1800s.
Depicting P. T. Barnum as "The Greatest Showman on Earth," as he liked to call himself, does the audience a disservice because it offers a very narrow perspective of who he was, which this film envisions as a family man and spreader of joy. The film does not claim to be historically accurate, of course, but there is still an unpleasant history that exists behind it.
The Greatest Showman's message is sincere and will appeal to a family audience, but it certainly does not offer a realistic depiction of Barnum, his acts, or acts like his that existed in this time period.