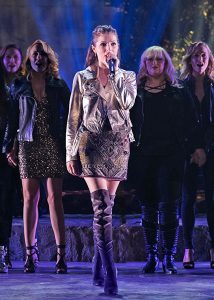 In Pitch Perfect 3, co-written by Kay Cannon and directed by Trish Sie, former members of a college a cappella group called "the Bellas" reunite for a USO tour. As they compete for the coveted spot of opener for DJ Khaled's televised show, the Bellas find that their friendship extends deeper than a shared hobby. Pitch Perfect 3's main appeal is its fun music and dancing, supported by nostalgia for the first two movies in the trilogy. (AEL: 3/5)
Review by FF2 Intern Amelie Lasker with Jan Lisa Huttner in the Coach Corner
Just out of college, former members of the a cappella group the Bellas are struggling to find their stride. "Beca" (Anna Kendrick) just quit her job as a music producer, since she was disillusioned with artists who wouldn't let her be creative. "Chloe" (Brittany Snow) is struggling to get into vet school. "Fat Amy" (Rebel Wilson) performs as "Fat Amy Winehouse," and her shows are definitely not profitable.
When the three meet the other Bellas at a party at the Brooklyn Aquarium and watch their friend "Emily" (Hailee Steinfeld) perform with her own young and successful a cappella group, the Bellas start to feel desperate. "Aubrey" (Anna Camp) suggests that they join a USO tour with DJ Khaled, since her father is high up in the military and he can get them a spot.
When they reach the military base, the Bellas discover that it may already be too late for them to find validation as a cappella singers. The other artists, like the band Evermoist, led by the formidable "Calamity" (Ruby Rose), have an indisputable advantage: they play with instruments as well as voices. Even as they enjoy singing and dancing together for the last time, the Bellas have to find other sources of self-worth, and other bases for their friendship.
Beca and Fat Amy, the movie's most developed characters, are disappointingly simplified: Beca's music producing is framed as something incredible, but we see very little of her creativity, and Fat Amy's main comedic value seems to be that she's unabashedly gross.
Pitch Perfect 3's draw is its pop covers, costumes, and dancing, all of which are enjoyably bright and polished. Unfortunately, the movie doesn't bring much else. Although I've only seen the first Pitch Perfect, and it was a long time ago, I get the sense that the Pitch Perfect movies tend to rely on the musical performances to make up for weaker storylines. But for the audience members who are only looking for some light fun along with energized vocal versions of familiar pop songs, Pitch Perfect 3 succeeds.
© Amelie E. Lasker (12/30/17) FF2 Media
Editor's Note: This review is written from the POV of a PP "virgin" (meaning Amelie saw PP1 years ago but never saw PP2). Click HERE for Elly Levenson's review from the POV of a PP "pro."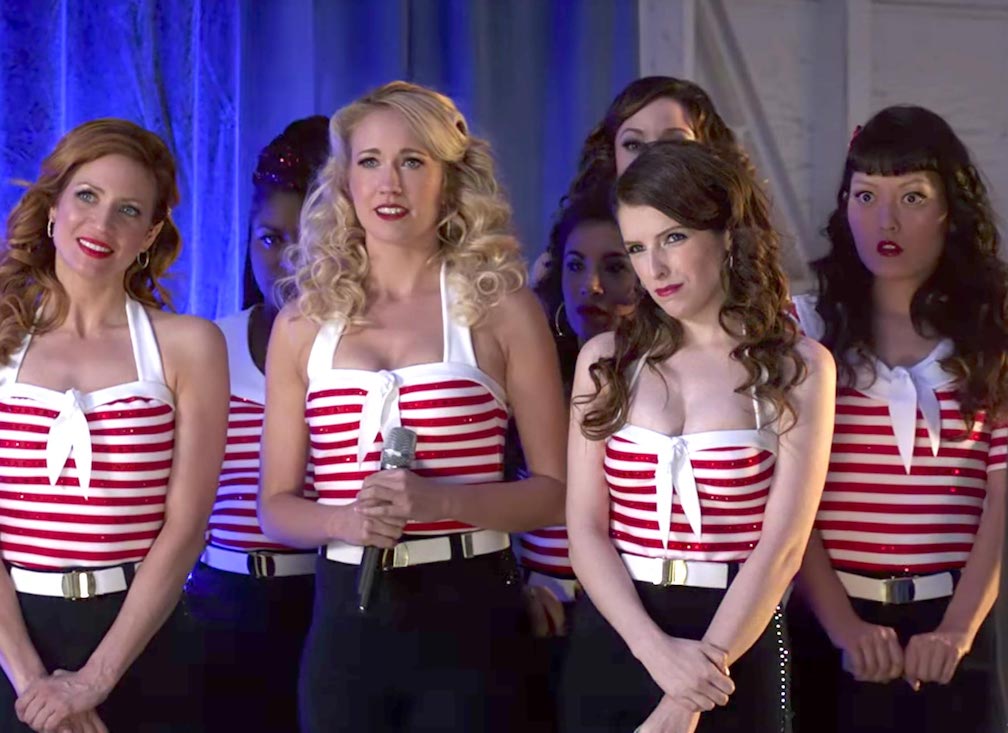 Featured Image: Anna Kendrick, Brittany Snow, Rebel Wilson, Anna Camp, Hana Mae Lee, Chrissie Fit, Ester Dean, Kelley Jakle, and Shelley Regner in Pitch Perfect 3 (2017).
Top Photo: Anna Kendrick stars as as "Beca."
Bottom Photo: Brittany Snow as "Chloe," Anna Camp as "Aubrey," Anna Kendrick as "Beca," and Hana Mae Lee as "Lilly."
Photo Credits for PP3: Quantrell D. Colbert  © Universal Picture
Q: Does Pitch Perfect 3 pass the Bechdel-Wallace Test?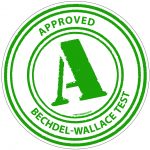 Of course!
The Bellas have many conversations between themselves about their friendship and their individual futures. When men do become involved, they often present opportunities for, or threats to, the Bellas, so the focus always remains on the women.
COACH COMMENTS FROM FF2 EDITOR-IN-CHIEF JAN LISA HUTTNER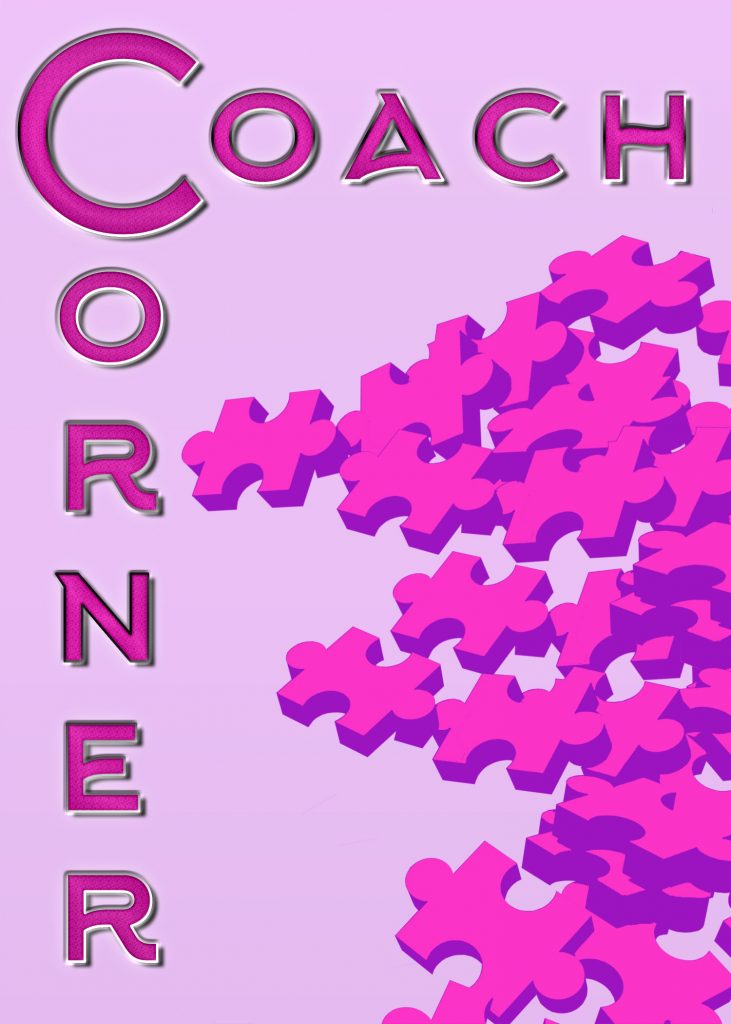 When it comes to the Pitch Perfect series, I am almost a "pro," meaning I saw Pitch Perfect 1 & Pitch Perfect 3 in theatres the year each film was released, and I saw Pitch Perfect 2 on cable somewhere in between.
Are these the greatest films I have ever seen? No, of course not. But in the realm of multiplex movies, dominated as they are now by franchises, sequels and lowest common denominator action flicks (aka "macho treats") , the Pitch Perfect films are special. To date, the Pitch Perfect films constitute the only franchise by and for women to succeed in the multiplex market. This is where I remind you, yet again, that Catherine Hardwicke excelled as the director of Twiight (the first film in the Twilight series) but as soon as Twilight became a box office success, control of The Twilight Saga was ripped away from Hardwicke and the FOUR additional films in the franchise were all helmed by male directors. Was it just a coincidence that each film had less character development than the one that preceded it, but ever more special effects. Boo Hiss!
Similarly, The Hunger Games franchise was also male-driven. Although Suzanne Collins, the author of the novels on which the franchise is based, has a screenplay credit in the first of the four films (along with two male co-writers) all four films were directed by men. And after the first film, Suzanne Collins is only credited with "adaptation." The writers of the three next films are all men. Need I go on?
So kudos to Producer Elizabeth Banks who went in the opposite director. Kay Cannon, who wrote the screenplay for Pitch Perfect 1 (based on a book by a great guy named Mickey Rapkin), remained with the franchise all the way through, but Jason Moore (who directed) was replaced at the helm by Banks herself (Pitch Perfect 2) and by Trish Sie for (Pitch Perfect 3). Kudos to Elizabeth Banks!
As the creative force behind the Pitch Perfect franchise, Banks made two brilliant decisions. First, she cast Anna Kendrick in the central role of "Beca;" second, she cast herself as "Gail" (an ever-present but far from omniscient narrator on the sidelines). Brava!
© Jan Lisa Huttner (12/31/17) FF2 Media
Composite of Elizabeth Banks as "Gail" with John Michael Higgins as her sparring partner "John" in the three Pitch Perfect films.