When a young girl living with her great aunt for summer vacation stumbles upon a magical flower in the woods, she discovers who she is beyond how others see her. Mary and the Witch's Flower, directed by Hiromasa Yonebayashi and co-written with Riko Sakaguchi, doesn't disappoint, delivering breathtaking animation and a heartwarming story. The film is a fun, action-packed adventure that anyone can enjoy. (KAC: 3.5/5)
Review by FF2 Intern Katharine Cutler 
Mary and the Witch's Flower opens with a young witch running away from an unknown evil. After stealing a valuable, yet mysterious, bag, she is mercilessly chased away on broomstick from a building on the edge of collapse. She manages to get away, but not before spilling the bag of magical seeds that erupt with growth.
Flash-forward to a young "Mary Smith" (Ruby Barnhill), a girl living with her great aunt "Charlotte" (Lynda Baron) who can't seem to do anything right. She constantly offers help to others, but always somehow fails, causing the local boy, "Peter" (Louis Ashbourne Serkis), to laugh at her. Mary is endlessly frustrated with her boring summer plans, her inability to help others, and her pesky red hair.
After a picnic one day, two cats, "Tib" and "Gib", appear and take her deep into the mysterious woods nearby her home, where she finds a beautiful, yet strange plant. Mary picks the flowers and with the help of the gardener, discovers that she's found the witch's flower, an incredibly rare one to find as it only blooms once every seven years. After a thick mist descends over the woods, Mary goes out to explore, even though she is warned not to. She discovers a broomstick stuck beneath some twigs and after one of the flowers gets crushed between her hands, the magic of the witch's flower is revealed. The broomstick whisks her and Tib away to Endor College, a bustling place of magic and mystery.
While "Madame Mumblechook" (Kate Winslet), the headmistress, and "Doctor Dee" (Jim Broadbent), the chemistry professor, immediately see her as a magical prodigy, everything seems too good to be true, but Mary doesn't seem to care as she adores the praise she receives. At the end of the day, her broomstick takes her back home, only for her to discover that the flower's magic has worn off. Mary is content with one day of bliss, until Peter is missing and Endor College is revealed to be not as idyllic as she imagined.
Mary and the Witch's Flower is the first feature produced by Studio Ponoc and creates a new world of wonder. With a beautiful animation style, reminiscent of Studio Ghibli, Mary's story, based on The Little Broomstick by Mary Stewart, is an exciting tale of persistence, friendship, and self-image, but sadly, it doesn't quite hit the mark with a slow start and off-beat action throughout. I had fun watching, but I couldn't help compare it to other animated films and other films about magic.
As someone who grew up watching (and loving) the Harry Potter films, it was so hard not to recognize the similarities between the two, whether they were subtle or not-so-subtle. The connection is hugely affected by the English language dub, done entirely in British accents. Part of the attraction of the Potter saga is the depth and complexity of the magical world they created. With this in mind, I was left wanting more from this film. Endor College is a magical school for witches and wizards, shown to Mary as a thriving, popular school full of students that disappears after her first day. While this movie is about Mary and her journey, we are shown depth and complexity for a few minutes, only to have it ripped away so quickly. I was left thinking about how the school functioned, what the students study, and how does magic work for those students, but mostly I was left wondering what happened to a whole world after Mary's first day.
The film also lacks in the emotion typically seen in animated films. Mary doesn't feel at home in her great aunt's house and failing at everything doesn't help. She discovers more about herself when she discovers magic, but because she never really had magic in the first place, is she really learning about how to appreciate what she's good at or what the flower is good at giving her? The film's message is muddled throughout. Even her relationship with Peter, the local boy who makes fun of her, turns to friendship without much reason. The framework for a heartwarming story is there, but all the pieces don't seem to fit together.
Throughout Mary and the Witch's Flower, directed by Hiromasa Yonebayashi and co-written with Riko Sakaguchi, I was left wanting more thrills and more depth from a movie with so much exposition, that proves itself to be unnecessary and on the surface. Altogether, the film is still worth seeing because it's just the beginning for a new studio and shows the potential of what it could be. I loved how fun this movie was to watch and would definitely recommend it to anyone who loves Studio Ghibli or just loves animation, but I'm hoping to see a more dynamic and complex story next time.
© Katharine Cutler (01/21/18) FF2 Media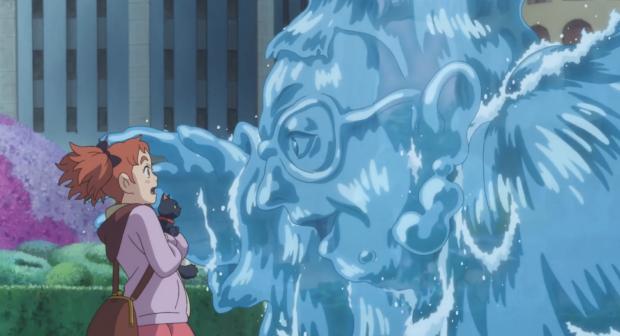 Top Photo: Mary with a special book of magic.
Middle Photo: Mary meeting Madame Mumblechook.
Bottom Photo: Mary riding her broomstick for the first time.
Photo Credits: GKIDS
Q: Does Mary and the Witch's Flower pass the Bechdel-Wallace Test?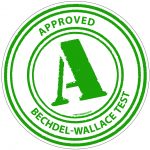 Yes.
This film easily passes the test! Mary has conversations with her great aunt Charlotte, her housekeeper, and Madame Mumblechook about everything from magic to what to do for the day. Charlotte and Miss Banks, the housekeeper, have a few conversations together as well.