***Note from FF2 Media's Editor-in-Chief Jan Lisa Huttner: Although FF2 Media already posted one review of Mudbound in November (when Mudbound opened in limited release for an Oscar qualifying run), its re-release in two Manhattan art houses today is an opportunity for a "Take Two." Lindsy Bissonnette wrote her November review from the "who knew" POV, whereas Kathy Cutler is writing her review knowing that Mudbound has now been nominated for FOUR Oscars (including a nomination for Rachel Morrison, the first woman ever nominated for an Oscar in the Best Cinematography category).***
Directed by Dee Rees and co-written with Virgil Williams, Mudbound was recently nominated for 4 Oscars, including the first ever female nominee for cinematography, Rachel Morrison, but missed out on Best Picture and Best Director. Here's why I think the Oscars made a mistake. (KAC: 5/5)
Review by FF2 Intern Katharine Cutler
Mudbound is a story about race, class, and the effects of war on two families in Mississippi during the 1950s. Responding to the US call to action after Pearl Harbor, two young men—one white and one black—leave home to fight in World War II. Upon their return as decorated war heroes, they realize their life outside the war is much different than they expected. As their lives unfold, the two families have to face the harsh realities of life in the racist, post-war South.
The world that Dee Rees creates is complicated, unfair, and immoral, yet extremely realistic. Her film creates feelings of familiarity in each scene. Every character is well developed, even the ones you hate, yet judgement being placed upon them for the choices they make is rare. It's easy to relate to and understand each character because their true intentions and feelings are fully explored. Barring a few select moments, the audience has to decide what they think is right or wrong.
Mudbound follows two families in different social, political, and economic situations. Led by the mothers, each family has unique difficulties and motivations. "Florence" (Mary J. Blige) is a black woman who works every day, in and out of the home, to provide for her family and who sacrifices her dignity to keep them safe. While not agreeing with society at the time, we see why Florence follows the racist social laws set out for her, and we can understand why she punishes her children for breaking them. She has clear motivation and doesn't stray from her convictions. We also see Florence as more than a strict mother figure; through many conversations, aspects of her life are revealed that contextualize her and her actions apart from motherhood.
Her white counterpart, "Laura" (Carey Mulligan), has an equally realistic story. As a woman facing the prospects of being an old maid, Laura marries the first man to propose, but doesn't truly love him. There are many moments where we see Laura be forced to endure things she doesn't like because of society's expectations of women at the time. Laura's voiceover gives us a peek into her thoughts, and while no always progressive, they paint a picture of who she is.
As a woman, I can always tell when female characters are written by a man or a woman. Mudbound was clearly written by a woman who understands what it's like to both be a woman and be black. Both of the main female characters that Dee Rees writes represent the stories of real women.
Mudbound was an incredible film. Directed by Dee Rees and Co-Written with Virgil Williams, it's clear to see why it was nominated for 4 Oscars. Rachel Morrison's cinematography is superb and she deserves every accolade she gets. Not so clear is why Mudbound wasn't nominated for Best Picture and why Dee Rees wasn't nominated for Best Director.
I would also like to state that as a white woman, I have an immense amount of responsibility to use my privilege to support those who don't have the same benefits I do. Stories like Mudbound deserve to be told. They are important and giving women of color a voice is extremely important at a time when white supremacy seems to be making a comeback. Hollywood has failed WOC again this year, let's not do the same.
© Katharine Cutler (02/11/18) FF2 Media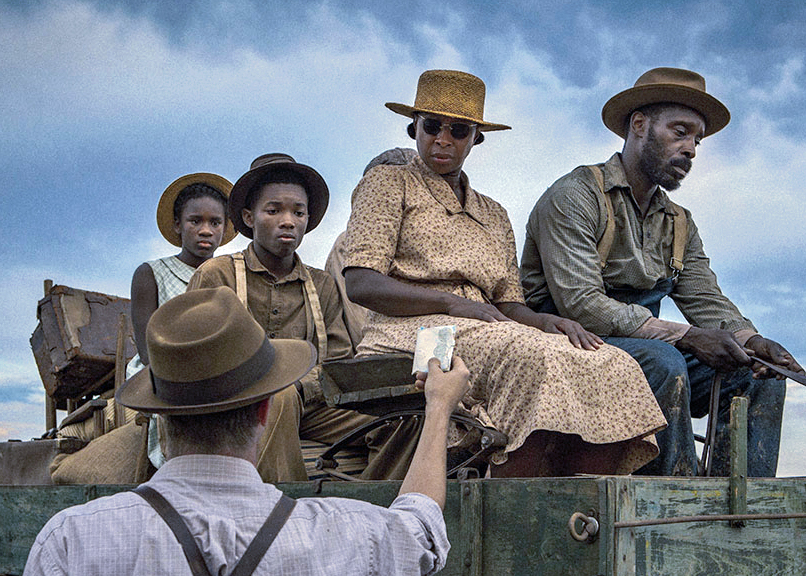 Featured Photo: Neflix promotes Mudbound's growing list of pre-Oscar nominations & awards all around Manhattan. Photo Credit: Jan Lisa Huttner
Middle Photo: Florence and Laura in Laura's house
Bottom Photo: "Jamie McAllen" (Garrett Hedlund) hands "Florence Jackson" (Mary J. Blige) an important message in the final moments of Mudbound.
Photo Credits: Steve Dietl/Netflix
Q: Does Mudbound pass the Bechdel-Wallace Test?
Yes!
Florence and Laura have conversations about taking care of Laura's daughters when they get sick as well as when Laura has a miscarriage.