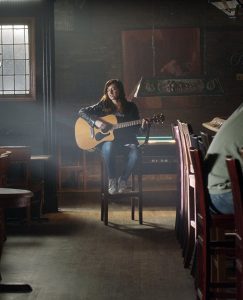 Directed by Elizabeth Rohrbaugh and Daniel Powell, Becks is a dazzling romance film with beautiful music. Co-written with Rebecca Drysdale, this film is slightly predictable, but like any other good love story, it draws you in. Funny and thoughtful, Becks is worth watching for a fun time. (KAC: 3.5/5)
Review by FF2 Intern Katharine Cutler
After upending her life to move to LA for her girlfriend, an wannabe celebrity singer, "Becks" (Lena Hall) finds out that all along she was being cheated on. Becks has no money and no place to live, and with only her car and a few bags, she decides to move back in with her mom until she figures things out.
Going back to St. Louis proves difficult for Becks. Her mom, "Ann" (Christine Lahti), is a devout Christian who, despite attempts, doesn't quite agree with Becks' sex life or her sexuality. To get out of the house, Becks reunites with an old high school friend, coincidentally also her first and last boyfriend, "Dave" (Dan Fogler). As a bartender who seems to love living in his hometown, he reveals that the place has changed since the last time she visited.
Becks struggles to find her place in suburbia until she meets "Elyse" (Mena Suvari), the wife of her old high school nemesis, "Mitch the Bitch" (Darren Ritchie), who outed Becks at her senior prom. After giving Elyse guitar lessons and performing together at Dave's bar, the two begin a secret relationship and life gets complicated.
Becks is a classic love story that hides depth beneath its surface. Despite focus on the complicated romance between Becks and Elyse, the film also explores issues of sexuality and what it's like to be a lesbian. Becks has to endure a lot in suburbia from her ex-nun mother to the groups of questioning house wives; she is even set up with the only other lesbian at a barbeque. Elyse provides another interesting look into being a lesbian. The film brings up questions of the exploration of sexuality later in life and what it really means to be gay.
Despite it's thought provoking questions on sexuality, this romance is really like any other, predictable. The movie still draws you in, even when you expect everything Becks does. With each passing minute, her decisions draw you in further. She's written perfectly. Becks isn't too likable and despite constant bad decisions, you seem to need to know what she's going to do next.
One of the best parts of this film is the relationship between Becks and her mother. Becks returns home some time after her father's death, clearly the parent she was always closer to. Although she makes many attempts, Ann's dedication to Catholicism continuously gets in the way with Becks' life from her sexuality to her choice to have sex at all. The destructive nature of their relationship reveals a reality to the film. Along with amazing acting, both women are well-written, and neither is displayed as perfect.
Directed by Elizabeth Rohrbaugh and Daniel Powell and written with Rebecca Drysdale, Becks is a lively romantic tale that pulls you through every up and down. With more depth than a typical love story, it's hard not to have a little fun watching Becks.
© Katharine Cutler (02/11/18) FF2 Media
Featured Photo: Becks and Ann at church.
Middle Photo: Becks performing at Dave's bar.
Bottom Photo: Becks teaching Elyse to play guitar.
Photo Credits: Blue Fox Entertainment
Q: Does Becks pass the Bechdel-Wallace Test?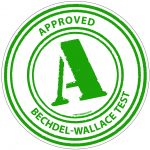 Yes!
Becks has many conversations with many different women in her life about everything from sexuality to family to music.