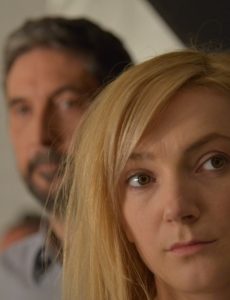 Written and directed by Hungarian filmmaker Ildikó Envedi, On Body and Soul is a strange and meditative love story of sorts between two managerial workers in a cattle slaughterhouse. Partially shot in a real slaughterhouse, the film is visually and conceptually both beautiful and viscerally sickening, a fascinating exploration of loneliness and attention in an unusual environment. (AEL: 4/5)
Review by FF2 Intern Amelie Lasker
"Endre" (Géza Morcsányi), a quiet, middle-aged manager at a cattle slaughterhouse, has a bad arm which he doesn't talk about, though he doesn't talk–or seem to think, really–about much of anything. It's evident that you can't think too much about what you're doing if you're working in a slaughterhouse.
Many of the younger workers treat it much like any other workplace, joking and flirting with each other. One worker, "Mária" (Alexandra Borbély), the new quality inspector, is a bit different. She holds the cattle work to a high standard and keeps to herself. In the cafeteria, she looks around uncomfortably for a seat alone, though it's unclear whether she actually wants to avoid the other workers or whether she feels she couldn't chat and laugh with them if she tried. One young worker calls her "Snow White."
The moral and legal ramifications for both animals and workers in the slaughterhouse can't be avoided, much as all of these workers have their individual ways of closing off their minds to the violence of it. Endre deals with the possibility of legal ramifications for the slaughterhouse's supply of strong mating drugs–a conversation that is particularly strange in contrast with Endre's own quiet and stiff demeanor.
The stilted interactions between coworkers and inspectors at the slaughterhouse are punctuated by long, near-silent scenes featuring two deer in a wintery wood. The deer sit together, or they look at each other across a stream. While at first these interludes feel like relief, or like chilling parallels, for loud and colorful interludes of real cattle slaughters, we soon learn that they are more than just scenery. When a psychologist (Tamás Jordán) is brought in for a routine mental check on the workers, she discovers that Endre and Mária share the same dream each night, in which they are a pair of deer in the woods.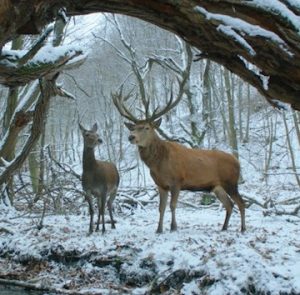 The shared dream provides a poignant bridge between two isolated people, but intimacy in their waking life is much harder to achieve. Mária expresses her hopes and anxieties about Endre in imagined conversations that she plays out between salt- and pepper-shaker puppets, or between little toy figurines. In the lunchroom or in offices, Endre and Mária try again and again to get messages to each other, while each night they meet in their dreams.
On Body and Soul was partially shot in a real slaughterhouse, and the mechanization necessary for people to work in such an environment is palpable in long interlude shots of the entire process of cattle slaughter. Like its two main characters, the film's setting is a fascinating, unconventional, and cautiously brilliant premise for a love story.
© Amelie E. Lasker (2/12/18) FF2 Media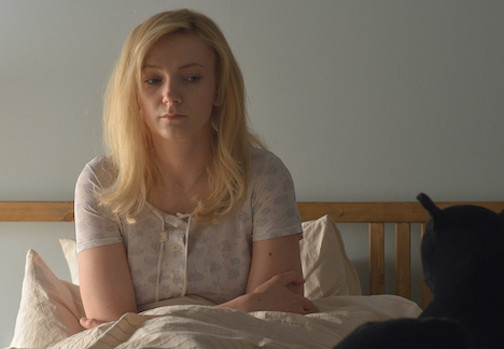 Top Photo: Géza Morcsányi as "Endre" and Alexandra Borbély as "Mária."
Middle Photo: Deer in the woods.
Bottom Photo: Alexandra Borbély as "Mária."
Photo Credits: Attila Kárpáti
Q: Does On Body and Soul pass the Bechdel-Wallace Test?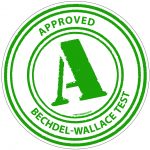 Yes.
The psychologist who comes to examine the workers is a woman, and her initial conversation with Mária is entirely focused on Mária, her mental health, and her dreams.