In Tehran Taboo, four young people are struggling to live freely and happily as they feel the weight of Iran's restrictive Islamic society in matters of sex, money, and lifestyle. Director Ali Soozandeh and writer Grit Kienzlen deliver a stark yet beautiful image of the streets of Tehran while revealing and criticizing taboos that govern the Iranian people. (RMM: 4.5/5)
Review by FF2 Intern Roza M. Melkumyan
 Tehran Taboo is unique in that it uses rotoscoping: a form of animation that involves drawing over actual footage and inserting extra sounds and backgrounds in the editing process. The film opens on a nighttime scene of Tehran, Iran as viewed by a "Taxidriver" (Farhad Payar) who flips through radio stations while he searches for his next customer. He soon comes to "Pari" (Elmira Rafizadeh, voiced by Lilli Novi) and her young son "Elias" (Bilal Yasar), who are looking for a ride. Pari, a prostitute, agrees to give the Taxidriver a blowjob to make some extra money between clients. When she isn't working, Pari frequents the local prison and courthouse to obtain an official divorce from her incarcerated drug-addict husband. Pari appeals to the "Judge" (Hasan Ali Mete), who agrees to process the paperwork if she becomes his mistress.
After another failed performance college student and struggling musician, "Babak" (Arash Marandi), meets "Donya" (Negar Mona Alizadeh) at a club. The two take a mystery pill before having sex in the bathroom. The next day, Donya tells Babak that he took her virginity, and that she is to be married next week. Her fiancé wants a virgin and he will kill them both if he finds out the truth. She pressures Babak to pay for an operation to restore the appearance of her virginity.
"Sara" (Zahra Amir Ebrahimi) and her husband, "Mohsen" (Alireza Bayram, voiced by Sasan Behroozian) are expecting their first child. A kind and caring woman who has already suffered two miscarriages, Sara feels pressure from her family to become a mother. However, Sara is worried that her pregnancy will stop her from getting a teaching job, for which her husband refuses to sign the paperwork.
Pari, now able to utilize the judge's wealth and influence, has moved into a nice apartment in the same complex where both Sara and Babak live. Elias takes joy in throwing water-filled condoms at unsuspecting victims from the balcony and playing with a stray cat. Pari tells Sara and her family that she works as a nurse at night, and Sara agrees to watch Elias. Plot lines intertwine as each individual makes their way through turmoil.
A beautifully animated film, Tehran Taboo utilizes rotoscoping to make up for the impossibility of filming on location in Tehran. Director Ali Soozandeh chooses his medium carefully creating an accurate yet stylized depiction of the streets of Tehran and striking a balance between illustration and the reality of the city's strict societal rules. The dark color palette, highlighted by the occasional violet light of a club, the recurring image of the main apartment complex's neon billboard, and the bright shades of women's head scarves all make for a vivid rendering of a world set apart from that which the audience may know. Though its image clashes with the chaos of night, even the peace of the park in the daytime is tinged with an uneasiness, as if everyone is being watched.
Tehran Taboo intertwines the stories of various characters while highlighting the difficulties that women face in a strict Islamic society. Director Ali Soozandeh and writer Grit Kienzlen bring to light the double standards surrounding sex and sexuality while making the audience feel unbelievably uncomfortable. I squirmed in my seat as I waited for the heaviness of the film to lift, which it never does save for a couple brief moments of humor. It shows how even a "respectable" woman can be demoted to a whore in two short minutes. The film is elegantly rendered and highlights the hypocrisy of this society.
Because of its weight in terms of content, I don't know that I would watch Tehran Taboo a second time. However, it is absolutely worth watching simply because of the content's importance. You will root for the characters as they navigate through the obstacles placed before them and grieve when those obstacles overtake them.
© Roza M. Melkumyan (2/16/18) FF2 Media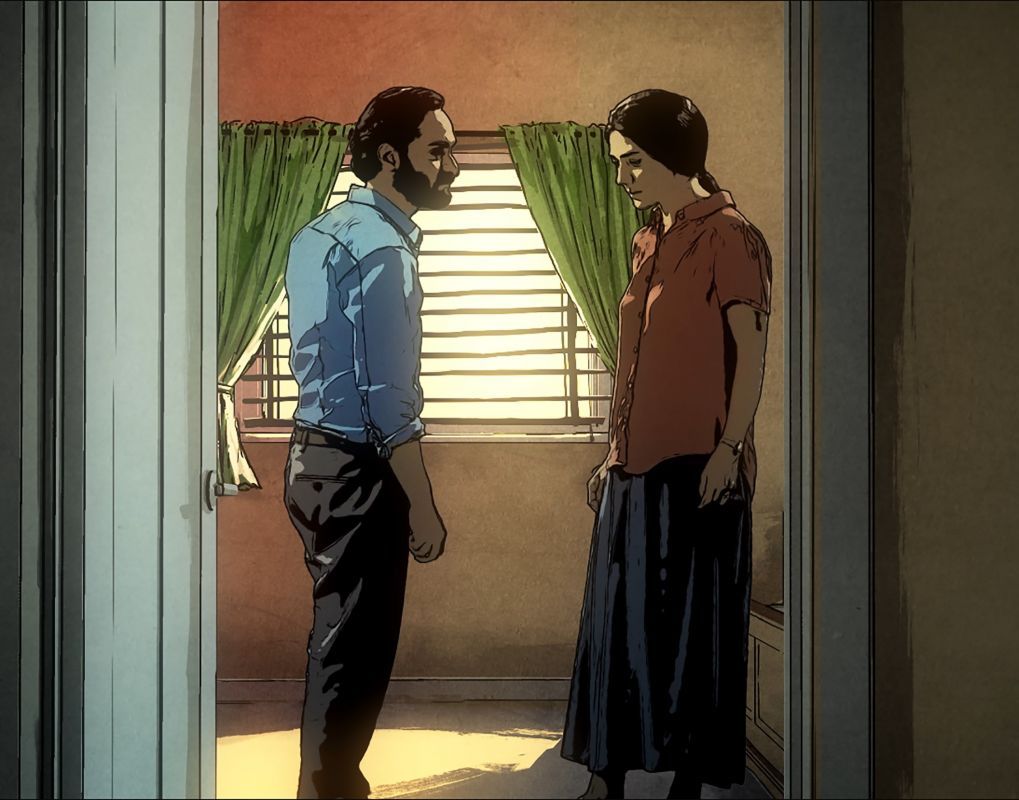 Top Photo: Pari walks with Elias to see her husband in prison.
Middle Photo: Poster for the film.
Bottom Photo: Mohsen and Sara have a serious discussion.
Photo Credits: Kino Lorber
Q: Does Tehran Taboo pass the Bechdel-Wallace Test?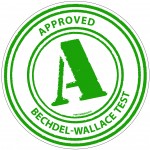 Yes.
Among other conversation topics, Sara expresses her wish to become a teacher to Pari.