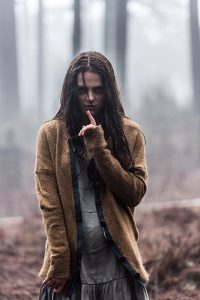 Writer Tarryn-Tanille Prinsloo collaborates with director Darrell Roodt to create the unnerving and skin-crawling horror movie, The Lullaby. Reine Swart plays a 19-year-old girl, "Chloe", who is thrown into motherhood and lands in a state of disturbing paranoia. When the birth of a baby forces Chloe to move back in with her mother, haunting elements of Chloe's past begin to resurface and take control of her sanity. (KIZJ: 3/5)
Review by FF2 Associate Katusha Jin
Squirming helplessly on the surgery table, "Chloe" (Reine Swart) gives birth to her son at the mere age of nineteen. Reluctantly, she moves back in with her mother, "Ruby" (Thandi Puren), to the place where she grew up: Eden Rock. As a first-time mother, Chloe makes plenty of errors when taking care of her child, and Ruby takes it upon herself to correct her young daughter's mistakes.
For Chloe, the unstoppable crying and lack of sleep become the start of her dissolving sanity. Although motherhood is a tiring and bleak reality she has been plunged into, her mind drags her into an otherworldly dimension where the horrific imaginary and the present are inseparable. She hears lullabies and envisions danger everywhere.
When Ruby recognizes her daughter's struggles, she recommends her to visit "Dr. Reed" (Brandon Auret). At first, Chloe is unwilling, but with the persuasion of her old friend, "Adam" (Deànré Reiners), she pays the doctor a visit. During her sessions, she opens up about the paranoia of seeing an evil entity that keeps trying to steal her baby. Chloe's mind spirals further and further out of control. Her grasp of reality continues to weaken and she becomes unable to differentiate between the real and unreal.
Blood and death haunt Chloe. She sees blood pumping out of her breast and her baby lying dead in the freezer. On another occasion, she imagines her child bleeding to death in his cot when in actuality, he scratched his cheek whilst sleeping peacefully. Despite seeing danger everywhere and trying to protect her baby, she poses the greatest danger to his wellbeing with her screams and physical violence. Yet in Chloe's mind it is her mother, Ruby, that the troubled young girl mistakes for the evil entity. Chloe grows suspicious and paranoid about her mother's possible evil intent. Now, she is not only a threat to her child's safety, but also her mother's.
The small cast pulls focus in on the characters and lessens distractions. With the help of eerie lighting and makeup, Reine Swart offers an outstanding performance and embodies paranoia to a level that makes it shocking and unsettling to watch her. Shot by Justus de Jager and edited by Leon Gerber, the pace of the scenes with special effects is tweaked in a way that helps the movie steer clear of accidentally coming across as farce.
Although the paranoia of Chloe's character is written well, the piece feels unresolved. So much of Dr. Reed and Adam's storylines are left to guessing. More exploration of Dr. Reed and Adam's storylines would have helped; they swing in and out of the main narrative and their purpose remains unclear. The Lullaby has enough edge to please fans of the horror genre with its smartly edited bloody scenes, but the story itself weakens towards the second half.
© Katusha Jin (03/01/18) FF2 Media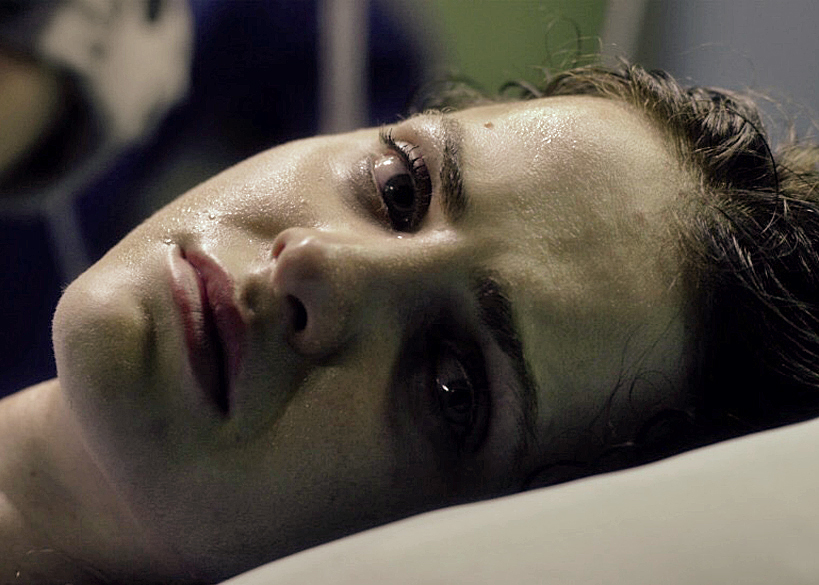 Featured Photo: The evil entity that Chloe keeps imagining.
Top Photo: "Chloe" (Reine Swart) in the forest.
Bottom Photo: Chloe on the hospital bed after giving birth.
Photo Credits: Uncork'd Entertainment / Phoenix Films
Q: Does The Lullaby pass the Bechdel-Wallace test?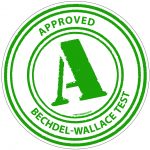 Yes.
Right off the bat when "Chloe" (Reine Swart) is giving birth, the nurse is telling her to push and chloe replies that she cannot. Soon after, "Ruby" (Thandi Puren) talks to her daughter, Chloe, about how silly it was of her to leave home.