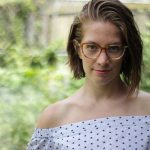 Director Emily Railsback and award-winning sommelier Jeremy Quinn embark on the historical journey of wine in Our Blood is Wine. Their documentary looks into the roots of winemaking and vine-growing in the Republic of Georgia. (KIZJ: 2/5)
Review by FF2 Associate Katusha Jin
Sommelier Jeremy Quinn decides that he finally wants to actively search for the answers to his questions about the origins of how wine is made. This catapults him to rural Georgia, where winemaking was considered part of the flesh and blood of its people. Despite Soviet rule, a small society of people who are deeply passionate about this intrinsic part of Georgian culture survived with the winemaking traditions engrained in them. To them, this is more than simply winemaking; it is their culture, history, identity, and their life.
To discover the process of winemaking, Railsback and Quinn seek out Ramaz Nikoladze (winemaker in Imereti, Georgia) who explains that in Georgian winemaking, the qvevri is key. Qvevri, is a clay vessel that is made of earth and then put back into the earth during the fermentation of wine. In order to find out how long qvevris have existed, Quinn makes a trip to the Georgian National Museum, where Mindia Jalabadze (head archeologist of the Neolithic Era) shows Quinn a couple of qvevris that are around 5000 to 6000 years old. The oldest however, is aged at about 8000 years from the Neolithic era. Even till the modern day, the shape of the qvevri has not changed, which goes to show that the ways of winemaking have also not changed. Giorgi Barisashvili, (Qvevri Expert and Author) describes the creation of a qvevri as more than just the physical making of it; it is a personal act where each step is created by the hands of men. Although the kiln is not far, even the process of putting the moulded qvevri into the kiln takes a lot of manpower and team effort.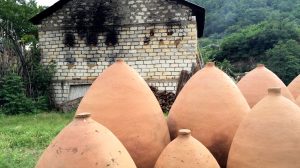 The problem that Georgians faced was that since winemaking was such an integral part of Georgian life, in their minds, there was never even the slightest possibility of losing this part of their culture. Precisely due to this, no book was written previously about the traditions that described the intricate details of Georgian winemaking. Now, they are so cut off from the knowledge that this vital part of Georgian identity is at risk of being lost. The legacy is in the hands of this small surviving society who are trying to save and bring back to life their winemaking traditions as Georgians.
As part of the effort to continue the Georgian culture of winemaking, Nikoladze has been studying the local species of grapes in his family's home region for eight years. The region is called "Samatskhe-Javakheti", commonly known by its historical name,"Meskheti",  and was shut off with a border during the formation of the Soviet Union. Therefore, a lot of the knowledge of the local vineyards and grapes was lost.
Nowadays, when people visit Georgia, those with an interest in wine tend to think that Georgian wine is synonymous with Saperavi wine, which is high in alcohol content, low in acidity, and has a deep red color. However, there is also Meskhuri wine in the South of Georgia, which is light-bodied, fresh, higher in acidity, and lower in alcohol content. It is reminiscent of European wine before the Soviet rule. Quinn goes on to follow fellow winemakers and wine enthusiasts of Georgia to dig deeper into where this rich historic part of the culture stands now and their quest to save this widely-forgotten part of the culture's history.
Winemaking is a vital part of Georgian culture, as well as an industry that is crucial to the Georgian economy. Out of all the wines that are made in Georgia, only one percent is made in qvevri. There are some self-proclaimed winemakers who take already-crushed grapes, add water and sugar, and label it as wine, all for the monetary temptations. Railsback and Quinn's journey to Georgia, a country that suffered a loss of a huge part of its identity, shows the battle between keeping tradition and gaining financial profitability in a country that loves their winemaking tradition, has suffered great losses in it, yet relies on it financially.
Emily Railsback's documentary shows, repeatedly, the importance of winemaking to Georgia's culture and its suffocation throughout history. As the host of the film, Jeremy Quinn makes a good effort in guiding the viewer through their travels. Nevertheless, Our Blood is Wine has a dreary speed and it's difficult to stay with the story as the structure is very weak. Overall, it feels repetitive and disorganized to watch, and there were sections that could have been cut shorter as they added little substance to the film. To oenophiles, this may be an intriguing trip, which will provide an insight into some little-known historical knowledge, but to the average viewer, it lacks bite.
© Katusha Jin (3/16/18) FF2 Media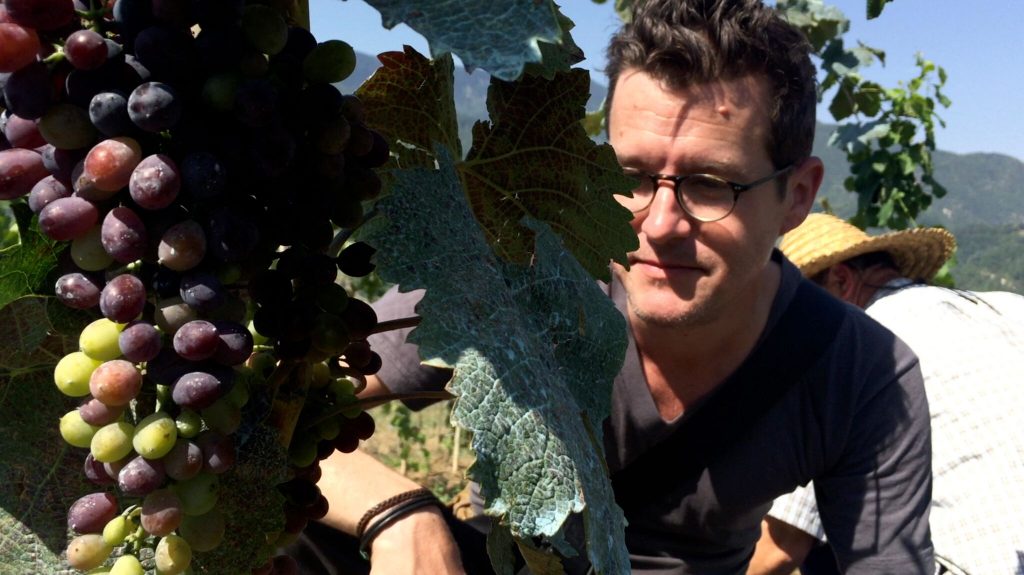 Top Photo: Director Emily Railsback.
Middle Photo: Qvevri in the field.
Bottom Photo: Jeremy Quinn in the vineyard.
Photo Credits: Music Box Films
Does Our Blood is Wine pass the Bechdel-Wallace test?
Maybe, but only just.
In one instance, three women of a family sing "Batonebis Singera", a Song from Imereti, at the dinner table. Another moment is when two women are part of a crowd talking, but it is not in English and not subtitled, so it is unclear what they are talking about. There is an instance where the woman is talking to Railsback, who is behind the camera, about wine.