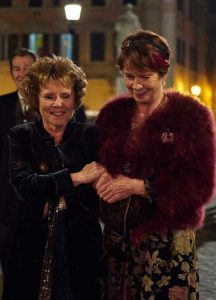 Co-written by Meg Leonard, Finding Your Feet follows Sandra (Imelda Staunton) when her husband of thirty-five years leaves her for a mutual friend. Lost and heartbroken, Sandra moves in with her adventurous and charming estranged sister Bif (Celia Imrie). It's rare to see a movie with a cast of characters who are almost entirely retirement age or older, and it's even rarer to see these characters portrayed in full depth. What results is a fun and poignant development on romantic comedy. (AEL: 4/5)
Review by FF2 Intern Amelie Lasker
Sandra (Imelda Staunton) and her husband Mike (John Sessions) celebrate Mike's retirement with many friends in their large and beautiful home. Sandra has been playing the role of a public figure's wife for decades, and now she can't wait to enjoy happy retired years together. Then she discovers Mike is leaving her for her best friend.
Lost and deeply insulted, Sandra goes to stay with her sister Bif (Celia Imrie). The two diverged when they were young and have been living very different lives since. Bif's warm, free eccentricity is uncomfortable for neat, prim Sandra. When Bif reacts poorly to Sandra's bigoted ways, Sandra feels even more alone and confused.
Bif takes Sandra to her dance class, where she introduces her to her friends. Like an island of misfit toys, the friends have all suffered their own difficult family histories. Charlie (Timothy Spall) sold his house to pay for his wife to live in a facility to care for her Alzheimer's, and now the disease has progressed so much that she's starting to forget him. Jackie (Joanna Lumley) has had several husbands, none of whom ended up a satisfactory companion. Ted's (David Hayman) wife died years ago, and he still misses her acutely.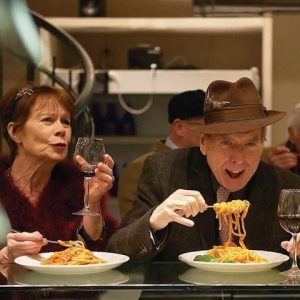 Bif is always casually sharing bits of wisdom which seem intuitive to her, but which are brand new for Sandra. Bif loves to go on dates. Her house is full of colorful clutter, and she's always forgetting her phone, because she simply has better things to think about. When she's frustrated, she goes for a bike ride, or swims in the cold creek near her London apartment. Though she and her friends are starting to feel their age, Bif isn't afraid of death in the least. Soon, Sandra is learning from Bif's spirited optimism, and the sisters finally become close after decades of estrangement.
Finding Your Feetis well cast. Celia Imrie is loveable as Bif. Imelda Staunton and Timothy Spall seem like strange choices at first, since both are character actors, likely best known for the roles as undesirables in Harry Potter. As the story unfolds, though, their casting comes to make sense. Staunton and Spall are both unlikely leads, and their emergence as romantic heroes is as much of a surprise to their characters as it is to audiences. In that context, their undeniable charisma is all the sweeter.
Finding Your Feetis about elderly people who enjoy themselves, and move around, and have sexualities and insecurities and dreams. It's about how much life there is left to live after the things we dream of–career, marriage–are over. It's funny, sweet, and neither cheesy nor overwrought, and I very much enjoyed it.
© Amelie E. Lasker (4/3/18) FF2 Media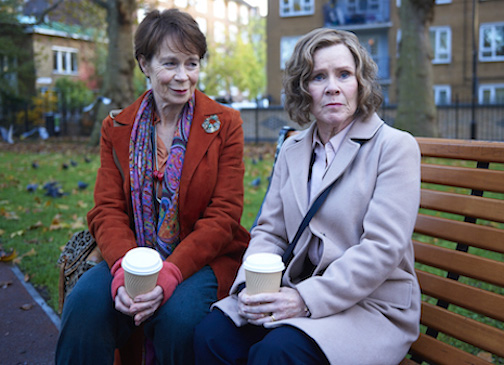 Top Photo: Imelda Staunton as Sandra and Celia Imrie as Bif.
Middle Photo: Celia Imrie as Bif and Timothy Spall as Charlie.
Bottom Photo: Celia Imrie as Bif and Imelda Staunton as Sandra.
Photo Credits: Roadside Attractions
Q: Does Finding Your Feet pass the Bechdel-Wallace Test?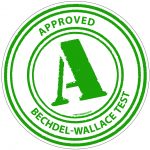 Absolutely!
The movie's two leads, Sandra and Bif, are women, and although the initial catalyst for the action is the painful ending to Sandra's marriage to a man, the relationship between the sisters and Sandra's personal growth take center. In some of the movie's most poignant scenes, Sandra and Bif remember their childhood together, and all the ways in which their lives have progressed in the decades since they grew apart.