3/31/18 Editor's Update from Jan Lisa Huttner: Members of FF2 Media's NYC team saw Outside In last night. HIGHLY RECOMMENDED! Edie Falco is now on our watch list for a Best Actress Oscar in 2019 🙂
Directed by Lynn Shelton and co-written with Jay Duplass, Outside In tells the unlikely love story of a man released after 20 years in prison and his high school teacher, the only person to stick by him. The film follows the inner workings of their minds and never loses the audience for a second. (KAC: 4.5/5)
Review by FF2 Intern Katharine Cutler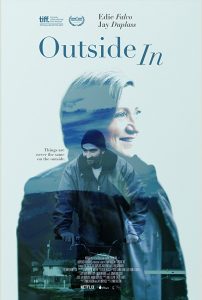 Outside In chronicles the life of "Chris" (Jay Duplass) after 20 years in prison for a crime he didn't commit. When he gets out, his brother, "Ted" (Ben Schwartz), throws a party, but quickly we realize that no one stood by Chris while he was in prison, except his high school English teacher, "Carol" (Edie Falco). Through letters and phone calls, they fell in love and now that he's out, we'll see where it takes them.
Lynn Shelton engulfs us in the world of a small town in Washington. Without ever explicitly saying it, we can understand the circumstances that caused Chris's incarceration. The misery that comes from living in a place no one can leave is a constant theme, but always sits in the background, silently, never pushing too hard.
But this film is really made by the acting. Jay Duplass and Edie Falco make the most unlikely pairing, yet they seem to fit with each other. It's hard to tell Chris's age because Jay never misses a beat, each action telling us another thing about his internal personality. He's a teenager stuck in the body of a 40 year old and Edie Falco's stunning performance of his teacher mimics that.
Despite drowning in her marriage, Carol is still hopeful, but her attraction to Chris is never ending. Just as she stuck by him while in prison, Chris became Carol's confidante and we can easily understand why she loves him, but Carol's reluctance to ruin her marriage stands in the way. Edie Falco's incredible emotional range cements this as one of her best performances. She takes us through each thought and feeling, as if everything slows down and in a moment, we understand Carol.
Lynn Shelton through her directing and writing with Jay Duplass pulls together Outside In as one of the best indie films of the year. It's respectful and intimate without taking advantage of the story or any of the characters. This film feels incredibly real and meaningful, and while not a life-changing type of film, it forces you to reevaluate love and the people around you. The film has few faults and truly paints this wonderful picture that you never want to look away from.
This film is not one you want to miss. With a limited release, it's definitely worth a longer drive to see.
See Outside In yourself this week (3/30 — 4/6) at the following US Theatres: Los Angeles, CA – Laemmle NoHo 7; New York, NY – Quad Cinema; Philadelphia, PA – PFS Roxy; Eugene, OR – Broadway Metro; Baltimore, MD – Parkway; Huntington, NY – Cinema Arts Centre; Columbus, OH – Gateway Film Center 8; Saskatoon, SK – The Broadway Theatre; The Villages, FL – Barnstorm Theater. Outside In is in "rolling release," meaning more USA theatres will be adding this film to their schedule every week!
© Katharine Cutler (04/01/18) FF2 Media
Top Photo: Edie Falco as Carol and Jay Duplass as Chris.
Middle Photo: Poster for Outside In.
Bottom Photo: Edie Falco as Carol.
Photo Credits: Duplass Brothers Productions
Q: Does Outside In pass the Bechdel-Wallace Test?
Yes.
One conversation between Carol and her daughter, "Hildy" (Kaitlyn Dever), about their struggling mother-daughter relationship pushes this film to pass.
Click HERE to read interview with filmmaker Lynn Shelton by FF2's Lesley Coffin: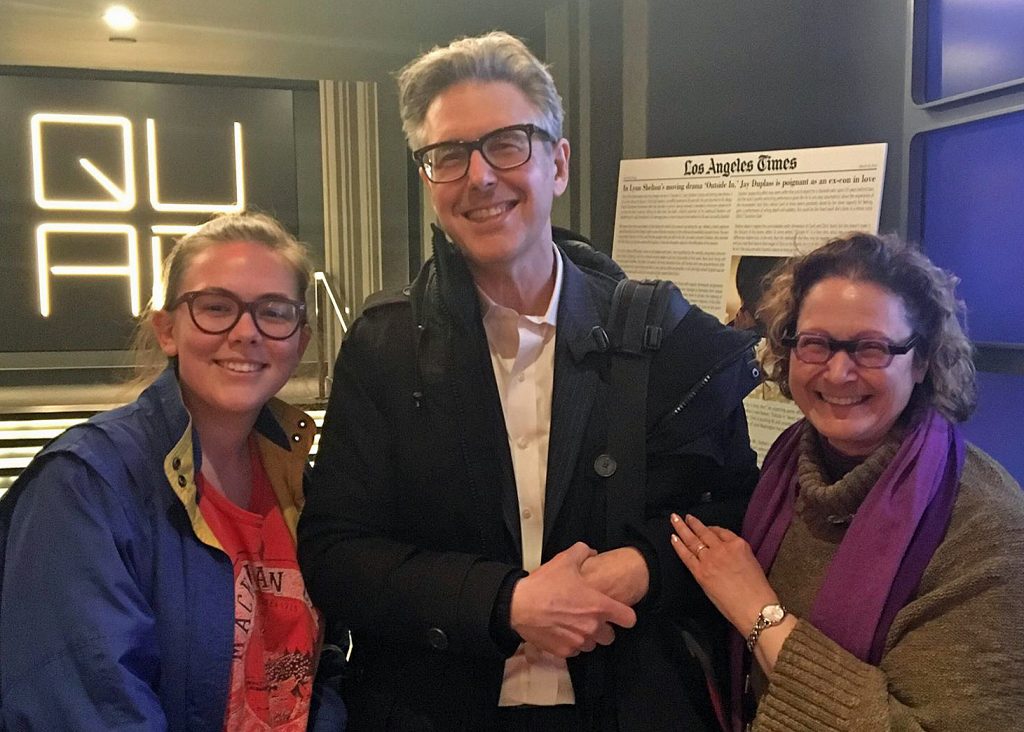 Katharine Cutler with Ira Glass of This American Life & FF2 Editor-in-Chief Jan Lisa Huttner after Ira did superlative Q&A with Lynn Shelton at NYC's Quad Cinema on Opening Night.
Photo Credit: Will Higgins (3/30/18)