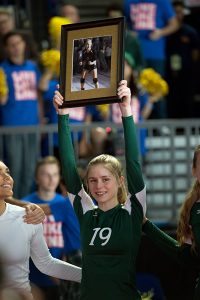 From Soul Surfer director Sean McNamara and co-writers David Aaron Cohen and Elissa Matsueda, The Miracle Season is an emotional journey through a high school volleyball team's unlikely victories following the death of their captain. Though it doesn't win every set, The Miracle Season is an inspirational sports film with enough heart to win the game. (BKP: 4/5)
Review by Managing Editor Brigid K. Presecky
Caroline "Line" Found (Danika Yarosh) is the soul of the West High Trojan volleyball team. Her bubbly personality and genuine affection for those around her is evident, from her serious coach Kathy Bresnahan (Helen Hunt), to her beloved father (Wiliam Hurt) and her best friend Kelly (Erin Moriarty). But when she is suddenly killed in a tragic accident, her family and friends must find the strength to carry on without her positive influence.
The Miracle Season will undoubtedly bring back memories for girls who competed in high school sports — the sweaty knee pads, the endless laps, the pre-wrap and the petty inter-squad drama. But what makes it special is that these girls are playing for something bigger than a state title — they're playing in memory of their dear friend, a lesson made all the more palpable by the true story upon which the film is based.
Moriarty, in particular, does a great job as a grieving best friend who channels her sadness and anger into her sport. Her performance is more understated than Yarosh's, reminiscent of a younger Kate Mara. Her fellow castmates seem like real high school students — no Pretty Little Liars here. They resemble true athletes, like the girls who sat next to you in English class. They're the real deal, and so is Hunt — she's the only performer who doesn't venture into melodramatic territory, and is never a sports-film coach cliche.
Though it has its cheesy and saccharine moments, the important story and the catharsis of playing a team sport overshadow its more cringe-worthy aspects. Cohen and Matsueda wrote a fast-paced script with a solid balance of reflection and action that keeps the story interesting. Rather than dragging into repetitive oblivion, its emotion only builds as the story unfolds and the team strives not only for victory, but to "live like Line."
In addition to its poignant moments, The Miracle Season is memorable because it is entirely a woman's film. It is built on the backs of female characters — based on real young women — and their strength in the face of something real. Dealing with death, carrying on and choosing to be inspired by circumstances rather than defeated by them are just a few of the themes that these girls emulate. Though the dialogue doesn't always feel authentic, the characters always do. And that's as rare and previous as a 15-game winning streak.
© Brigid K. Presecky (4/6/18) FF2 Media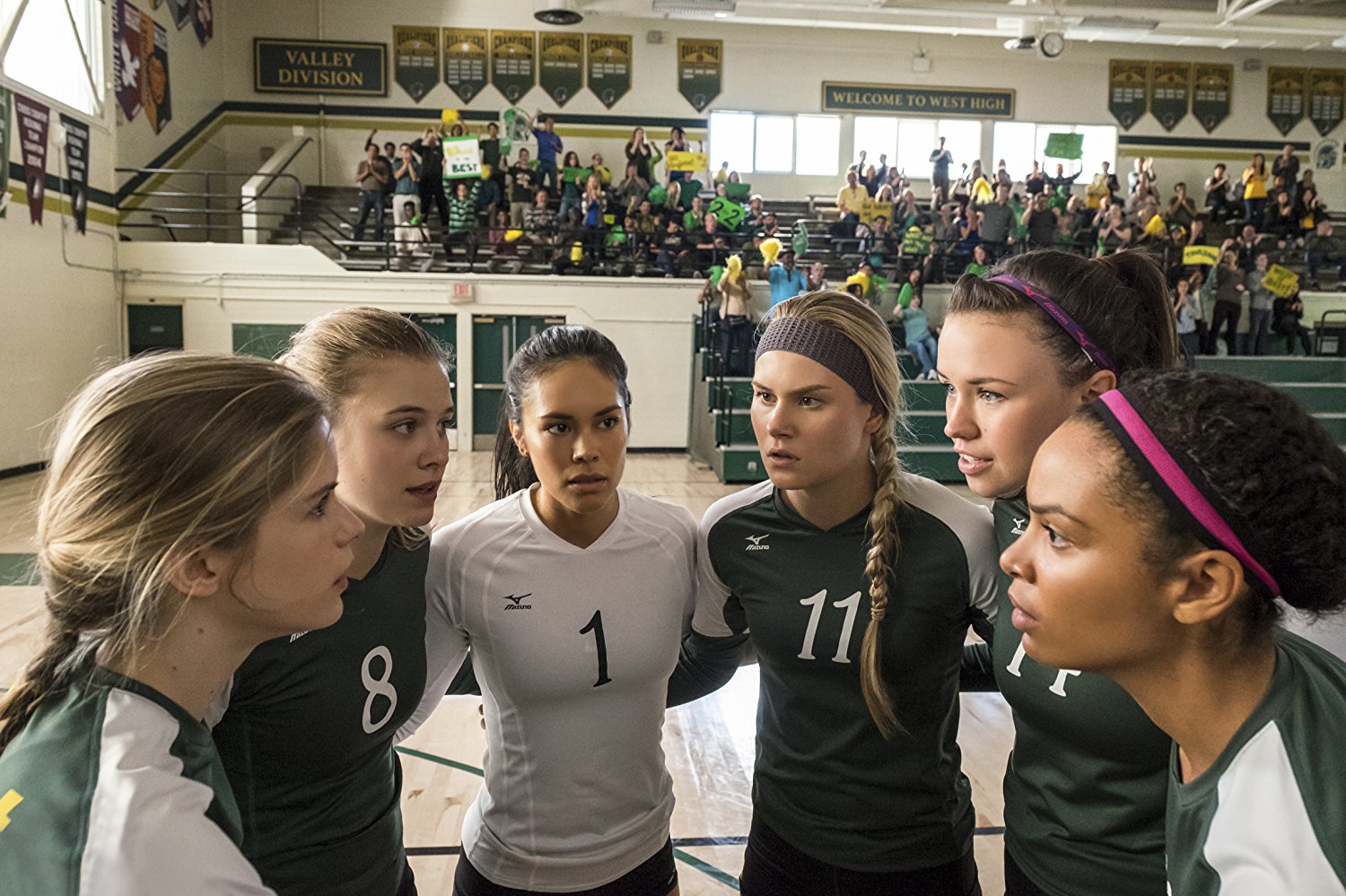 Top Photo: Kelly (Moriarty) honors Line (Yorash).
Middle Photo: Hunt is understated and excellent as Coach Bres.
Bottom Photo:"West is best" – the West High Trojans plan their next play.
Q: Does The Miracle Season pass the Bechdel-Wallace test?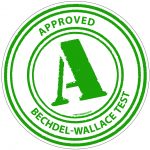 Absolutely!
Kelly, Line, Coach Bresnahan and the rest of the team are completely focused on volleyball and their relationships with one another.