Writer and director Chloé Zhao's second feature The Rider is as gorgeous as her first. Brady is a horse trainer, but his life and work are endangered when he suffers a serious head injury in a rodeo. The actor, Brady Jandreau, is a real person whom Zhao met on a reservation in South Dakota while making her first film. Zhao has woven a story that is delicate and visually gorgeous, based on real ambitions and pains in the lives of Jandreau and his family and friends. (AEL: 5/5)
Review by FF2 Contributing Editor Amelie Lasker
Brady, played by a first-time actor of the same name, suffered a head injury while riding in a rodeo, and his doctor says he can't ride anymore. The full effects of his rodeo injuries aren't clear, and those that surface are worrying. He frequently has hand seizures, when he can't unclench his fingers without prying them open.
Brady frequently visits his friend Lane, who also suffered a traumatic rodeo injury and who can't move or communicate well as a result. In a video on Brady's phone, we can see Lane pre-injury, riding in the rodeo and posing in front of a cheering crowd. Brady and Lane grin watching it. The pain and risk of the rodeo are a matter of course for them, because the rodeo is what they love, a source of glory and of utmost joy.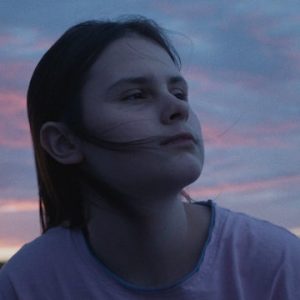 Brady's father and younger sister, Tim ("Wayne") and Lilly, also play fictionalized versions of themselves. Lilly's character is an unexpected blessing in the film. In my favorite scene, she sits in Brady's car alone, looking at the stars and singing. Her father and brother try to protect her from harm, since she has a learning disability, but she doesn't seem to need protecting, at least not from what they think endangers her. Wayne keeps trying to get her to wear a bra, but she doesn't want to, so she cuts her new bras up with scissors.
Brady cautiously returns to work as a horse trainer. The hair over the gash on his head hasn't grown in, and it's upsetting to watch him throw himself onto horses again and again, but it's also plain to see the connection he has with the horses, and the pleasure he gets from the work.
Zhao explained that the script is only sixty-five pages long, though the movie runs about a hundred minutes. Since often the characters don't, or can't, express themselves in words, we get so much out of the actors' faces, and out of the quiet of the South Dakota landscape. Zhao has shown herself to be a wonderful storyteller, and I can't wait to see what she does next.
Read FF2's interview with filmmaker Chloé Zhao here or read more coverage of the film here.
© Amelie E. Lasker (5/24/18) FF2 Media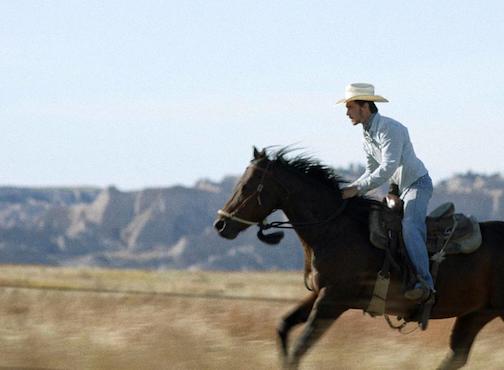 Top Photo: Brady Jandreau as "Brady Blackburn."
Middle Photo: Lilly Jandreau as "Lilly Blackburn."
Bottom Photo: Brady Jandreau as "Brady Blackburn."
Photo Credits: Sony Pictures Classics
Q: Does The Rider pass the Bechdel-Wallace Test?
No.