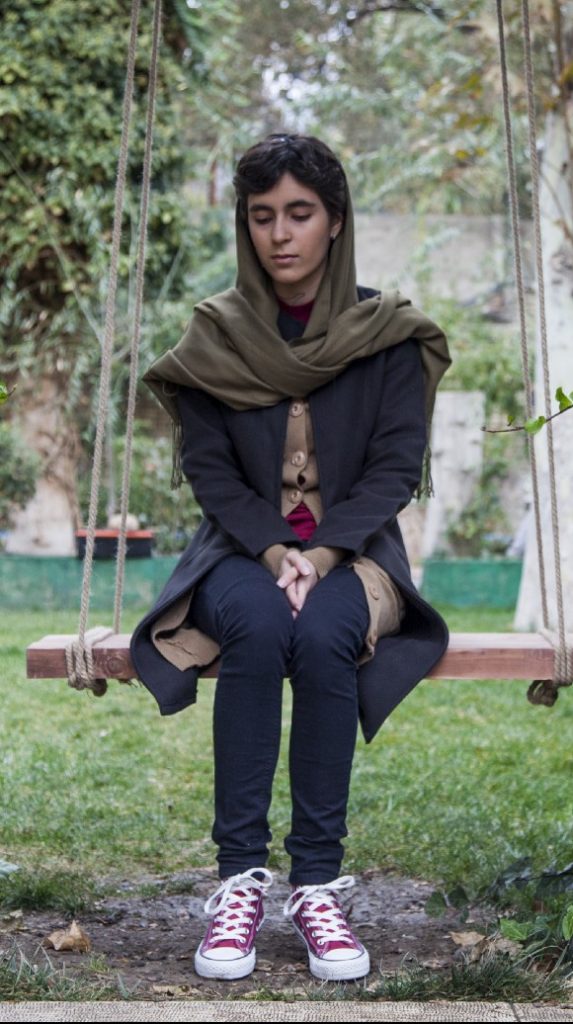 When a teenage girl in Iran is caught going against her mother's orders, familial tensions rise and school life is disrupted. Long-standing suspicions intensify, breeding distrust and humiliation, and making the lives of these characters a living hell. Writer and director Sadaf Foroughi delivers a film that is both beautifully shot and scathingly critical of the Iranian society it portrays. Ava is a striking work of art in its content as well as in its visuals. (RMM: 5/5)
Review by FF2 Intern Roza M. Melkumyan
At an all-girls school in Tehran, seventeen-year-old "Ava" (Mahour Jabbari) encourages her friend "Shirin" (Sarah Alimoradi) to ask out a boy named "Nima" (Houman Hoursan). When Shirin rejects Ava's offer to help her get a date with Nima, Ava decides that she can get a date with him herself. Friend "Melody" (Shayesteh Sajadi) rallies behind Ava, and the two set out to prove themselves right to Shirin. Having already established a friendship with the older Nima, Ava feels that this will be an easy task to accomplish.
At the breakfast table the next morning, Ava's mother "Bahar" (Bahar Noohian) and father "Vahid" (Vahid Aghapoor) voice their contradictory concerns for Ava. Bahar expresses concern over Ava's recent behavior, noting that her daughter barely speaks to her. She disapproves of what she views as Ava's pointless obsession with her violin classes. Vahid, on the other hand, believes that Ava should be able to pursue her passion for music or she may grow to resent her parents later in life.
Ava interrupts her parents' debate to remind them that she has plans to study at Melody's house, as their upcoming recital requires them to practice their piece together. However, Ava's real plan is to sneak out with Nima and win the bet. Bahar is suspicious of Ava's real motives, but finally agrees to let Ava stay at Melody's for no more than three hours.
At Melody's house, Ava borrows some mascara and lipstick before meeting with Nima. She returns four hours later to find Bahar berating Melody and her mother for allowing Ava out of their sight. Bahar calls Melody's household corrupted – because her mother and father are separated – and forbids Melody from speaking to Ava again. Ignoring Ava's pleas, Bahar takes her to see a gynecologist to confirm that Ava is still a virgin. Bahar remains suspicious of Ava, and asks her principal "Ms. Dehkhoda" (Leili Rashidi) to keep a watchful eye on her. From this point forward, incident after incident ensures chaos for Ava and her loved ones.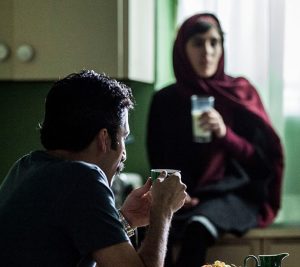 I absolutely loved Ava. Visually rich, it features dynamic camera work that effortlessly captures the beauty of the scenes and its characters. At certain points, the camera sits still in front of the actors' stage – a kitchen or bedroom – and allows the audience to watch the scene unfold as if in real life. The camera might peek through a slightly opened door to capture an intimate conversation or it might catch the action through the reflection of a bedroom mirror. It looks through the eyes of a character, filming only the other character in a two-person conversation. In these ways, the film manages to make the camera seem both invisible and glaringly noticeable, like it has trespassed on something private.
In addition to dynamic camera work, writer and director Sadaf Foroughi utilizes a color scheme rich in pale blues, deep reds, and blacks to paint a vivid image of this story. Ava's red backpack becomes the focal point of many scenes, contrasting well with the blue of a classroom chair or a tiled wall. At times, the visuals blur so that only these colors can be seen, making for a scene that dances between clarity and nebulosity. In these instances, the film takes on a languid pace that contrasts the peace of distant classroom din with the feeling of anxiety looming over the school halls. As Ava traversed the restrictive society around her, angry and anxious, I felt my own heartbeat quicken.
Foroughi's Ava tackles the various social restrictions put in place by contemporary Iranian society. In the world of women, sex is not to be discussed and mental illness goes unacknowledged. This is a society governed by the fear of censure, and the audience can feel the debilitating shame of its members. Such fears run Ava's own school where gossip fuels its disciplinary actions.
I also applaud Foroughi for highlighting the significance of problems faced by high school students. Often times, adults dismiss such issues as unimportant in the grand scheme of life. To a high schooler, however, feeling like you don't have any friends or being barred from your passion, music in Ava's case, can mean the end of your world. What happens in high school can affect a person for the rest of her life, and Foroughi understands that such stories deserve to be told with respect for the student's point of view.
Ava skillfully balances its beautiful cinematic integrity with a critically charged story. It is a force to be reckoned with!
© Roza M. Melkumyan (4/26/18) FF2 Media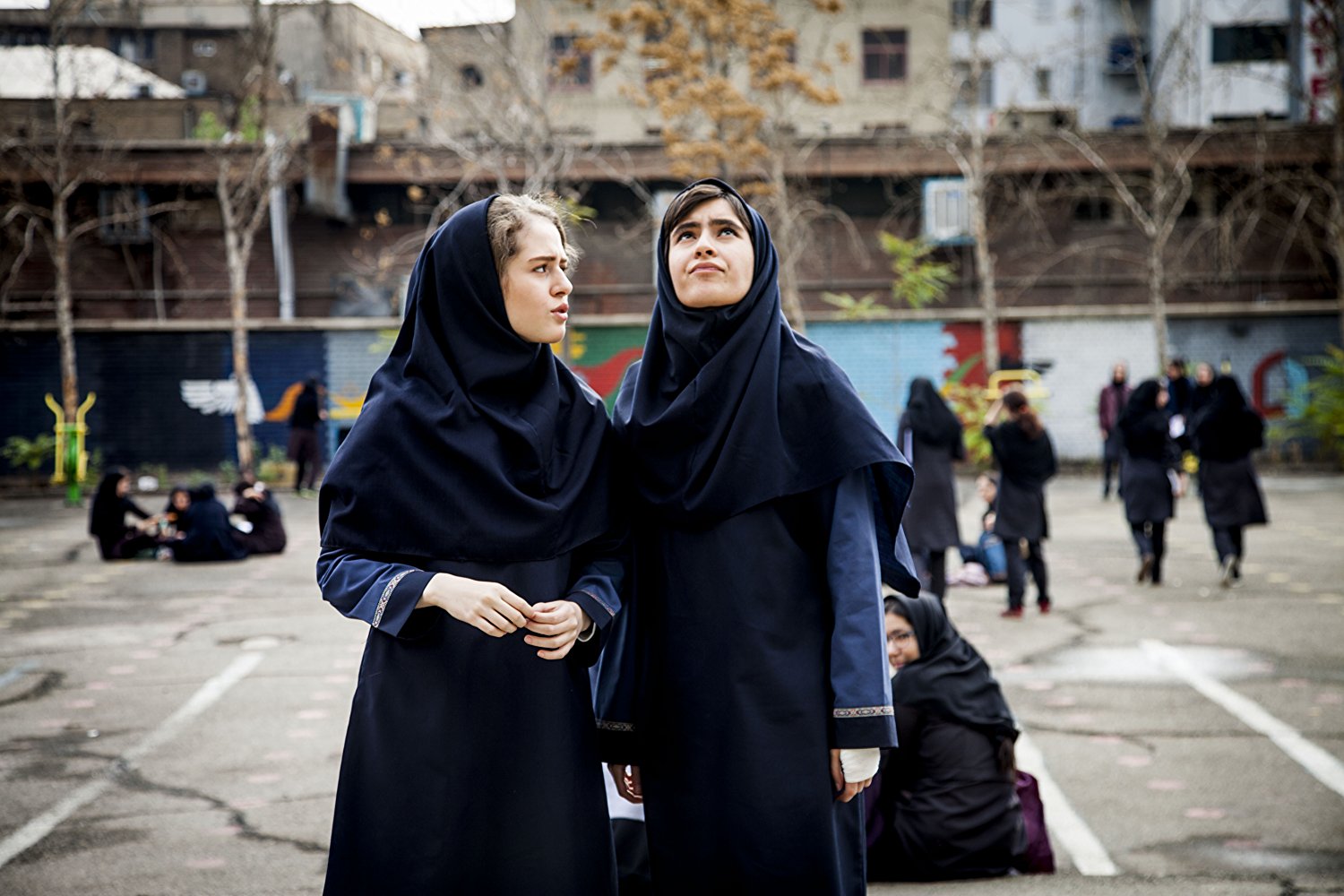 Top Photo: Jabbari as Ava.
Middle Photo: Ava and her father eat breakfast in the kitchen.
Bottom Photo: Melody and Ava share a conversation in between classes.
Photo Credits: Grasshopper Film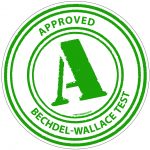 Q: Does Ava pass the Bechdel-Wallace Test?  
Yes.  Women in this film share many conversations that not only don't involve men, but focus especially on women. They often discuss the conduct of women without invoking the presence of a man at all. Ava also speaks to her friends and her mother about her passion for the violin.