Many films are born out of passion for an issue or cause, and the visual medium is a tool for conveying those passionate messages. Love & Bananas depicts director Ashley Bell's love and compassion for elephants as she embarks on a two-day rescue mission in Thailand. It is a type of personal story that could easily have turned too familiar, but Bell's choice of framing hits the right serious note while still maintaining a honest and constructive appeal to the public. I am a richer person for having seen it. (MJJ: 5/5)
Review by FF2 Associate Malin J. Jornvi
Love & Bananas takes place mainly in Thailand and Cambodia, centering around elephant activist and sanctuary founder, Lek Chailert. After director Ashley Bell learned of the reports of elephant endangerment by a family friend and elephant benefactor, she traveled to Asia (and Lek) to see for herself what is really happening behind the ignored fate of circus animals and trekking businesses.
Objectively, images animal in documentaries can easily be manipulated to serve the filmmaker's intentions. Love & Bananas is no exception to interpreting elephant expressions and extracting the human emotions in its favor. The documentary further edits those images together with enhancing soundtrack in order to underline its cause—however—hardly anyone can argue against the employment of the technique. Bell's documentary uses the cinematic tools to the extent that I was crying for at least 45 of the 77 minutes running time.
Love & Bananas makes you question humankind and the kind of monstrous treatments we are capable of. It further questions the individual and encourages each and every one of us to think harder about the choices we make, especially with regards to entertainment and tourism. But the documentary also gives many glimpses of hope, mainly through the relentless Lek Chailert who has dedicated her life to the survival and rehabilitation of the wild species.
And that is a key word: wild. On multiple occasions Love & Bananas reiterates that elephants are not a domesticated animal, and the the swaying "dancing" movement of individuals in captivity is nothing but a desperate response of a magnificent creature ceaselessly chained.
The most efficient argument of Bell's film is its exposure of The Crush Box, a process that every chained elephant has been through that is explicitly used to break—literally break—the elephant in. I want to meet the human who, after having witnessed the truth of why you can buy elephant art or ride on elephant backs, can continue the practice and not be ashamed of themselves: the 24-hour torture chamber is nothing but absolutely despicable.
Love & Bananas shows the hidden part of human entertainment, but it is also a golden example of a film that uses an entertainment medium to shift the way you perceive the world. And in addition to the enlightening and frightening truths, this is film about love, and the very perceivable healing power of the emotion.
Read FF2 Media's interview with Ashley Bell HERE.
© Malin J. Jornvi (5/1/18) FF2 Media
Top Photo: Love & Bananas movie poster.
Middle Photo: Lek Chailert at her sanctuary.
Bottom Photo: Ashley Bell and Lek Chailert (hidden) surrounded by rescued elephants.
Photo Credits: Abramorama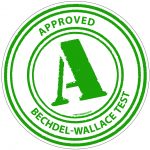 Q: Does Love & Bananas pass the Bechdel-Wallace Test?
Yes.
Love & Bananas passes without a doubt. This is a documentary dedicated to elephants and Ashely and Lek's focus on saving a species.