Written by Laura Brownson and Jeff Seymann Gilbert and directed by Laura Brownson, The Rachel Divide is a comprehensive look at the story of Rachel Dolezal – a woman who claims to be Black, despite her White origins. (FSE: 4.5/5)
Review by FF2 Intern Farah Elattar
The documentary's goal is to give viewers enough background to understand Rachel's complicated encounter with race, fame, and the media. It starts off by providing information on Rachel's former life, which already included a few public scandals within the NAACP (National Association for the Advancement of Colored People). These transgressions gave her the media attention necessary for a wide range of people to become aware of her origins.
As the media revealed in 2015, Rachel Dolezal is not genetically Black. Both of her parents have White genetic backgrounds – specifically Czech, German, and Swedish. But the media controversy over her racial self-identification completely destroyed her private life. She soon lost the ability to navigate her own town of Spokane (WA) or maintain most of the national connections she had formed as a Black woman.
Brownson does not take a specific position on Rachel's racial self-identification in her documentary, hence the title The Rachel Divide. It is understandable that the issue of Rachel Dolezal's identity would indeed cause a divide, coming at a time when all kinds of identities are being questioned (e.g. gender identity). The question of whether or not "trans-racial" is a thing is repeatedly brought up during The Rachel Divide, as people ponder whether or not anyone is allowed to identify with a race other than their own – especially White people with their well-documented "White Privilege."
In her documentary, Brownson explains that even though Rachel's parents come from 100% White European gene pools, by adopting numerous African & African-American children, they in fact raised Rachel in a home in which she had Black siblings. Eventually, due to her parents' abuse, Rachel decided to become the guardian (read "mother") of one of her Black brothers. Furthermore, the person who speaks most warmly about Rachel in The Rachel Divide is her Black sister.
So in this fractured family, Rachel decided to "choose" Black rather than White. Furthermore, she has obviously had Black partners as an adult because all three of her children are mixed race. And something she definitely did choose as an adult was "walking her talk" as the mother of Black children who seem to be growing into wonderful young men. This complicates Rachel's position, and points to how hard the filmmaker has tried to describe the complexity of a situation that defies most "Black & White" opinions on Social Media.
In order to explore various answers to the question of whether or not Rachel can be accepted as a Black woman, Bronwson interviews people from all sides of the story, including co-workers in the NAACP who were appalled when they first learned about Rachel's genetic Whiteness. Rachel also has to deal with the fact that the exposure of her genetic racial identity also impacted her Black sister's sexual assault case against her White brother, because the now-discredited Rachel was a star witness. But Brownson makes sure that The Rachel Divide is not a sob story about how the controversy surrounding Rachel has basically rendered her unemployable and unaccepted within the communities she had formed for herself.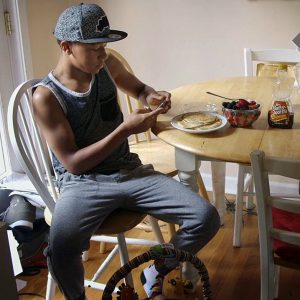 While the subject of this documentary is in itself problematic, I must applaud Brownson for her candid depiction of Rachel's situation. While Brownson reminded me of the illogicality of Rachel's belief, she also convinced me that it is not simply a made-up lie for attention: Brownson repeatedly shows Rachel crying because she so wholeheartedly believes she is African American.
Nevertheless, despite the complex issues surrounding Rachel, Brownson is able to somewhat humanize this problematic individual. Her documentary reminds us that no matter how "wrong" someone may be in her beliefs, it is still disheartening to watch her receive hate mail and death threats in the comfort of her own home. Does someone like Rachel really deserve the constant hate she receives both on social media and in her daily life?
Even though I personally disagree with Rachel's belief that she is African American, I do recommend The Rachel Divide to anyone who is interested in the issues raised by her case. With a combination of news footage, interviews, and an exploration of Rachel's family history, it provides viewers with the necessary information to make an informed opinion on a matter that has become a topic of heated public discussion.
© Farah Elattar (5/20/2018) FF2 Media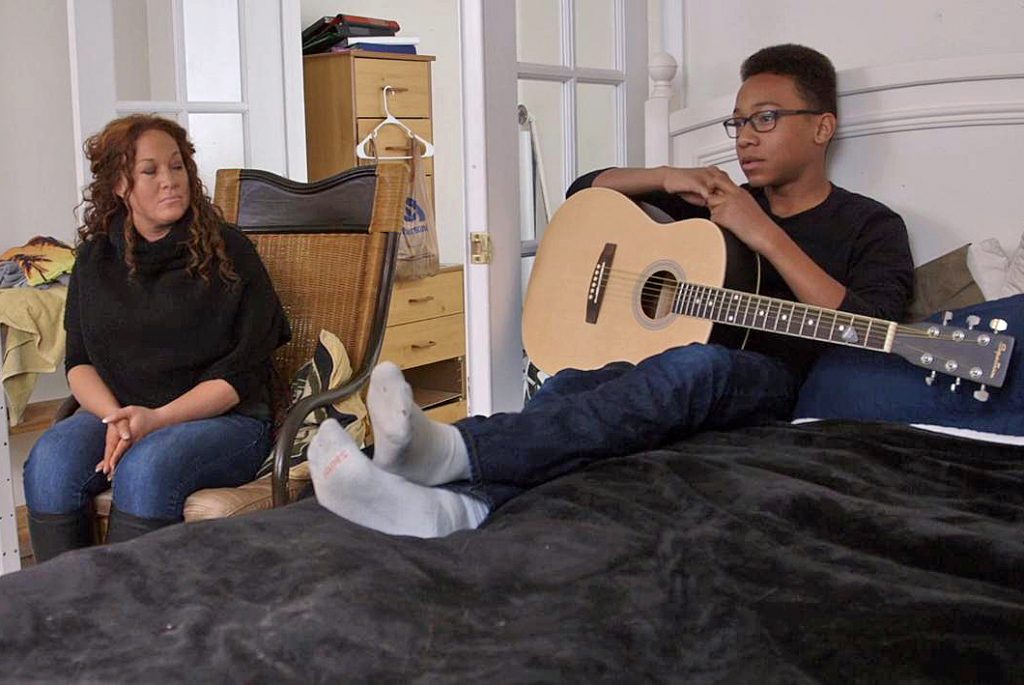 Featured Image: Rachel during one of her interviews.
Top Photo: Poster for The Rachel Divide.
Middle Photo: One Dolezal son at breakfast .
Bottom Photo: One Dolezal son with his guitar.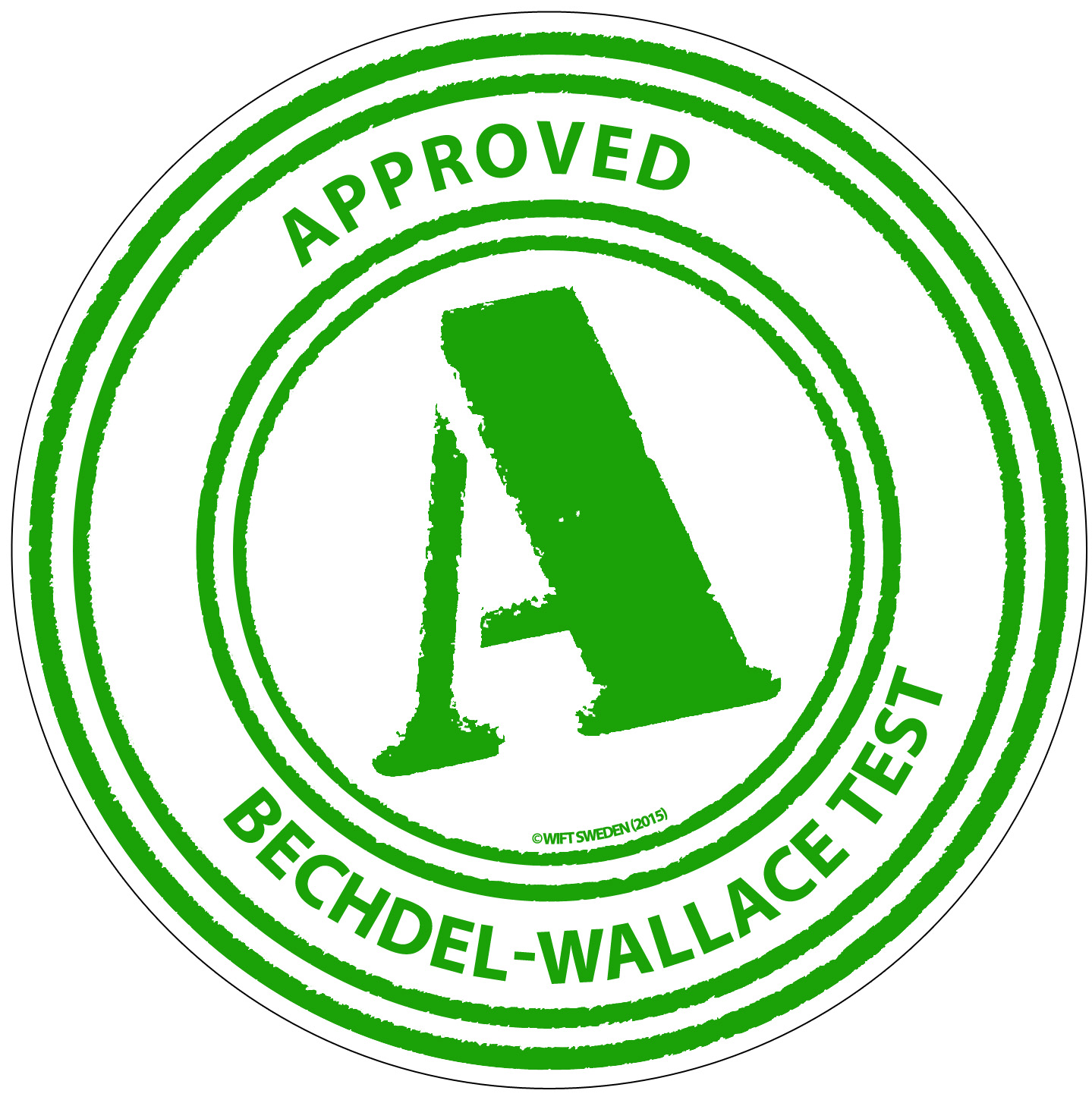 Photo Credits: Netflix (2018)
Does The Rachel Divide pass the Bechdel-Wallace test?
Yes!
Many of the interviewees are women who discuss their view on Rachel.