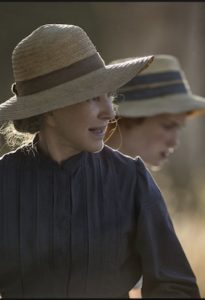 Co-written by Marie-Julie Maille, Frédérique Moreau and Xavier Beavois, The Guardians – or Les Gardiennes – depicts life on a farm in France in the throes of World War I. "Hortense" (Nathalie Baye) and her daughter "Solange" (Laura Smet) must live independently in the absence of their husbands, brothers and sons, who have gone to war. They hire a young farmhand to help them, and the three women run the farm together. The Guardians is a powerful film about both intense love and intense loss. (JRL: 3.5/5)
Review by FF2 Intern Julia Lasker
"Hortense" (Nathalie Baye) owns a farm where she lives with her daughter, "Solange" (Laura Smet). When Hortense's two sons and Solange's husband ship off to war, the women are left all of the farm's heavy work, leaving them emotionally and physically exhausted. To alleviate her fatigue, Hortense hires a young and energetic farmhand, orphaned "Francine" (Iris Bry), to help out. Francine quickly gains the family's affection and appreciation and becomes an adoptive daughter of sorts, staying much longer than initially expected.
The women modernize the farm, incorporating new technology and triumphantly improving it. They find solace and strength in each other in the absence of their loved ones. However, their bond is tested as they grapple with grief, with scandal that arises from the arrival of some rather predacious visiting American soldiers, and with a new romance that emerges between Francine and Hortense's younger son.
The Guardians is visually stunning. Director and co-writer Xavier Beauvois uses the merits of natural light and royal blue accents throughout to give the film a subtle, soft, and just slightly melancholic feel. Writers Beauvois, Marie-Julie Maille, and Frédérique Moreau incorporate high levels of emotion into the storyline, and the actors take on this challenge with ease. Their performances are realistic and raw, displaying a level of skill that is a treat to watch. Nathalie Baye's performance is especially masterful; if nothing else, it's worth watching the film just to experience her expertise.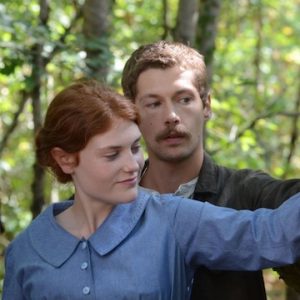 Another refreshing aspect of the film is that it's truly about the women. We've seen countless stories about the soldiers of World War I, but The Guardians focuses on the women who were left behind. Evidently, these women displayed impressive amounts of strength and resilience, and that particular phenomenon seems to go unnoticed by history. The Guardians, however, is a celebration and a testament to these women. I will concede that there were still problems with the film's depiction of its female characters, because the plot still hinges on their husbands and sons in the film. Still, the fact that the women drive the plot and are portrayed as strong-willed and complex is a win.
As I was watching the film, the characters and plot points all felt very classic. I had a sense that they were nothing I hadn't seen before. However, I think that's sort of the point. The Guardians is about real life – real love, real friendship, real grief – and that's why the relationships and emotions feel so familiar. The Guardians is a testament to the fact that classic is beautiful.
© Julia Lasker (5/28/18) FF2 Media
Top Photo: Nathalie Baye as "Hortense" and Iris Bry as "Francine."
Middle Photo: Iris Bry as "Francine" and Cyril Descours as "Georges."
Bottom Photo: Nathalie Baye as "Hortense" and Laura Smet as "Solange."
Photo Credits: Guy Ferrandis
Does The Guardians pass the Bechdel-Wallace test?
Yes!
While the plot is driven by their relationships with men, the women in this film talk a lot about themselves, about their choices, their pains and their solaces.