An exhausted mother of three hires a "night nanny" to take care of her newborn daughter. The two women forge a close relationship while reflecting on their lives and exploring their notions of youth and motherhood. Jason Reitman and Diablo Cody  – the director and screenwriter duo responsible for 2007's Juno  – deliver a film filled with honesty, humor, and heartbreak. (RMM: 4.5/5)
Review by FF2 Intern Roza M. Melkumyan
At home in a New York suburb, a pregnant woman named "Marlo" (Charlize Theron) and her husband "Craig" (Mark Duplass) are overwhelmed by taking care of their two children, "Sarah" (Lia Frankland) and "Jonah" (Asher Miles Fallica). Having just gone on maternity leave and expecting her third child any day, Marlo finds herself spread thin.
Marlo has had a difficult time raising Jonah, whose behavioral issues include tantrums and acute sensitivity to loud noises. On the way to a meeting with his school's principal, "Laurie" (Gameela Wright), he has a meltdown that drives Marlo to frustration. When Laurie suggests that Marlo hire a teaching aid for Jonah, Marlo admits that she can't afford one. Afterwards, a run-in with an old Bushwick roommate reminds Marlo of her wild and adventurous youth.
Marlo and her family spend an evening with her brother "Drew" (Ron Livingston), his wife "Elyse" (Elaine Tan), and their children. It is clear from the spacious house and their luxurious lifestyle that Drew's family is much wealthier than Marlo's. Drew recognizes Marlo's exhaustion and offers to pay for a nanny who will take care of the newborn during the night so that Marlo can sleep. However, Marlo initially wants neither Drew's money nor a stranger's help with her children.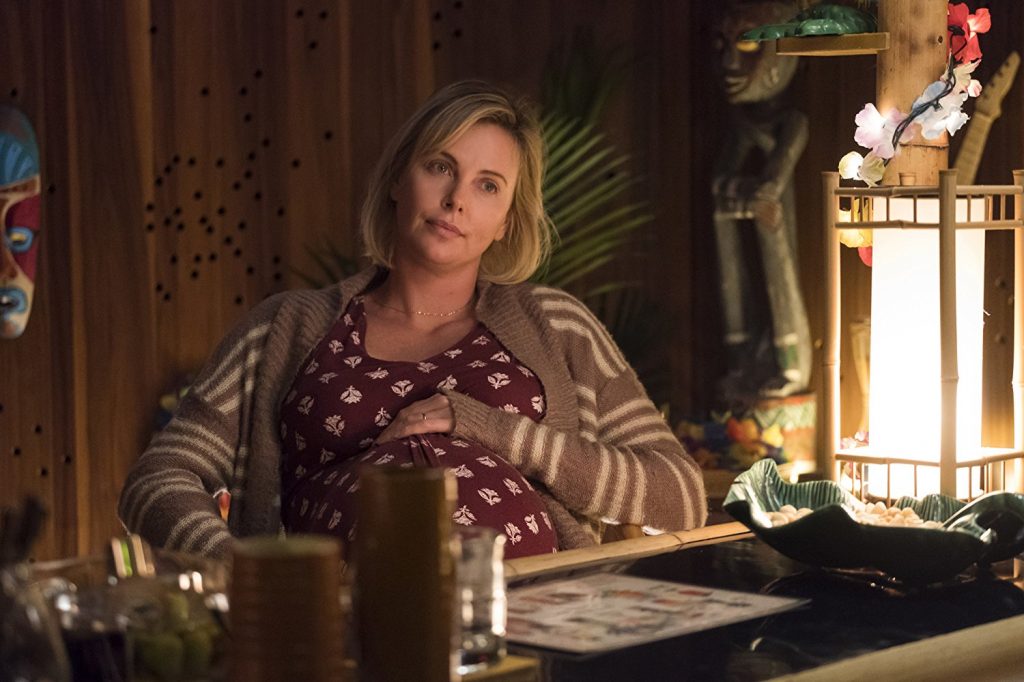 After she gives birth to baby Mia, however, Marlo cracks under the exhaustion of caring for a newborn and decides to call the "night nanny," a young and lively woman named "Tully" (Mackenzie Davis). Slowly, Marlo lets the mysterious Tully into her life as the two take on the responsibilities of motherhood together. In their interactions as well as through vivid dream sequences, the film also gives the audience a sense of the surreal.
Director Jason Reitman and screenwriter Diablo Cody – the team that brought Juno (2007) and Young Adult (2011) to the screen – deliver yet another great film filled with honesty, humor and heartbreak. Tully captures an image of pregnancy and motherhood that is rooted in authenticity, revealing the hardships that mothers face while highlighting the gift of love that motherhood gives. Theron's Marlo is beautifully rendered as somebody who is barely holding onto her sanity as she exhausts herself taking on the role of a perfect mother. My heart broke watching her lose the personality that she was so proud of in her twenties. In contrast, Davis's Tully is both endearing and enigmatic as she works to bring back Marlo's previous spark.
I appreciate this film all the more because it gives the audience a glimpse of a life that many mothers lead but that are rarely depicted accurately and artfully in film. It reminds us how difficult raising children can be and what sacrifices it entails. At the end of the film, I had the urge to call my own mother and thank for her for dedicating her life to raising me.
Furthermore, I applaud Reitman and Cody for committing to an accurate – and by no means glamorous – representation of what a mother's body might look like in her third pregnancy. Theron's weight gain for this film is a step in the right direction in terms of body image and the media's idea of what a beautiful female body looks like. A woman who has born three children is beautiful. Without argument.
With its cleverly written plot, this film kept me interested throughout. My only criticism is that the second act moved a bit slowly at times. In the same vein as Juno and Young Adult, Tully explores topics that some people find uncomfortable, and genuinely depicts aspects of life that have been sensationalized in film and television. It is committed to telling a story that deserves to be told with honesty and humor. Take your mom to this one; it's worth it.
© Roza M. Melkumyan (5/4/18) FF2 Media
Top Photo: Marlo watches Sarah sing a song at a birthday party.
Middle Photo: Marlo speaks with her brother Drew.
Bottom Photo: Tully watches Marlo breastfeed baby Mia.
Photo Credits: Kimberly French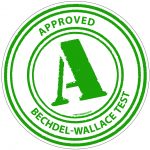 Q: Does Tully pass the Bechdel-Wallace Test?  
Yes. Marlo and Tully grow close while talking about children, their lives, Marlo's youth, and Marlo's newborn baby.