A gloomy middle schooler with a passion for music is bored with his new life in a small fishing town. His world is turned upside down when he meets a young mermaid and realizes that he should give the people already in his life a chance to connect with him. Co-written by Reiko Yoshida and Masaaki Yuasa and directed by the latter, Lu Over the Wall (Yoake tsugeru Rû no utain Japanese) is infused with vivid imagination but falls flat on its character development and plot. (RMM: 3/5)
 Review by FF2 Intern Roza M. Melkumyan
After his parents separate, middle schooler "Kai" (voiced by Michael Sinterniklaas) moves with his father "Teruo" (Ken'ichi Suzumura) from the bustling streets of Tokyo to the empty docks of Hinashi Town, an area known for its fishing industry, its gloomy weather, and the merfolk legend that pervades its culture. Legend has it that the merfolk eat humans and sink their ships. According to Kai's grandfather, an umbrella maker, they are also attracted to the sound of music. Kai and Teruo move in with Kai's grandfather who hates merfolk because he believes one to have killed his mother.  
Kai declares that he doesn't care about anything, but his passion for creating music on his laptop tells another story. After hearing one of his songs on the Internet, a girl named "Yûho" (Minako Kotobuki) urges Kai to join her band, Siren, with fellow student "Kunio" (Sôma Saitô). They desperately need a pianist and sound mixer. Yûho and Kunio hold rehearsals on Merfolk Island, where mermaids are said to roam the waters. The possibility of the supernatural is one of the few things that sparks Kai's interest in this lonely fishing village. Reluctantly, he decides to come to a practice. 
During their first rehearsal together, the band gets a surprise visit from "Lu" (Christine Marie Cabanos), a cute and spritely young mermaid who takes an interest in Kai. While the music is playing, Lu begins to dance and sing while her tail splits into a new pair of legs. When the music stops, her legs become a tail once more. Kai and Lu develop a friendship despite the surrounding prejudice against the merfolk. But when the rest of the town discovers Lu's presence, chaos ensues.
Lu Over the Wall is entertaining, but it just doesn't live up to standard. As someone who has seen many Japanese animated films and who has a deep appreciation for quality animation, I did enjoy the visuals of this film at times. Some landscapes and characters are quite lovely in their rendering, but the level of animation is not consistent. Certain scenes are constructed with a more minimal animation style that looks sloppy. Flashback scenes especially utilize this style, which makes for confusing plot sequences that only muddy the story. One such scene includes the death of Kai's great-grandmother without any tangible details at all.
Though co-writers Reiko Yoshida and Masaaki Yuasa (Yuasa also directed the film) – along with American writers Stephanie Sheh and Amanda Céline Miller – created a fantastical story of well-meaning messages about being oneself and following one's passions, the characters lacked sufficient depth and development. Yûho is the two-dimensional popular, wealthy girl whose father owns the town. She is vain and selfish throughout most of the fim, and her heroic feat towards the film's climax feels undeserved because there is no discernable character development on her part. Kai's "misunderstood" persona feels overplayed and unrelatable.
Furthermore, Lu Over the Wall's two-hour runtime is unnecessarily long. The script could've done with significant slashes in plot points that would have made for a more concise film. While Yuasa paints a vivid world filled with magical mermaids, his world feels so far removed from logic that I found it difficult to get on board with most of the fantastical elements he explored, such as the appearance of Lu's sharklike father and his escapades throughout town.
If you are looking to watch a movie with mermaids, Lu Over the Wall may be an entertaining watch. If you'd like a similar film with better quality of animation and story, however, I'd suggest Studio Ghibli's Ponyo (2008).
© Roza M. Melkumyan (5/11/18) FF2 Media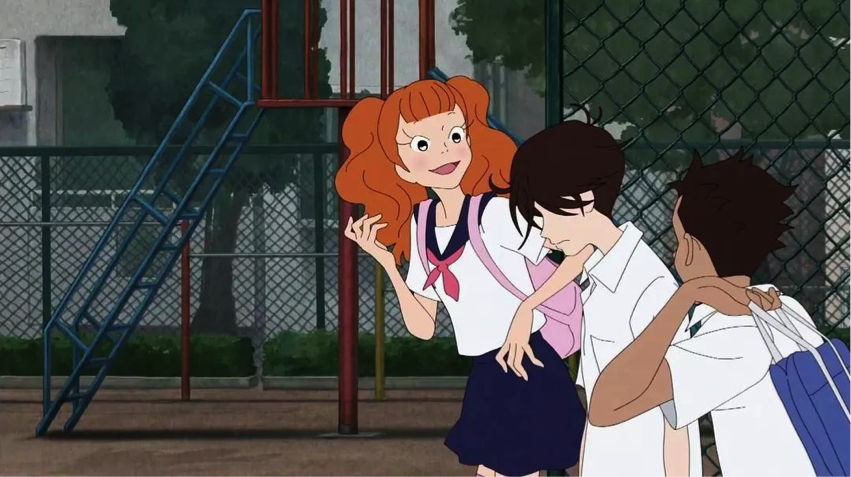 Featured Photo: Kai offers his umbrella to Lu.
Top Photo: Kai looks over the ocean.
Bottom Photo: Yûho tries to convince Kai to join her and Kunio's band.
Photo Credits: MaraVista Entertainment.
 Q: Does Lu Over the Wall pass the Bechdel-Wallace Test? 
No.
Conversations between women are so scarce in this film that I have a hard time remembering even one that might involve a subject other than men.