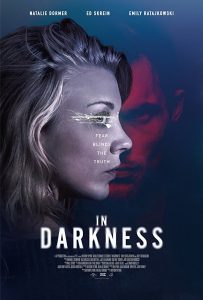 Actress and writer Natalie Dormer stars in mystery thriller In Darkness. Co-written by herself and director Anthony Byrne, Dormer plays a blind pianist who is dragged into the dangerous criminal world when her upstairs neighbor commits what is suspected to be a suicide. (KIZJ: 3.5/5)
Review by FF2 Contributing Editor Katusha Jin
"Sofia" (Natalie Dormer) is a skilled pianist who lost her sight as a child. She plays in a studio orchestra that is recording a score for a thriller movie. After work, she routinely takes the tube and walks back to her apartment where she lives alone. In the hallway, she runs into her neighbor, "Veronique" (Emily Ratajkowski), whom Sofia recognizes by her unique perfume. Veronique lives in the apartment above Sofia and the two have a distant, but friendly relationship.
Whilst practicing the eerie score at her piano, Sofia overhears loud voices and arguing through the paper-thin walls, coming from her neighbor's apartment. The muffled voices and high-heeled footsteps continue into the morning, as Sofia experiences yet another restless night. Upon returning from work the next day, she slips on a scarf in her building and cuts her hand. She recognizes the scent, which belongs to Veronique. That night, Veronique stumbles frantically into the elevator and tells her neighbor that the scent she wears is liquid gold. Soon after, laughter and drunken footsteps resonate in the apartment, before a body falls out of the window above. The death of her neighbor bring "Mills" (Neil Maskell) and his team of forensics to investigate Sofia's apartment and present her with a series of questions.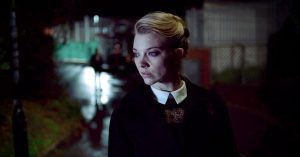 Veronique's death reveals that her father is in fact "Milos Radic" (Jan Bijvoet), a Serbian businessman with a suspicious past. In this witch hunt, two new shady characters are introduced: Veronique's boyfriend "Marc" (Ed Skrein), and his sister, "Alex" (Joely Richardson). From hereon, the plot intertwines all these dangerous characters with the protagonist. Sofia's hidden past is dug up, exposing her to be much less vulnerable and much more complex than everyone thinks.
This movie smartly makes its audience experience the film as the main character Sofia would. The colors used are cold and dark, the sounds are extremely sharp, and the timings of edits are precise; this is the world of someone who cannot rely on sight. As the production designer, Sonja Klaus creates the perfect setup for Si Bell to shoot this thriller in a beautifully picturesque manner. Together with the editing, color, and music all the elements add to the stylistic suspense that hint at influences from Hitchcock.
In Darkness starts off stronger than it ends due to its long and increasingly complex storyline. All the hidden secrets and spy-like moments deviate it from a thriller into more of a revenge-detective story. In line with his past works, Anthony Byrne does present some clever moments of suspenseful direction. Of course, it cannot go without saying that Natalie Dormer's powerful female role is acted very artfully. Playing Sofia is risky, as blind characters are often overplayed. However, Dormer keeps her poise and makes the character more electric and empowered than pitiful. Although this movie was too confusing for my liking, there are some very promising elements in its performances, dialogue writing, and presentation. I really look forward to future scripts by Dormer.
© Katusha Jin (5/25/18) FF2 Media
Top Photo: In Darkness poster.
Middle Photo: "Sofia" (Natalie Dormer) on the streets at night.
Bottom Photo: "Marc" (Ed Skrein) saving "Sofia" (Natalie Dormer) from her kidnapping.
Photo Credits: Nick Wall
Does In Darkness pass the Bechdel-Wallace test?
Yes.
"Sofia" (Natalie Dormer) and "Veronique" (Emily Ratajkowski) bump into each other in the hallway and talk about her perfume, as well as about Sofia performing at her neighbor's father's charity benefit.