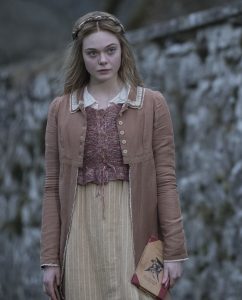 Directed by Haifaa Al-Mansour (who co-wrote the screenplay with Emma Jensen), Mary Shelley is a literary period piece recounting the legendary story of Mary Wollstonecraft Godwin's late teenage years, leading up to the creation of her famous masterpiece, Frankenstein. The film circles around many of the prominent literary figures of the early romantic period in literature, including Mary Shelley's husband Percy Bysshe Shelley, as well as the fiery poet and revolutionary, Lord Byron. (DLH: 3.5/5)
Review by FF2 Intern Dayna Hagewood
Mary Wollstonecraft Godwin, played by a glowing Elle Fanning, is a ghost-story obsessed sixteen-year-old at the start of Mary Shelley. She often attempts to write in the style of her favorite stories, but is suffocated by her father's demand to "find her own voice" and stop emulating the work of others.
Her circumstances are that of many relatively privileged children in early nineteenth century England, and her confident spirit and dedication to her mother's image of rebellion lands her in Scotland where she ultimately meets Percy Bysshe Shelley, the renowned and widely read romantic poet (played by a pompously smoldering Douglas Booth).
Their connection is both literary as well as illicit; Shelley often speaks to Mary in poetry (the lyrics of which are directly pulled from actual poems written by Shelley). And yet, their relationship is one of passionate bursts and tragic stagnancy. The film flits around in stops and starts of romance, torment, and much sacrifice on behalf of Mary, all while remembering and preserving the legacy of her radical mother, the renowned feminist, Mary Wollstonecraft (A Vindication of the Rights of Women, 1792), who passed away just days after giving birth to Mary. 
Though many of the historical details of the film are exaggerated (for example, it is implied that Mary writes the totality of her masterpiece in one, tumultuous night at a desk), the film is ultimately successful in portraying Mary's whirlwind early adulthood, and her attempts to tackle many of the challenges she faced. Mary's relationship with Shelley occupies much of the film, and the section at Lord Byron's estate is one of the more redeeming and inspirational pieces of the film. At the same time that Byron abuses Mary's younger half-sister Claire, he also acts as a catalyst for Mary's ultimate literary work, even if only by challenging her to be more than what he views a woman should be.
Al-Mansour portrays Lord Byron as a neurotic and insulting genius, which fits perfectly with his literary reputation as one of the most excessive and scandalous artists of the period. The section of the film in his villa is both feverous and lucid. Not only do the Shelleys (and Claire) catch a glimpse of royalty that they would never experience otherwise, they are also forced to confront the pressures of a tormenting existence as wandering and radical writers attempting to navigate the pitfalls of romance and "free love".
The film also does an impeccable job of implying just how much of Frankenstein was inspired by the actual events of Mary's life. Many early interactions in the film, such as a conversation with Claire about reviving the dead in relation to Mary's deceased mother return later on in her epiphany before she begins writing. The locations also serve as an important point of reference for Mary, including a familiar painting (The Nightmare, by Henry Fuseli) at Lord Byron's estate.
Yet, though the first three fourths of the film do lead up to Mary's writing of Frankenstein (rather slowly, at that), the final section of the film feels slightly rushed and out of turn. Mary's struggles to find a publisher due to her gender are indeed valid and historically appropriate, but seem to occur as an afterthought in the course of the film. Conflicts with Shelley explode and end in a slamming door extremely quickly, and often without much justification. Yes, their relationship has been imperfect and troubling from the start, but it seems that Mary and Percy fight for the sake of fighting when it comes time to publish her work. It also seems that Mary's struggle to publish Frankenstein, and the ultimate need to initially publish under an anonymous pen are quickly resolved by a conversation among men, as opposed to by her own volition.
Though the pacing and conflicts in Haifaa Al-Mansour's Mary Shelley are somewhat problematic for the flow of the timeline, the overall impact of the film still contains a positive message for women. Mary Shelley shines as a literary and historical figure able to retain agency and make a name for herself despite the inundation of personal and professional problems. She emerges as the true victor in the film; her work has been tested by the ages and is undoubtedly better known now than any poem by Percy Shelley or Lord Byron.
Al-Mansour tells her story with all of the confidence of a woman who knows struggle and how to challenge it, and she pulls off a tale of beautiful representation and worthy entertainment for a wide variety of viewers. Just as Mary Shelley defies the odds to create her own masterpiece in Mary Shelley, Haifaa Al-Mansour navigates the intimidating waters of filmmaking and emerges the first female Saudi director to successfully make a Hollywood film.
© Dayna Hagewood (5/30/2018) FF2 Media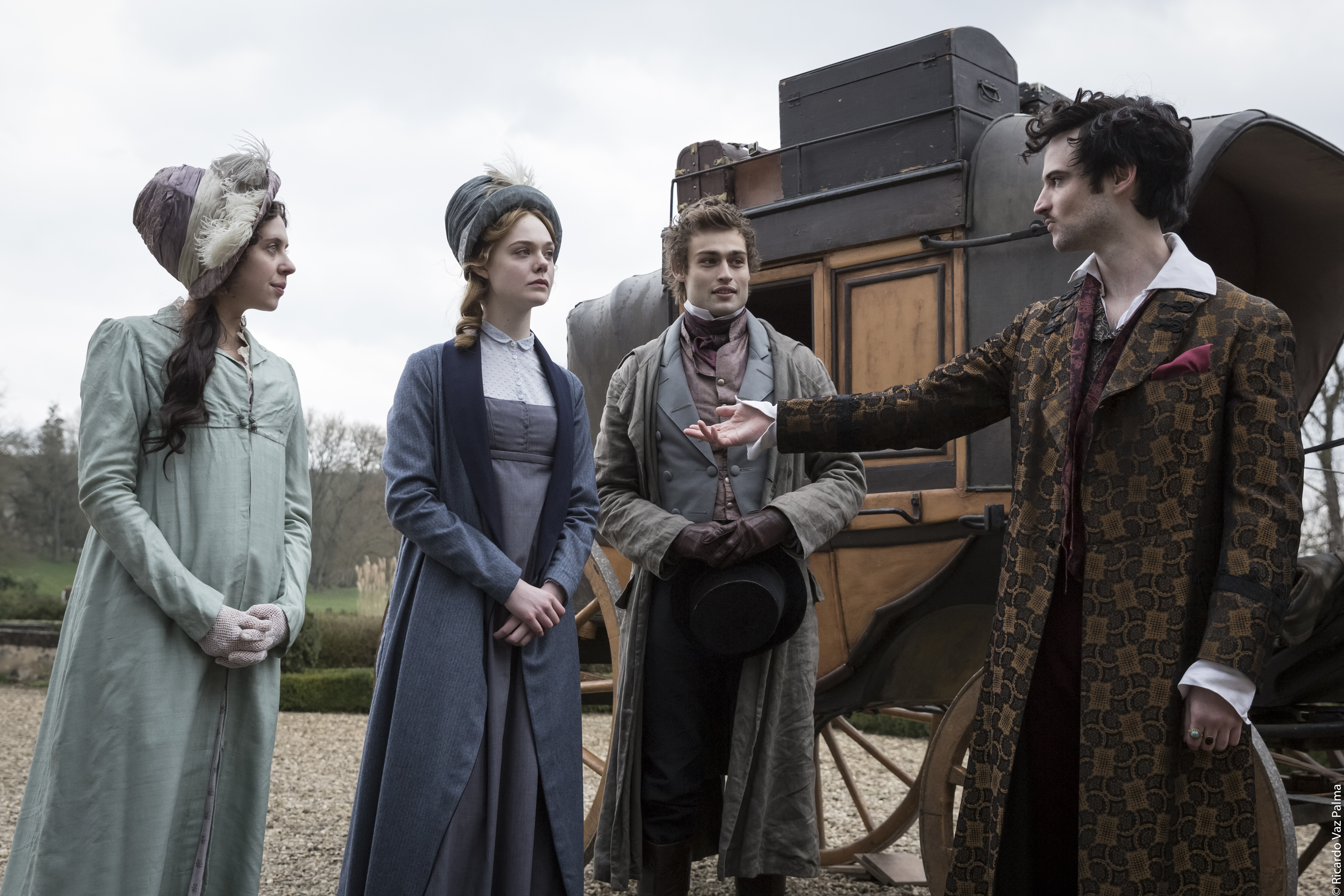 Featured Image: Mary Shelley leaning against her mother's grave.
Top Photo: Elle Fanning as Mary Shelley.
Middle Photo: Mary Shelley arguing with Lord Byron at his estate.
Bottom Photo: Claire, Mary, Percy, and Byron.
Photo Credit: IFC Films (2018) (USA)
Does Mary Shelley pass the Bechdel-Wallace Test?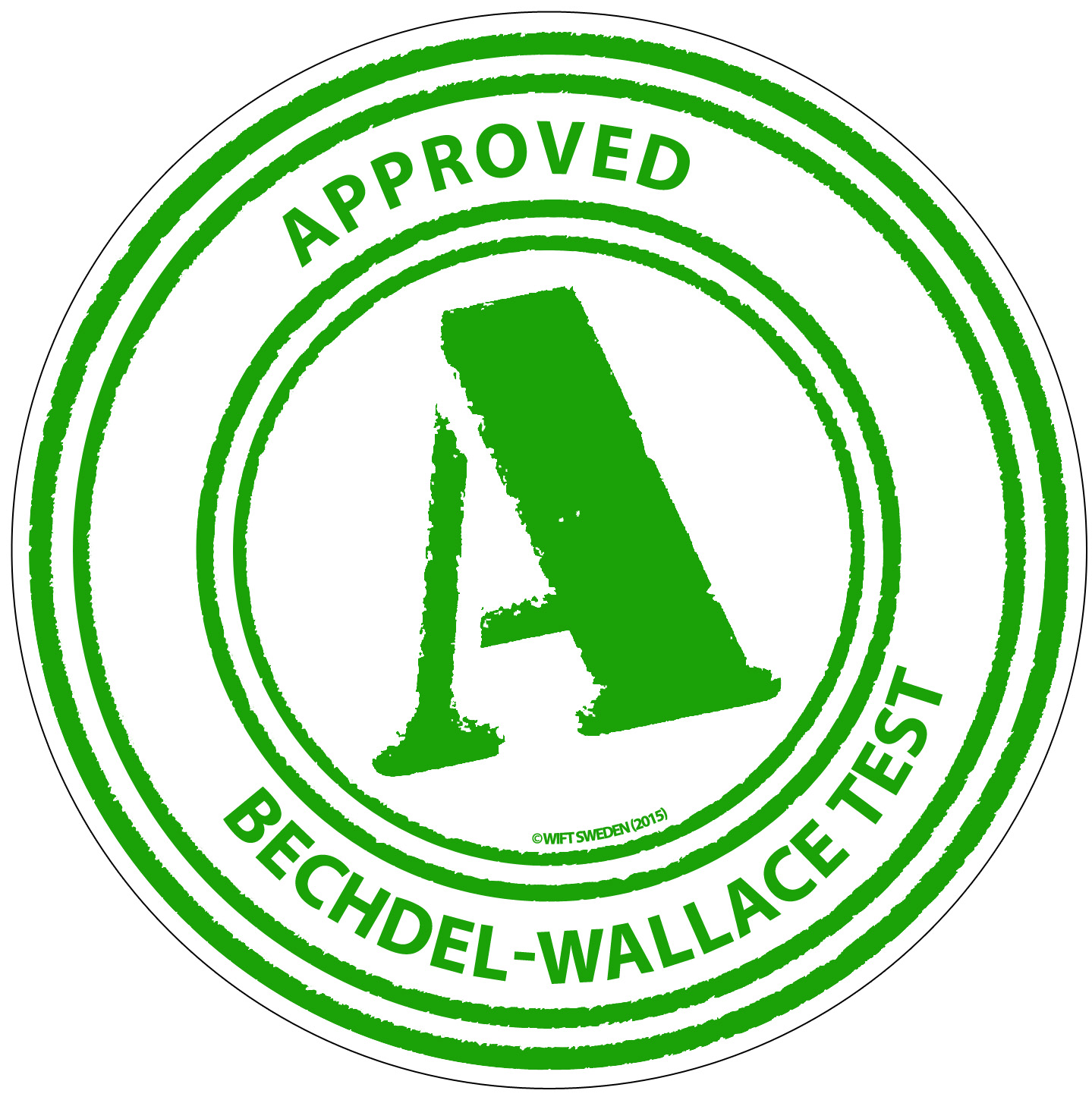 Yes! There are many conversations between Claire and Mary about their lives (and not just the men in them!), including a particularly poignant scene about bringing the dead back to life.