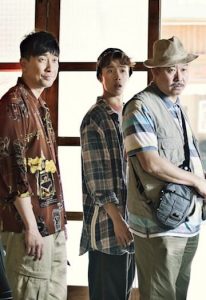 Written and directed by Chinese actress turned writer/director Xinyun Li, Lobster Cop (2018) is a quirky action comedy about an underdog police squad and their attempt to bust a big drug lord. The "loser cops" devise a plan to use a lobster restaurant as a stakeout location. During the time they spend living together, however, the cops discover their hidden talent for the restaurant business, and they also form a powerful surrogate family. (MED: 3/5)
Review by Contributing Editor Maggi Delgado 
Cop squad "Neng"(Hua Liu), "Yufei" (Qianyuan Wang), "Hua Jie"(Shanshan Yuan) and "Chen" (You Zhou) will do anything to end their pattern of letting criminals slip away. As the leader, Yufei is given a month to impress his commanding officer by exposing the identity of the infamous gang leader "The General." In order to protect their cover, Yufei and the rest of the gang are bamboozled into buying a lobster restaurant across the street from the criminals' headquarters.
The plan is simple: the squad goes undercover as a tight knit family of restaurant workers. The hilarity comes when they actually have to open up it up for business and cooperate. Thank goodness for senior police officer Neng, who not only plays the father in this charade, but also turns out to have a hidden talent in the kitchen. Serving up delicious lobsters, the gang manages to fool not only the gangsters across the street, but the whole town.
With the exception of their leader Yufei, the cops mostly forget their criminal-hunting mission, distracted by the excitement of their suddenly profitable business. It becomes Yufei's tireless quest to keep the "family" together, happy and focused. Each member brings his or her own special quality–Yufei serves as the neurotic leader, Neng as the optimistic chef, Hua Jie as the kick-ass beauty, and Chen as the youngest, too-cool-for-school. They find a great rhythm working as a team and as a family.
Writer and director Xinyun Li demonstrates mastery of the cop comedy genre, weaving in cultural references and slapstick to form her particular brand of humor. The use of color and animated music accentuates the fun of this peculiar set of characters in this odd situation. Though American audiences won't catch some of the jokes, this original story has a lot of heart. It's about what constitutes a family, about dreams lost and found, and about truly being part of a team even when times are tough.
© Maggi Delgado (6/24/2018) FF2 Media
Top Photo: Three of four members of the loser squad–Qianyuan Wang as "Yufei," You Zhou as "Chen," and Hua Liu as "Neng."
Bottom Photo: Shanshan Yuan as "Hua Jie."
Photo Credits: China Lion Film Distribution
Q: Does this film pass the Bechdel-Wallace test?
Unfortunately, no.
Lobster Cop suffers from the smurfette trope: having only one female identifying character in the team. Hua Jie is tough and a dedicated member of the team, but she does not interact with the only other female character. The latter is also a kick-ass young woman, but she does not have a name nor any lines in the film, and she doesn't even appear until the third act.