Award-winning filmmaker Lisa Immordino Vreeland directs this documentary —  Love, Cecil — about legendary British photographer, artist, and designer Cecil Beaton (best–known to cinephiles for his world on the films Gigi and My Fair Lady). Vreeland's vibrant doc uses archive footage, images, and interviews with models, artists, and friends alongside narration from Beaton's own diaries to paint a heartfelt, yet critical, picture of the unique man behind the camera. (MTP: 5/5)
Review by FF2 Intern: Maiya Pascouche
When I saw a critics screening of Lisa Immordino Vreeland's newest documentary Love, Cecil, I did not know what to expect. I had heard about the infamous Cecil Beaton because I have been immersed in musical theater my entire life. So of course I knew the design work he had done in My Fair Lady (for which he won two Oscars in 1965). However, Vreeland's portrayal of Beaton is now one of my most loved BioDocs (biographical documentaries).
Vreeland's use of narration throughout the entire film absolutely brings Beaten to life in a unique and quintessentially Cecil way. Without it, his character would not be able to shine through as brilliantly. The structure of the documentary allows for the chronological narration from each one of his own published diaries. The chronology of his life, words, pictures, people, and places allowed me to fully immerse myself in his personality, and by the end, felt  as though I really knew him.
From early childhood until the day of his death at age 76, Cecil Beaton was quite a character. Whether he was dressing up in women's clothes at home or photographing his wealthier friend's at their extravagant estates, Beaton was always the life of the party and made sure he stayed there. He was known as a dandy and the most loyal friend, but he could be an outright mean person to anyone for any reason.  Vreeland does not shy away from criticizing Beaton for his sometimes cruel nature or extravagance or vanity, but she gracefully weaves his vulnerability throughout.
Beaton was not afraid of being unique. His portraits were often posed and costumed in front of unusual landscapes or with props. He was brilliant and Vogue hired him to be a head fashion photographer and writer. Vreeland mirrors photographs, drawings, and articles from Cecil's time at Vogue alongside his self critical narration and petty distaste for some of his models. He was a brash and uncontrollable force. So uncontrollable that Vogue had to retract thousands of magazines after Beaton drew an anti-semitic joke in one of his articles. This humiliating mistake cost him his job and his reputation.
By focusing on Beaton's struggle to find a balance between his fierce love for being the center of attention and his crippling insecurity, Vreeland creates an undeniable human depiction of Beaton through the decades. Her particular eye-opening moment is when she layers in Beaton's time spent as a war correspondent during World War II. This is the transition in the film and in Beaton's life where we see him work to overcome his wrongdoing at Vogue and truly show the world the beautiful, inspiring side of war alongside the truly horrific tragedy.
Beaton after the war was a changed man. He had become a mature artist and gained popularity once again. He photographed the Queen of England's coronation and her entire family, worked in Hollywood, and even earned his position with Vogue again. Vreeland takes her audience on a chronological journey that truly shows Beaton in every stage.
Beaton was a magical man with the utmost respect for every art form. He believed in capturing the world's most beautiful and spectacular images in order to distract from the dismal world and people around him. I could tell that Vreeland wanted to make a film that Beaton himself — if he were still here –would find beautiful and she succeeded.
© Maiya Pascouche (7/2/18) FF2 Media
Q: Does it pass the Bechdel-Wallace Test?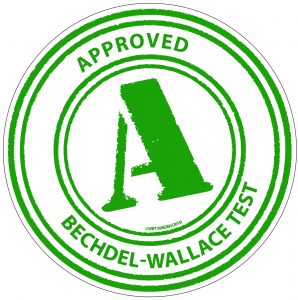 Nope.