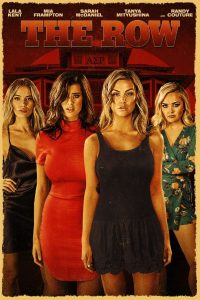 Sorority sisters, a serial killer, and a hidden past—Sarah Scougal writes a new addition to the traditional sorority horror genre. Directed by Matty Beckerman, "The Row" stars Lala Kent as a newly initiated sorority girl, and Randy Couture as the father-detective. With a killer loose on the college campus, members of a sorority club find themselves victims to a series of violent murders. (KIZJ: 2.5/5)
Review by Contributing Editor Katusha Jin
It's the start of the school year at Vanterton State University and incoming freshman "Riley" (Lala Kent) is getting dropped off by her father, "Cole". Cole is a detective by profession, which naturally makes him a very protective father. But his sweet and understanding daughter reassures him that everything will be fine. After bidding her father goodbye, Riley is met on campus by her close friend "Becks" (Mia Rose Frampton). Becks is loud, excitable, daring, and most importantly, really wants to rush for the school's sorority club, Phi Lambda. With the right amount of peer pressure, Riley succumbs to Becks' pleading and joins her on her quest.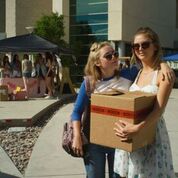 Meanwhile, Detective Cole is thrust into a challenging case with his teammates. Amidst crossfires, Cole accidentally shoots one of his own men, leaving him with no choice but to take a leave of absence from work. Against his better judgment, he decides to not tell Riley. Back at College, Riley also hides some truths when she continues to reassure her father that she has mainly stayed in her dorms. In reality, her and Becks have already experienced a number of noisy and messy parties, and even had their fair share of throwing up. Although Riley describes these parties as "not her scene", she happens upon some information about her mother that incentivizes her to stay involved. It isn't long before deaths in the club start to appear left and right. The twisted serial killer takes the girls, peels and grafts their skin, and uses makeup to turn them into dolls. Fear stirs amongst the students, and Cole finds it no longer possible to stay away from the police force.
Writer Sarah Scougal includes all the elements necessary for this genre: gore, sorority girls, murder, mystery, and college parties. At times the film gave off a feeling of a reality show, rather than a narrative. The premise of this sorority horror genre promises a taunting and gruesome serial murder mystery, and yet despite this being the central story, it is buried under the drunken parties and other side stories.
Even so, some of the actors show potential, and a special mention goes out to Susannah Lowber for her Production Design, as well as Olivia Engelsman and Jordan Schultz, who are the Special Makeup Effects Laboratory Technician: Lead Painter and Sculptor respectively. Overall, the story had an interesting premise, but a less EDM with dizzying shots, and a little more character development would have served the film better.
© Katusha Jin (7/26/18) FF2 Media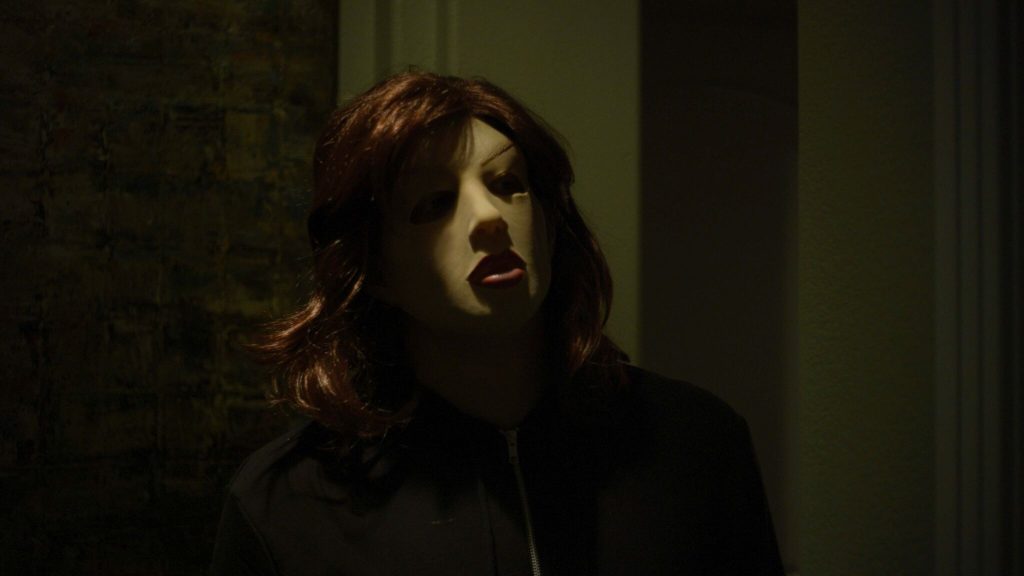 Top Photos: The Row poster photo.
Middle Photo: "Riley" (Lala Kent) and "Becks" (Mia Rose Frampton) arriving on campus.
Bottom Photo: The serial killer.
Photo Credits: Grindstone Entertainment Group and Lionsgate Home Entertainment.
Q: Does The Row pass the Bechdel-Wallace test?
Yes, "Riley" (Lala Kent) and "Becks" (Mia Rose Frampton) talk about rushing for a sorority club.