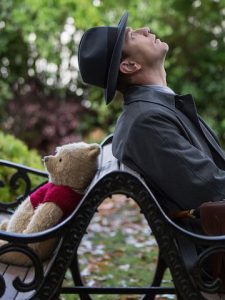 Written by Allison Schroeder, Tom McCarthy, and Alex Ross Perry, Christopher Robin is a revival of the beloved Winnie the Pooh franchise, set many years in the future when Christopher Robin is all grown up with a job, a wife, and a daughter. Filled with all of the same love, kindness and charm of the books that inspired it, Christopher Robin is an absolute delight. (JRL: 5/5)
Review by FF2 Intern Julia Lasker
Christopher Robin begins with a painful goodbye between Christopher Robin and his friends in the Hundred Acre Wood as he ships off to boarding school, then illustrations in the style of the old Winnie-the-Pooh books come to life to tell his story. After school, he moves to London to work at a luggage company, where he meets Evelyn. The two get married and have a daughter, Madeline. Though Christopher Robin has moved on from the Hundred Acre Wood and his toys, Winnie-the-Pooh spends every day wistfully waiting for his return.
Madeline is getting ready to go to boarding school just like her father, so the family plans to escape to Christopher Robin's childhood home in the country for some much-deserved leisure time before Madeline must leave. But Christopher Robin is wrapped up in an important assignment for work and decides to stay in London, disappointing–but not surprising–his wife and daughter.
Back in the Hundred Acre Wood, Pooh wakes up to discover that all of his friends have disappeared. He sets out to find Christopher Robin to ask for help, and ends up in the front yard of his home in London. Despite the stressful deadline for work, Christopher Robin must return Winnie-the-Pooh home and help him find his friends. Though he claims to be a "bear of very little brain," through their adventures Winnie-the-Pooh helps Christopher reevaluate his priorities and remember the love and kindness he learned as a boy.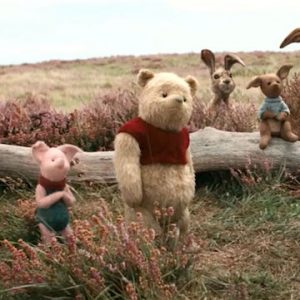 When a cartoon or illustrated book is transformed into live-action, it often takes on a new style and form of its own. Christopher Robin, however, preserves the aesthetic of the beloved Winnie-the-Pooh books wonderfully. With a muted color palette and a general softness about it, the film looks just as if the pages of the book have come to life. Furthermore, director Marc Forster makes no attempt to revamp the way Winnie-the-Pooh and his friends look, perfectly preserving their adorable charm.
Christopher Robin is presented through a child's eyes, allowing the audience to reconnect with their inner child just as Christopher does. The humour is simple and funny in the same way that the innocent logic of childhood can be. The events that occur (such as a talking teddy bear holding a balloon and greeting strangers on the street), while outlandish in an adult's view, would go unquestioned by a kid. On the same note, the film displays a certain wisdom found within children that is often lost as people grow up. Thus, because the film reconnects us with our young selves, it reminds us of the values we once prioritized–love, friendship, family–that we lose as real life sets in. For that reason, though it might seem like a simple kid's movie, I believe that the film's message is incredibly powerful. Christopher Robin is a film that every grown-up should see.
© Julia Lasker (8/16/2018) FF2 Media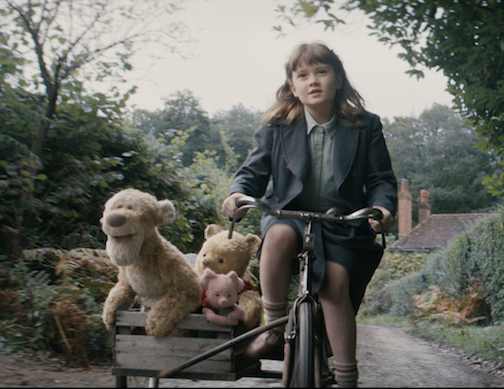 Top Photo: Winnie the Pooh (voiced by Jim Cummings) and Christopher Robin (Ewan McGregor).
Middle Photo: Piglet (voiced by Nick Mohammed), Winnie the Pooh (voiced by Jim Cummings), Rabbit (voiced by Peter Capaldi), and Roo (voiced by Sara Sheen).
Bottom Photo: Tigger and Winnie the Pooh (both voiced by Jim Cummings), Piglet (voiced by Nick Mohammed), and Madeline (Bronte Carmichael).
Photo Credits: Laurie Sparham
Q: Does Christopher Robin pass the Bechdel-Wallace Test?
No, unfortunately.
Although there are a few scenes between Evelyn and her daughter, the subject of the conversation is always Christopher Robin.