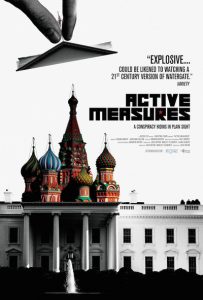 Active Measures is a fiercely informative film that unpacks Russia's history of meddling in world affairs and what is known about the government's role in the 2016 United States Presidential election. While it doesn't solve any mysteries, it dives deep into current political issues relevant to American voters, revealing disturbing political norms. The story it tells is powerful and frustrating to watch, which is why it is important for everyone to see. (HRM: 4/5)
EDITOR'S UPDATE: Read FF2 Media interview with screenwriter Marley Clements & producer Laura DuBois by Contributing Editor Rachel Mosley.
Review by FF2 Intern Hannah Mayo
Creators Jack Bryan and Marley Clements start out the film with a brief biography of the man who could be considered most responsible for every event in the film, Vladimir Putin. He was the one who pushed Russia to focus its military resources on active measures, that is, actions taken by Soviet security forces to influence the course of world events. Rather than jumping straight into the current hot topic, the 2016 election, we are presented a history of active measures taken by the Soviets in countries like Croatia and Ukraine, including meddling in election results. Again, Bryan and Clements look to the past to asses the controversies currently affecting the United States, and introduce the viewer to a web of colleagues surrounding Putin, and their concrete connections to Donald Trump and members of his cabinet and election team. They effectively work from the bottom up, providing evidence before claiming anything, making the film an objective presentation of facts.
Active Measures is full of nonstop information, almost too much at times. It moved quickly so I was able to stay engaged with it the entire time, but at a couple of points I felt overwhelmed by the amount of data being thrown at me. The credits cite over 200 sources in their research, but every single piece of information is vital to the film. Every time I felt I needed a breather from facts and figures, I would almost immediately be sucked in again. What Bryan and Clements include is vital to any discussion of Russian participation in the 2016 United States election, and I left the theater with a solid understanding of the facts at hand.
Most of the points the film makes are revealed through interviews with a variety of experts on relevant topics. Personal accounts from high-profile interviewees like Hillary Clinton and John McCain intensify the reality of this story, expanding it beyond an objective standpoint into real events affecting real people, making it only more frightening to watch.
Despite the amount of facts and figures thrown at the viewer, the film is still presented logically and comprehensively. As someone who barely keeps up with politics and was only vaguely aware of some of what is discussed in Active Measures, I was still able to keep up and understand what was being said. There are no big words, and there's little political jargon to be afraid of in watching this; it is accessible to viewers with all ranges of political knowledge. The editing and graphics are simple, eye-catching but not overpowering, and add an aesthetic element that the overall film benefits from.
This documentary probably isn't going to make any changes in American or Russian politics. There's nothing in it that hasn't already been said. Still, the average person probably is not aware of most of the information it presents, but that has to change. The one feeling I had while leaving the theater was frustration with how little power the average voter has in elections and how powerful governments use average people as pawns in their own games. The only way that will change is if people become aware of what is happening and use the influence they do have, even if it's just in their home, to spread the word. That is why Active Measures is the most important documentary I have seen in a long time, and I beg you to go watch it and tell your friends to do the same.
© Hannah Mayo (9/11/2018) FF2 Media
Q: Does Active Measures pass the Bechdel-Wallace Test?
No.
It's often hard to answer this question for a documentary film. In this case, women are certainly on screen, but never quite "in conversation" per se.