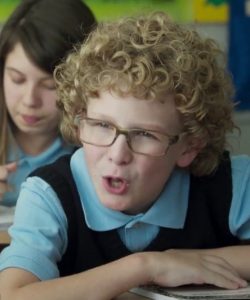 In just one day, a dead body is found, a man loses his job, an affair ends, a crime is committed, and hearts are broken. In her directorial debut, director Judy Greer attempts to weave together the vignettes of many characters but fails to create a cohesive, compelling, or funny narrative. The star-studded cast is wasted on a weak script that kills the intended humor of its plot. (RMM: 2.5.5)
Review by FF2 Associate Roza M. Melkumyan
With a large cast, A Happening of Monumental Proportions begins by introducing the audience to the plight of its characters as they start their day. "Daniel" (Common), a widowed father and accountant at Field Publishing, wishes his young daughter "Patricia" (Storm Reid) a good day at school. But this isn't just another day; it's Career Day. Patricia is excited for her father to share his profession with the class, but Daniel is nervous that he'll mess up somehow and disappoint his daughter.
Today isn't just any other day for young "Darius" (Marcus Eckert) either. It's his first day at a new school and he wants nothing more than to make a friend. After having his glasses snatched by the school bully, he befriends Patricia and instantly develops a crush on her. At the same time, music teacher and failed musician "Christian McRow" (Anders Holm) is having an existential crisis. His girlfriend has left him and his fledgling record label has fallen through.
Finally, "Principal Nichols" (Allison Janney) is introduced to the audience. With no background information, we are plunged headfirst into Nichols' plight as, first thing in the morning, she stumbles across the dead body of a gardener on the school grounds. Concerned that the students will see it, she enlists the help of "Mr. Pendlehorn" (Rob Riggle) to move the corpse into the teacher lounge until further action can be taken.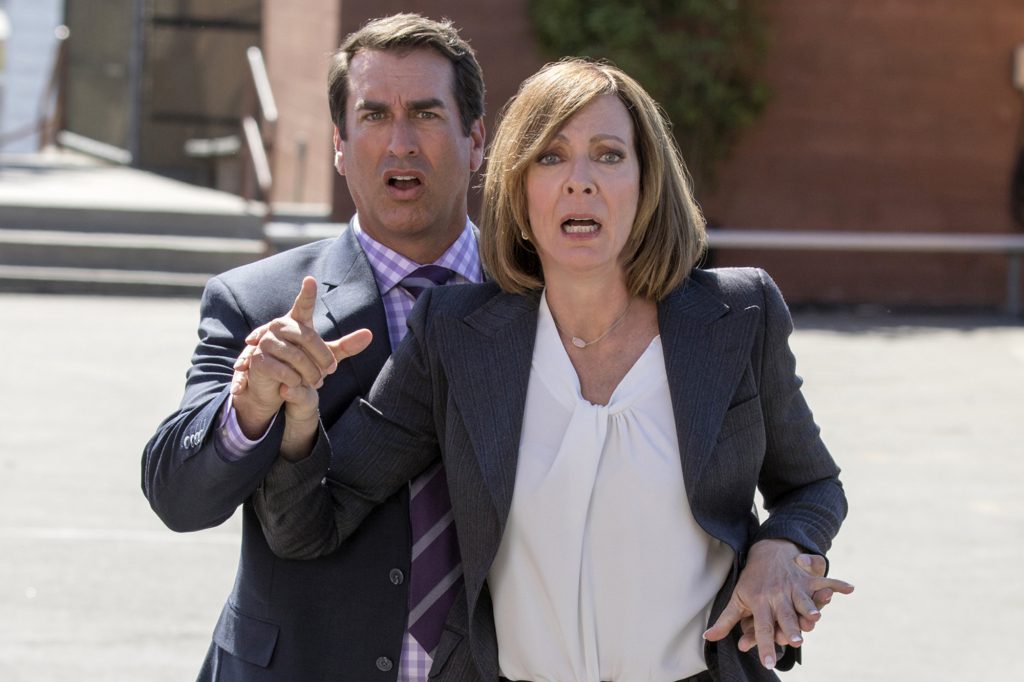 The film makes it rounds in furthering the stories of each character. Daniel arrives at work to find the kitchen transformed into a crime scene, complete with yellow tape and the police. The new boss, "Mr. Schneedy" (Bradley Whitford), explains that when he came into the office that morning, he found a broken coffee maker next to a profane note wishing harm on Field Publishing. Taking the offense as a personal affront, Schneedy vows to interrogate everybody in the office until the crime is solved. We discover that Daniel has been having an affair with his secretary "Nadine" (Jennifer Garner) after Daniel gets an angry call from her husband "Bob" (Keanu Reeves) who knows. Blaming Daniel for Bob's discovery, Nadine tells Mr. Schneedy that Daniel sabotaged the coffee machine. Having already taken a disliking to Daniel, Mr. Schneedy promptly fires him.
Darius asks Patricia out on a date and is crushed when met with her rejection. He and Christian bond over their mutual hopelessness. The paramedics are called to extract the dead body from the school, but upon their arrival they state that it is illegal to move a dead body without the family's consent. Furthermore, they continue,  they only handle people who are currently dying, not who are already dead. They leave without the body, and Nichols calls the coroner. With Career Day upon them, Nichols and Pendlehorn desperately need to get rid of this body.
Listed as both a drama and a comedy, A Happening of Monumental Proportions fails to deliver either. When I read the synopsis for this film, I thought it sounded hilarious. And on paper, it is. A school principal scrambles to hide a random dead body, a man is fired for sabotaging the office coffee maker, a cute little boy is rejected by the love of his life (who he just met that day), and a cheating wife's husband wants to have lunch with the other man. Unfortunately, something went wrong in the execution. I can't decide if the fault lies in the terribly flat scriptwriting, the actors' delivery, or both. With a cast full of A-list actors and award nominees and winners, I'd like to think it's writer Gary Lundy's script and not Judy Greer's directing. When watching, I could tell that it was one of those movies where the audience was supposed to be full of laughter but was instead uncomfortably silent. What is supposed to be an outrageously funny situational comedy turns into a series of rather annoying events, from the grumpy paramedics storming out of the teachers lounge to little Darius who thinks his life is over because a girl said no. The drama here doesn't feel earned, it's over-the-top, and frankly, it's annoying. Nadine's loss of temper and her husband's almost campy fury isn't funny. And Darius's whining isn't funny or endearing, it's irritating.
Furthermore, the star-studded cast of talented actors is wasted on this film. There are too many character for any one to receive a substantial portion of plot or character development. The cast might entice you to see this movie, but I'd strongly advise against it.
© Roza M. Melkumyan (9/21/18) FF2 Media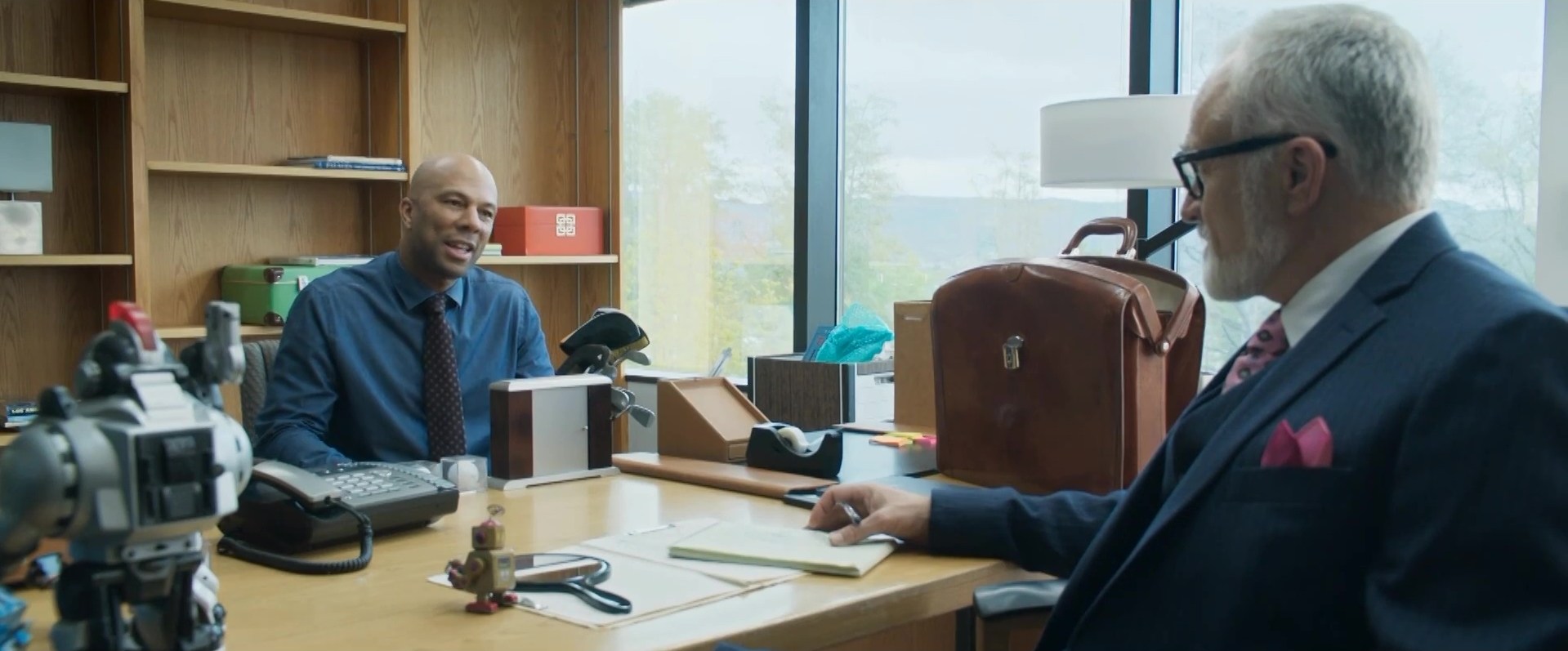 Featured Photo: Daniel takes Patricia home from school.
Top Photo: Darius asks Patricia for a pencil.
Middle Photo: The principal and her partner-in-crime witness a catastrophe.
Bottom Photo: Daniel gets fired.
Photo Credits: Aaron Epstein
Q: Does A Happening of Monumental Proportions pass the Bechdel-Wallace Test?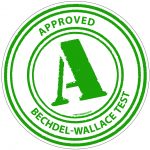 Yes, but barely.
Patricia and her girlfriends gossip about school and life.