A group of adoptive brothers and partners in crime plan one last heist to steal vital medication for children in Africa. However, a most unexpected betrayal will change their lives forever. Director and writer Kar Lok Chin along with writers Susan Chan, Chi-Yin Cheung, Kin Lok-Kwok, Erica Li, and Heiward Mak deliver an action-packed viewing experience complete with car chases and explosions while somehow managing to bring something emotionally substantial to an otherwise lackluster film. (RMM: 3.5/5)
Review by FF2 Associate Roza M. Melkumyan
As an action-packed heist movie, it seems only fitting that Golden Job (in Chinese, Huang jin xiong di) opens with a heist. Under the orders of boss "Rick Rice" (Sergej Onopko) and led by "Lion" (Ekin Cheng), team members and self-proclaimed brothers must prevent a powerful pharmaceutical company head's assassination. Filling the stereotypical tech-savvy-hacker-role is the bespectacled "Mouse" (Jerry Lamb). Rounding out the team are Lion's right-hand man "Crater" (Jordan Chan), wildcard "Bill" (Michael Tse), and the levelheaded "Calm" (Kar Lok Chin). All goes according to plan until the man they were tasked with protecting gets shot dead in the crossfire. Bill, who was present during the fatal shooting, is instantly fired by the furious Rice. The rest of the team quits in solidarity with Bill, choosing each other over their work. Having grown up together in the same orphanage, these brothers have a bond that keeps them united.
Five years later, the five brothers have pursued their own paths in life. Lion has been stealing medication, with the remote aid of Bill, for sick and dying African children. Africa is where he has also fallen in love with the lovely Dr. "Zoe Chow" (Charmaine Sheh). After promising Zoe that he will return to start a new life with her, Lion sets out on one final mission. The team meet up in Budapest, Hungary, where Lion proposes his plan to steal a van full of life-saving medication for Zoe's patients. The decision to help is unanimous, and the deal is made sweeter when Bill reveals that the company they will be stealing from is fronted by their former employer, Rice. Suddenly, "Papa" (Eric Tsang), the brothers' adoptive father, literally enters the scene with his biological daughter "Lulu" (Yamei Zhang) to officially bless the mission and offer his help.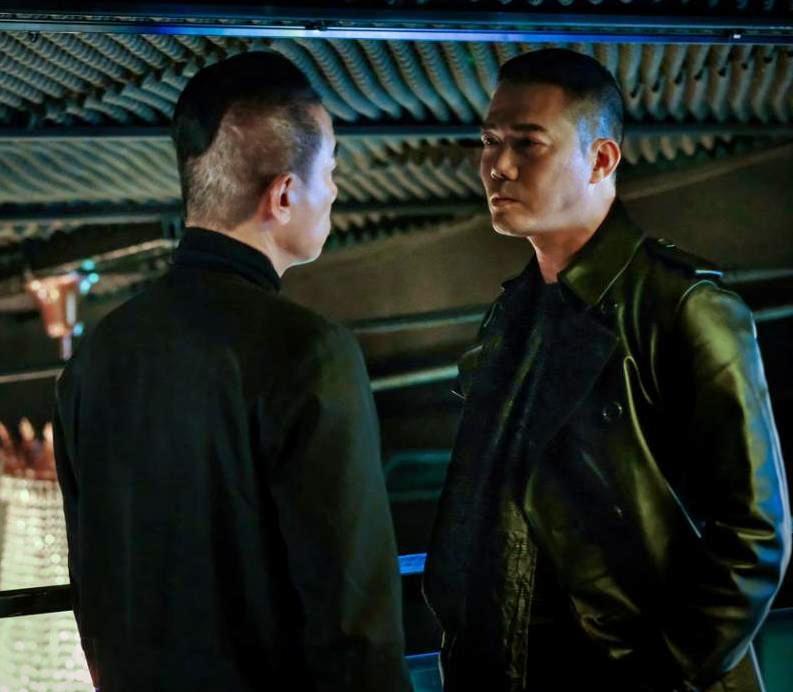 After a series of scenes detailing the pursuit and capture of the coveted van, catastrophe ensues. The team members, save Bill, are shocked to find the van filled to the brim with gold bars. Though Bill tries to explain the good intentions of his secret plan, to use the gold to buy medication and to split up the rest of the bounty amongst themselves, his brothers are furious. Just as Lion accuses Bill of scheming behind their backs, Rice and his crones appear, revealing Bill's secret affiliation with them, and the bullets go flying. An angry Crater shoots into the void and Papa gets shot. Everyone gets into cars and starts chasing one another. Lion gets caught by the Hungarian police and Bill kills Rice in a key power play.
Three years later, Lion has just been released from prison. He is greeted by Calm, who brings him to Crater. Blaming himself for Papa's injury and Lion's arrest, he has been waiting for Lion in Budapest. The three brothers find Papa, Mouse, and Lulu in a small Japanese village where they run their own inn. After reconnecting, the brothers and Papa vow to bring Bill back to them. But does Bill truly want to be saved?
According to its genre, Golden Job must supply its audience with action sequences, car chases, shootouts, and explosions. In that regard, the film certainly succeeds. If you like action movies then you'll probably be mildly entertained at the very least. I was actually pleasantly surprised by my own moderate interest for this film. Yes, the action sequences did have me itching to look at my phone at times. And though I can't really judge the film's original dialogue because I don't speak Mandarin, I found the English exchanges, especially those among Rice's team, to be rather awkward and stinted. It almost felt as though the writers had fed the lines through an online translator. Now, there are a number of factors that could have contributed to this weak point, one of which being that the writers solely used those exchanges to relay information to the audience that continues the brothers' story. It also reminds me to use caution when watching a film whose original language is foreign to me. A Chinese person who doesn't know any English might not think twice about the believability of the English dialogues because not only is it secondary to the main plot, but they have no way of distinguishing that believability. However, since English is my native language, those are scenes I can't help but fixate on.
The subject of language aside, director and writer Kar Lok Chin along writers Susan Chan, Chi-Yin Cheung, Kin Lok-Kwok, Erica Li, and Heiward Mak seem to have forgotten to address some plot points. I find it rather hard to believe that Lion spends three years in prison and does not once try to contact the love of his life, Zoe. There is no window that shows his inner feelings, perhaps anger at losing Bill or anguish for being apart from Zoe, for potentially having lost her forever. We see nothing of how she feels about being essentially abandoned. I understand that the focus of this film is about the bond amongst brothers, but that doesn't mean that the humanity of other characters has to be sacrificed. The only secondary female characters in this film are Zoe and Lulu, and neither is given much else to do but be charming, pretty, and in Lulu's case, a damsel.
Despite my expectation of boredom and disappointment, I did find myself invested in this film, especially after I learned more about the brothers' past and about the bond that has kept them together. If anything saves this film from falling into the bin of generic action movies, it is the exploration, though limited, of those personal relationships. There is one wonderful scene between Papa and Crater that beautifully captures the love between a father and son. Had the film invested more time in the interpersonal relationships that propel the characters into action, this would have been a much better film.
© Roza M. Melkumyan (1/12/19) FF2 Media
Featured Photo: Lion and Crater prepare to shoot
Top Photo: Lion shoots from a moving car
Middle Photo: Crater (left) and Bill (right) have a talk before their final heist
Bottom Photo: The team realizes they've been betrayed
Photo Credits: Well Go USA Entertainment
Q: Does Golden Job pass the Bechdel-Wallace Test?  
No.