From screenwriter Blair Butler (one of five credited writers) and director Gregory Plotkin, Hell Fest is a typical teen slasher film that's refreshingly free of demonic possession, but also free of originality. (BKP: 3.5/5)
Review by Managing Editor Brigid K. Presecky
Childhood friends Brooke (Reign Edwards) and Natalie (Amy Forsyth) reunite for Halloween to attend Hell Fest, a traveling haunted carnival. Though Natalie's never heard of the event, Brooke's roommate Taylor (Bex Taylor-Klaus) and a few forgettable boyfriend characters that have names like "Gavin" and "Asher" convince her that it's a memorable experience, sharing creepy stories of Hell Fests past.
Hell Fest is exactly what it sounds like – a scream-inducing carnival with monsters around every corner that comes with a creepy history of its own. Rumors of a gruesome death from a previous year linger in the air, like an old ghost story that quickly becomes all too real for Natalie and her friends. The stunts they witness begin to feel more real, which make the night's earlier flirtations and goofiness grind to a screeching halt. What starts out as a typical evening of fun scares and stale-sounding teen talk eventually becomes actual hell, as they realize that the masked figure who has been following them all night isn't part of the haunted fun at all.
Admittedly scary at times and laughably ridiculous at others, Hell Fest was likely designed to entertain the masses of preteens who attend Six Flags Fright Fest and cling to each other, faux-screaming. Like a less-polished version of Stephen King's Joyland or Kevin Williamson's Scream, Blair and company miss opportunities to be meta, despite strange and unique carnival- themed methods of killing. The idea that these teens show up to be scared and end up in a gory fight for their lives should be perfect for early-October viewing, but because of the stilted group dialogue and overplayed scares, it's not nearly as good as it could be. Forsyth does her best as a memorable "final girl," making Natalie's dialogue seem like something a college student might actually say – the same can't be said for the rest of the cast.
What just might save Hell Fest for viewers are its final moments, which make it feel more original and reminiscent of slasher flicks past. Unlike recent horror films where evil possession takes center stage, Plotkin's killer is just a plain old human being with no clear motive and no evil spirits to do his bidding. Hell Fest makes a solid last-ditch effort to cling to its originality, and it just might work for the easily-spooked.
© Brigid Presecky (10/2/18) FF2 Media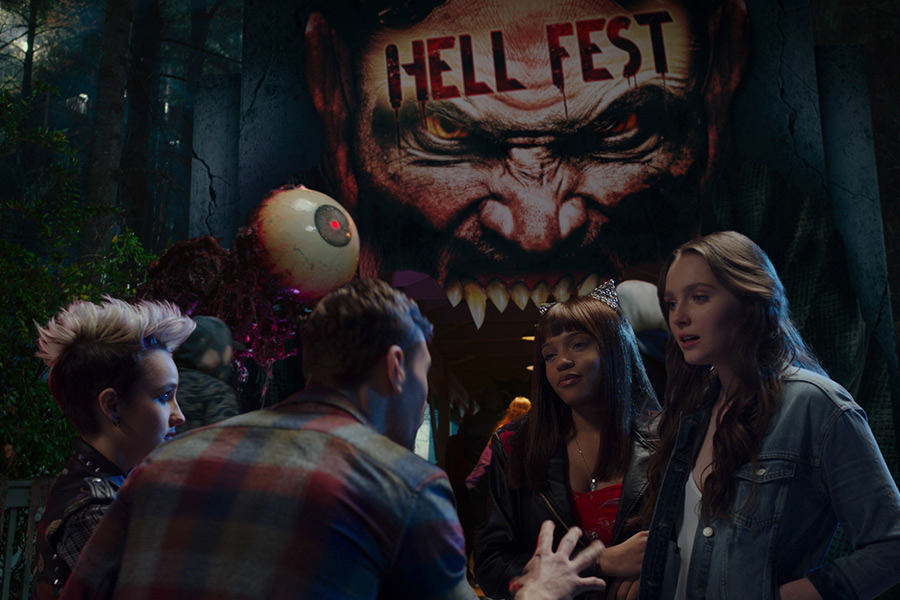 Photos courtesy of CBS Films
Top Photo: Natalie (Forsyth) and Gavin (Roby Attal) have fun at Hell Fest before the haunted hijinks begin.
Bottom Photo: Entering Hell Fest.
Q: Does Hell Fest pass the Bechdel-Wallace test?
A: Yes! Brooke, Natalie and Taylor are distinct characters with conversations and experiences apart from their male counterparts.