A modern retelling of Louisa May Alcott's beloved classic, Little Women follows the lives of the March sisters as they overcome hardships and follow their dreams. With good intentions, director and writer Clare Niederpruem and writer Kristi Shimek deliver a Hallmark card of a film dripping in sentimentality and lacking authenticity. (RMM: 2.5/5)
Review by FF2 Associate Roza M. Melkumyan
Set in the twenty-first century, director Clare Niederpruem's adaptation of Louisa May Alcott's classic novel explores the lives of the March sisters as they pass through childhood, adolescence, and young adulthood. In the present day, 29-year-old "Jo" (Sarah Davenport) has just presented her 400-page fantasy novel to a board of Columbia professors only to be rejected on the spot. Though she is frustrated, Jo vows to continue writing. She enlists the help of her editor "Freddy" (Ian Bohen) – who rejected her draft along with the other board members – to write the perfect draft.
The film takes us back twelve years to the March sisters' adolescence. Up in their attic turned clubhouse, their mother "Marmee" (Lea Thompson) presents them each with their very own cardboard castle to be filled with their hopes and dreams for the future. Imaginative, outspoken Jo aspires to be a great writer who will "do all the things" in life. She wants to travel to Europe and live freely. Shy but beautiful "Meg" (Melanie Stone) wants nothing more than to build a family of her own and live in contentment. The youngest of the sisters, "Amy" (Elise Jones) wants to be a rich and famous painter. A fashionable wardrobe wouldn't hurt either. Loyal and loving "Beth" (Allie Jennings) doesn't know quite what she wants. All she knows is that her happy place is with her sisters.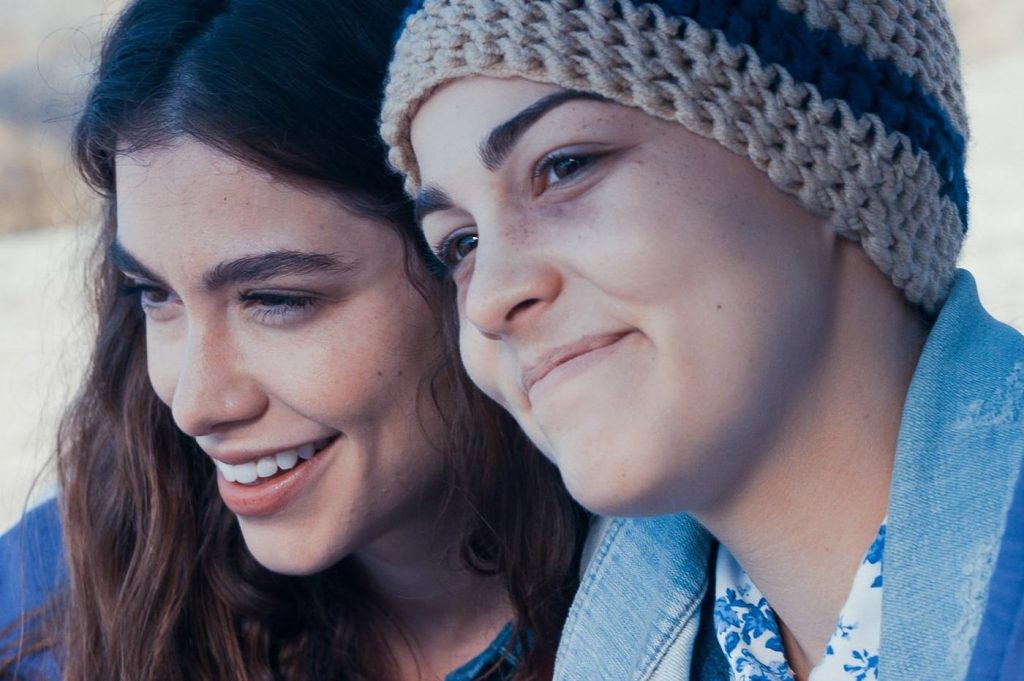 A boy named "Laurie" (Lucas Grabeel) moves into the house next door. Having recently lost his parents, Laurie has come from Europe to start a new life with his grandfather. On New Year's Eve, Meg convinces Jo to accompany her to a high school party. As homeschooled teens, the Marches don't make many friends outside of the family and Meg wants to fit in with the other teens. However, the atmosphere of alcohol and unwanted male attention leaves Meg feeling more out of place than ever. While exploring the scene, Jo bumps into Laurie and the two develop a fast friendship. Later, Laurie is officially accepted as a member of the clubhouse.
Over the next couple years, Jo and Laurie become closer while Meg begins dating Laurie's tutor "Brooke" (Stuart Edge). Amy develops an intense crush on Laurie and butts heads with Jo for trying to be included in the friendship. Tragedy hits when Beth is diagnosed with leukemia. At Meg's wedding a few years later, Jo rejects Laurie's affections after he confesses his love to her. Back in the present, the family gets together for an unforgettable Christmas that explores each family member's life path that led them to this moment.
The overplayed sentimentality paired with the confusing flashback-laden plot of Niederpruem's Little Women makes for a film that lacks believability. Moments in the first two acts that are supposed to tug on the audience's heartstrings feel inauthentic because they are not earned. Characters and their plights haven't been established well enough for me to feel emotionally invested in their moments of joy or sadness or anger. In fact, many of the characters started to annoy me halfway into my viewing of the film. Davenport's delivery of Jo's fiery individuality is not enough to make her stubbornness or her angry outbursts tolerable. When I read Alcott's novel as a child, I absolutely loved Jo. Though she is flawed, she is passionate and endearing and we love her. Had this film been my first exposure to Jo, I would hate her. The necessary traits are there, but the likeability is missing. I'm not sure if the problem lies in Davenport's over-the-top delivery of her lines or writers Niederpruem and Kristi Shimek's stale script. Because she raises her voice so often, Jo's moments of warranted anger lose the effect of severity intended.
When it comes to storytelling, nothing irritates me more than a story told by someone who is completely out of touch with the reality she wants to portray. Having just graduated from college myself, I'm not too far removed from the microcosm that is high school. There are elements in this film's plot that make no sense at all to me. Nobody ever applies to just one school like Jo does precisely because it's a huge gamble as Jo's letter of rejection from Oxford proves. Furthermore, it's more than obvious that the actors playing the teenage Marches are adults in their late 20s to early 30s. Seeing as these same actors play their adult counterparts, it's incredibly difficult to believe their teen act. I still remember Lucas Grabeel's portrayal of "Ryan Evans" in the High School Musical films back when I was a child. And that was over a decade ago.
Though I don't care for the first two thirds of Little Women, there is something to be said for its last act. There are a few wonderfully powerful and touching scenes involving Jo and Beth that may save the film from being a complete waste of time. Their performances in these instances elicited an emotional response in myself. I think that counts for something.
© Roza M. Melkumyan (9/28/18) FF2 Media
Featured Photo: The March women gather round the laptop to wish their father and husband a Merry Christmas
Top Photo: The Little Women poster.
Middle Photo: Jo and Beth share a sisterly moment on the beach.
Bottom Photo: The March sisters read aloud secrets written in their childhood.
Photo Credits: James Daniel Nell
Q: Does Little Women pass the Bechdel-Wallace Test?  
Yes.
There's tons! All five of the March women – Jo, Beth, Meg, Amy and Marmee – share conversations about each other and life.