Written and directed by Theresa Rebeck, Trouble is a heartfelt comedy about a brother and sister in a heated feud over property rights. (JRL: 3/5)
Review by FF2 Media Intern Julia Lasker
Maggie (Anjelica Huston) lives on a large plot of land in Vermont, spending her days gardening and taking in the view from her front porch. But when a group of men begin digging on her property, she fights to defend it. This group is spearheaded, it turns out, by her brother.
Maggie's brother Ben (Bill Pullman) lays claim to the land because their late father left it to him, but Maggie and her husband had bought it off of him years ago. When Ben refuses to get off the land, an infuriated Maggie shoots him. Ben and his son Curt (Jim Parrack) jump through a series of legal hoops to attempt to take the property back, while Ben struggles through serious (and at a point, life-threatening) health problems from the gunshot wound. Maggie, Ben and his son must figure out how to resolve this land dispute and, in turn, repair the long-standing dysfunction of their family.
My biggest qualm with Trouble is the plot structure. It feels as though most of the movie is spent setting up the conflict within the family (and playing it out), but the resolution is rushed and somewhat illogical. Character relationships seem to improve dramatically without a believable motivation, other that the fact that the movie needed to draw to a close. The most blatant example is that Curt attempts to betray his father in a rather unforgivable way, and yet this incident is completely pushed aside and never revealed to Ben by those who knew about it. To me, the way to protect Ben would be to tell him the danger he's in, rather than to preserve his innocence. The beauty of a family coming together was somewhat negated for me by this troubling detail. Despite a rushed conclusion, I do think that both Maggie and Ben's characters were able to develop and earn my love by the end of the film.
The cinematography paints the property in a good light, featuring several shots of luscious green trees and Maggie's colorful garden. These shots make Maggie and Ben's heated dispute over the land more understandable. However, at the same time the cinematography takes no risks; the shots and sequences of shots, while aesthetically pleasing, feel very conventional and uncreative.
One aspect of the film that I did find quite beautiful is its flashbacks of Maggie and Ben with their father when they were young. Backed by a gentle and uplifting piano accompaniment, the shots of the three playing carelessly in nature are very sweet and full of love. To me, they give heart to Maggie and Ben's fight over the land that was their late father's.
Another saving grace for the film is its incredible cast. Anjelica Huston, Bill Pullman and Jim Parrack give authentic and emotional performances; the nature of the storyline allows them to show their acting chops, displaying joy, anger, sorrow, pain, and pretty much everything in between.
Though Trouble is not a cinematic masterpiece, it has a unique zaniness to it, putting characters in situations just beyond what's expected. It also, unlike many comedic films out there, has quite a bit of heart.
© Julia Lasker (10/29/2018) FF2 Media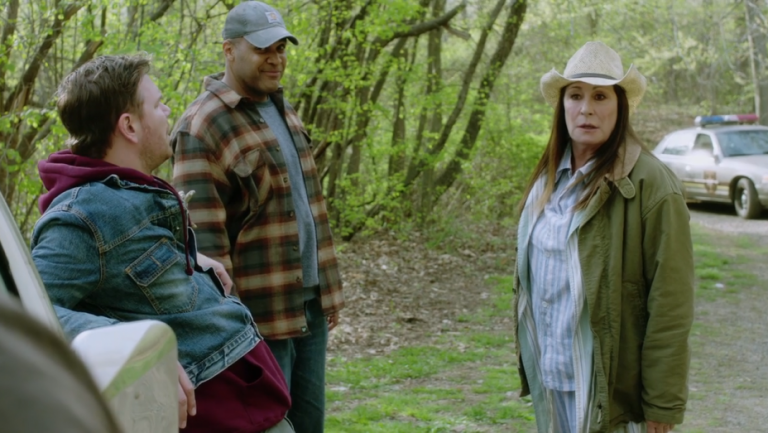 Photos: Trouble
Photo Credits: Paladin
Q: Does Trouble pass the Bechdel-Wallace Test?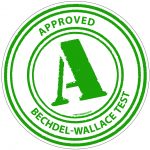 Yes. Maggie and Curt's girlfriend, Rachel, discuss how Rachel can better herself.