In Fantastic Beast: The Crimes of Grindelwald, J.K. Rowling uses her time turner to take us back to the 1920s Wizarding World, when Dumbledore (Jude Law) was still just a professor, long before the names Riddle and Potter appeared on his radar, let alone in his Defense Against the Dark Arts classroom. The Ministry of Magic has lost track of Grindelwald (Johnny Depp), a dangerous, powerful wizard who breaks out of prison and wants purebloods to rule both the wizarding and Muggle worlds. (BKP: 4/5)
Review by Managing Editor Brigid K. Presecky
Far from the cupboard under the stairs, The Crimes of Grindelwald bounces between London and Paris, where Newt Scamander (the excellent Eddie Redmayne) must assist Professor Dumbledore in tracking down the elusive Credence Barebone (Ezra Miller). He hits bumps along the way, from former schoolmate Leta Lestrange (Zoe Kravitz, nailing a British accent in a way few American actors pull off) and his Auror brother, Theseus (Callum Turner).
With Grindelwald on the loose and quite literally casting a black shadow over everything, wizards are on edge. Newt must "pick a side," at the urging of his brother, which essentially sums up The Crimes of Grindelwald in one moment – setting up teams on both sides of this conflict for what will undoubtedly lead to an epic showdown later. There are many complex plotlines being juggled at once – Grindelwald and Dumbledore's previous relationship, conflict between funny sidekicks Queenie (Alison Sudol) and Jacob Kowalski (Dan Fogler), Leta and Credence's ancestry, plus Newt's own sweet storyline with Auror Tina Goldstein (Katherine Waterston). While Rowling and director David Yates have found clever ways to carry us through this narrative, it's decidedly more complicated than the first film.
Rowling isn't known for her brevity – her latest Cormoran Strike novel could hold a door open, and the Crimes of Grindelwald book is 304 pages in print, on sale now. But passionate fans of the wizarding world are no strangers to her lengthiness – they actually revere it. What she lacks in tight storytelling she makes up for in meaningful metaphors and wild imagination, brought to life beautifully by David Yates and cinematographer Philippe Rousselot in a 134-minute running time.
There are moments of joy in the darkness, from familiar aspects of this world people across the globe have come to love. That iconic score, boggarts and wands and house elves. We even get a glimpse into the backstory of Nagini (Claudia Kim), Voldemort's precious Horcrux-lade snake from the Potter stories. Pickett, the lovable sidekick who stole hearts in Rowling's debut screenplay, Fantastic Beasts and Where to Find Them (2016), is a fun holdover from the first movie, along with the rest of the central cast.
It's the quieter moments where Newt does his thing that makes The Crimes of Grindelwald more than just a set-up movie. Though scenes at Hogwarts are rare and quiet, I suppose they should be. For those of us who grew up with Harry Potter, it's like going back to campus after graduating, where you don't quite fit anymore – and that's OK. Law fills Dumbledore's grand shoes effortlessly, with my only complaint being there wasn't enough of him.
Redmayne has created a memorable, lovable character in Newt – he's completely unique, which is part of what made him so great in the first film. But maybe what we initially thought would be Newt's narrative was really just an ordinary briefcase, opening us up to an entire other world inside. It's clear that Rowling has to use these early films to expand the universe, to create exposition in order to build intrigue. Whether The Crimes of Grindelwald is entertaining while accomplishing that is in the eye of the wizard.
© Brigid K. Presecky (11/16/18) FF2 Media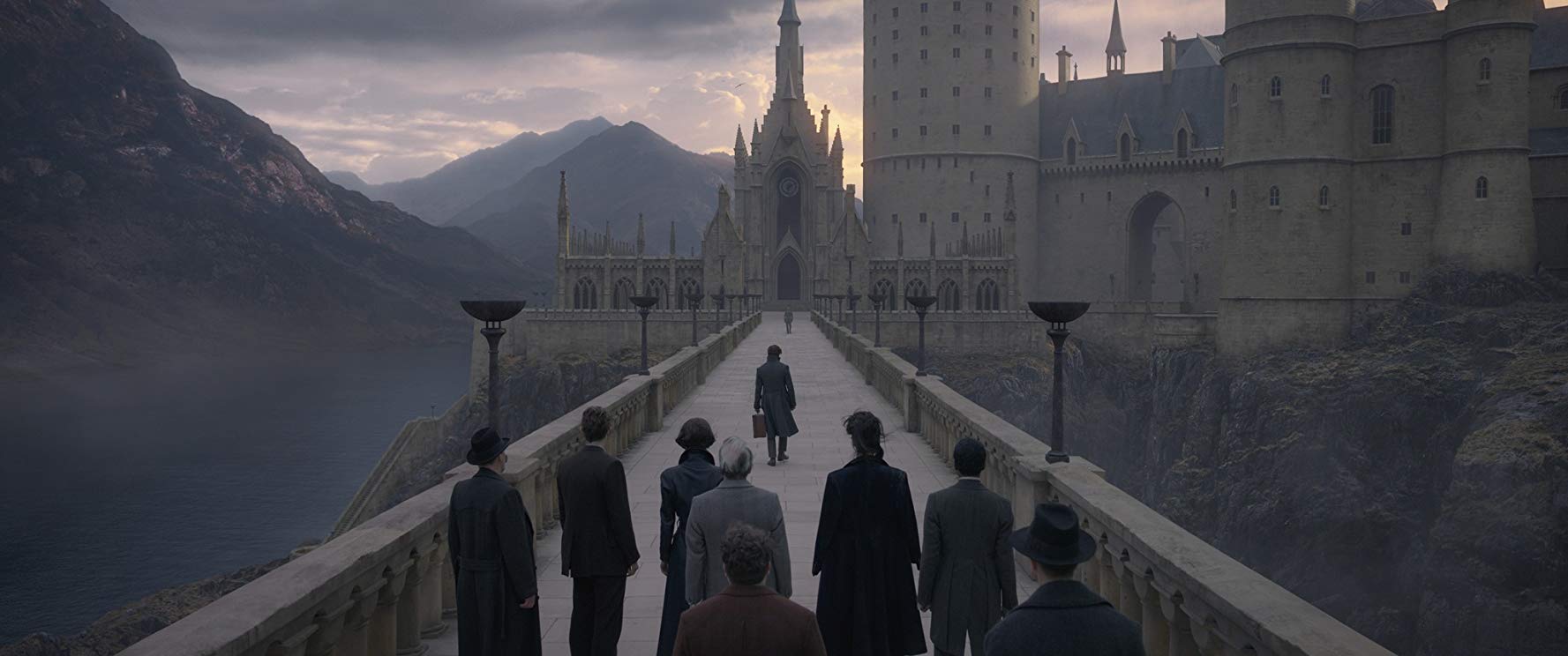 Photos (courtesy of Warner Bros.): Redmayne as Newt Scamander; Law as Professor Dumbledore; Hogwarts School of Witchcraft and Wizardry.
Q: Does Fantastic Beasts: The Crimes of Grindelwald pass the Bechdel-Wallace test?
No.