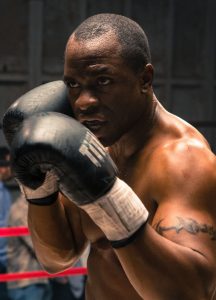 Boxing gives an incarcerated man the chance at freedom. He chooses love instead. Based on a true story, Heart, Baby depicts life in the Central Tennessee State Penitentiary in the 80s, where men and transgender women of all backgrounds and beliefs struggle to coexist within an unjust prison system and its highly homophobic atmosphere. Writer and director Angela Shelton delivers a film full of heart but lacking in script strength and the execution of that heart. (RMM: 3.5/5)
Review by FF2 Associate Roza M. Melkumyan
Opening with a musical overture dripping in sentimentality and tagged by a inspirational quote, Heart, Baby wastes no time in letting us know that this is going to be an inspirational story. The year is 1984 and the backdrop is the Central Tennessee State Penitentiary, where Fridays are for Friday night boxing matches and the halls are inhabited by aggressively homophobic men and persevering transgender women alike. In the boxing ring, "George" (Gbenga Akinnagbe) rules the game. A rape survivor and champion of the downtrodden, George is coached by best-friend-since-childhood "Doc" (Jackson Rathbone). Doc is blatantly, cringingly homophobic, a character trait that is made clear as he turns to transgender "Crystal" (Shawn-Caulin Young) and kindly tells her to "Get your gay-ass shit out of my face." What a way to undercut that sweeping sentimentality.
Having robbed a house just after turning 18 years old, George's preposterous 40-year sentence calls to mind the insultingly unfair prison systems featured in musical Les Miserables and the famous Shawshank Redemption. What's worse is that those kind of sentences, along with corruption within prison walls, were and still are a reality. What's even more eye-opening that this film brings to attention is the fact that such toxic and homophobic environments meant a terrible time for queer men and transgender women. Crystal's way of dealing with this is shooting heroin and clinging to the firm belief that God loves gays. Meanwhile, Crystal and Doc seem to vy for the status of being George's closest friend. Doc angrily refutes the idea that George could ever care about a member of the queer community. Crystal knows that, in fact, he does.
George continues to defeat his opponents left and right, prompting the prison warden to take attention. If he continues to win, he could go to the Olympics and win a one-way ticket to freedom. George names one condition: that Crystal be allowed to come with him. Prison higher-ups are angry to hear him advocate for a queer, and are further outraged when George declares that he is in love with Crystal, making him, in their eyes, just as dirty as the rest of them. The audience quickly realizes that this isn't a movie about boxing at all. It's a story of impossible loves.
Heart, Baby had lots of potential to be great. It's based on an amazing, inspiring true story of the loyalty between best friends, love that overcomes adversity, and putting prison reform into action. But from the moment the film opened with that music track, I felt like I was being told I needed to feel inspired. I struggled to wash away the taste of that artificial tone for the rest of the film. While I laud director and writer Angela Shelton for bringing us a movie about love and acceptance in regards to the queer community, the homophobic commentary she uses to juxtapose that love with felt almost gratuitous and excessive. The acting at times bordered on campy, with both the queer characters and the homophobic characters looking more like caricatures. I understand that the intention in establishing such a toxic, volatile atmosphere is to make space for love and understanding, but the truth is that the believability of it all was sacrificed.
From watching the first 30 minutes alone of this film, I'm not sure I would have continued watching. It was painted to be a movie about boxing which felt generic, like I was watching a story that I had seen a million times. What saved it, however, was that moment in the second act when George's and Crystal's love story came into full focus and became the film's new focal point. Though some opportunities to deliver really moving performances were missed, both Rathbone and Akinnagbe delivered rather emotional performances as they both navigated pain and loss.
Though this film's base story was compelling enough to keep me hooked, I'd suggest skipping this particular feature.
© Roza M. Melkumyan (1/29/19) FF2 Media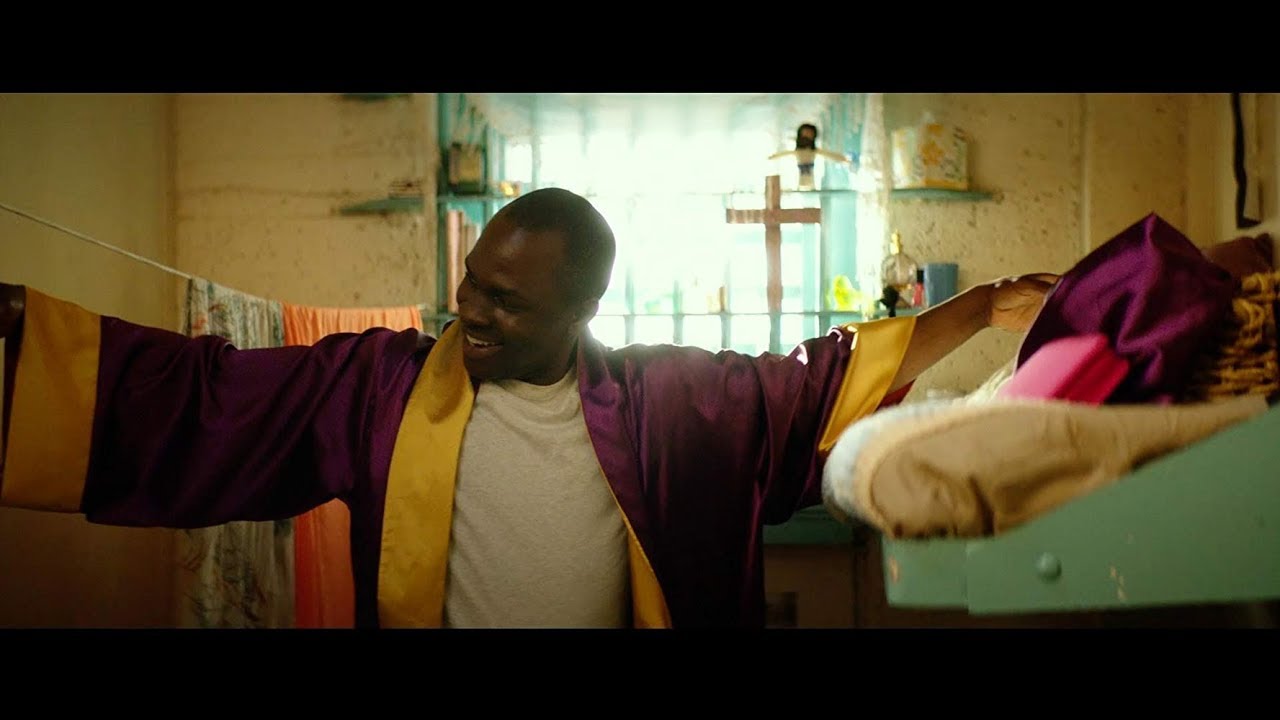 Featured Photo: Doc has a conversation in the stairwell.
Top Photo: George gets ready to throw a punch.
Middle Photo: George wins another match.
Bottom Photo: George tries on his new boxing robe.
Photo Credits: JonGunnar Gylfason
Q: Does Heart, Baby pass the Bechdel-Wallace Test?  
Yes.
Transgender women speak with each other about their lives.