Becoming Astrid is a powerful rendering of the early years shaping the world-renowned children's book author Astrid Lindgren. The film is about the person behind the beloved stories and depicts her youth pregnancy and unsteady existence as she travels between her childhood hamlet Vimmerby, her secretary school in Stockholm and her son's foster home in Denmark—a traveling not so much between places as between worlds. Director Pernille Fischer Christensen's camera treats the intricate subject matter with a heart-filling respect which extends Astrid's experience beyond the adored storyteller. Though at times bordering sentimental, Becoming Astrid is bound up with a life-celebratory shimmer, reminding us that no matter how dark the human condition might at times seem, as long as there is love, there is life—and a story to be told. (MJJ: 4.5/5)
Review by FF2 Associate Malin J. Jornvi 
Becoming Astrid by director Pernille Fischer Christensen is a story with and about love. Maybe the banality of such a statement is precisely why this feature is needed in today's media climate. The film starts at Astrid's family home in Vimmerby in the south of Sweden. Astrid (Alba August), named Ericsson at the time, and her family, lives off the land of the church—a life that does not seem to suit the vivid and imaginative Astrid very well. So when Astrid is offered an internship at the local newspaper, she is quick to try out the new adventure.
The editor Mr. Blomberg (Henrik Rafaelsen) is in the process of divorcing his second wife and quickly gets enchanted by his new blooming secretary. Astrid, only 16 years old, is taken by the attention and Fischer Christensen handheld camera captures the attraction, and in the wake of #metoo, nicely conveys the consenting sex scene. Of course, Astrid becomes pregnant—from which much of the film's conflict, and arguably, the beginning of Astrid's whole authorship, stems—a very vulnerable situation. But as Becoming Astrid skillfully shows, Mr. Blomberg is as caught as Astrid in the suffocating village mentality.
This is an essential theme of the feature: the trap human society becomes for its practitioners. Perhaps it is the strongest portrayed by the outstanding performances of Magnus Krepper as Astrid's father and Maria Bonnevie as Astrid's mother. Because as Astrid's mother soon understands her daughter's predicament, her turmoil between being a good Christian, heading a family living off the church's land, knowing motherhood, and loving Astrid, becomes tangible. This is set in contrast to Astrid's father who has never been taught to speak of emotions, and thus leaves the whole dilemma to be fought out between the ladies. Yet, her father is the one who follows Astrid to the train station and he is the one who stands waiting for her in the rain when she returns. In Becoming Astrid, Astrid's father is a personification of how actions do speak louder than words, especially in acts of love.
Becoming Astrid at times edges to being overly sentimental—I cried pretty much all through—but due to the fine technique with which this story is crafted and told, the film manages to stay balanced on the emotional tightrope. Another example of the superb storytelling is how a Mr. Lindgren (Björn Gustafsson) slowly enters the narrative and that is not until the second half of the film that we are invited to reflect further upon his last name. Becoming Astrid did however receive heavy critique when it first came out in Sweden as Astrid's daughter (born after the time period which the film depicts) meant that the film would not have been as heavily centered on Astrid's life instead of her work, had she been a male. Though a very acute reflection, I would in this case argue that the focus on Astrid as a person only is positive because it foremost gives historic flesh to a female figure—a character that in cinematic contexts usually remains paper thin.
Becoming Astrid is a loving portrait of a precious author, and it leaves the viewer with the, in these days, clichéd saying that in the end, love is all that matters. Yet, when this narration ends, I cannot help but believe it.
Read FF2 Media's interview with director Pernille Fischer HERE.
© Malin J. Jornvi (11/28/18) FF2 Media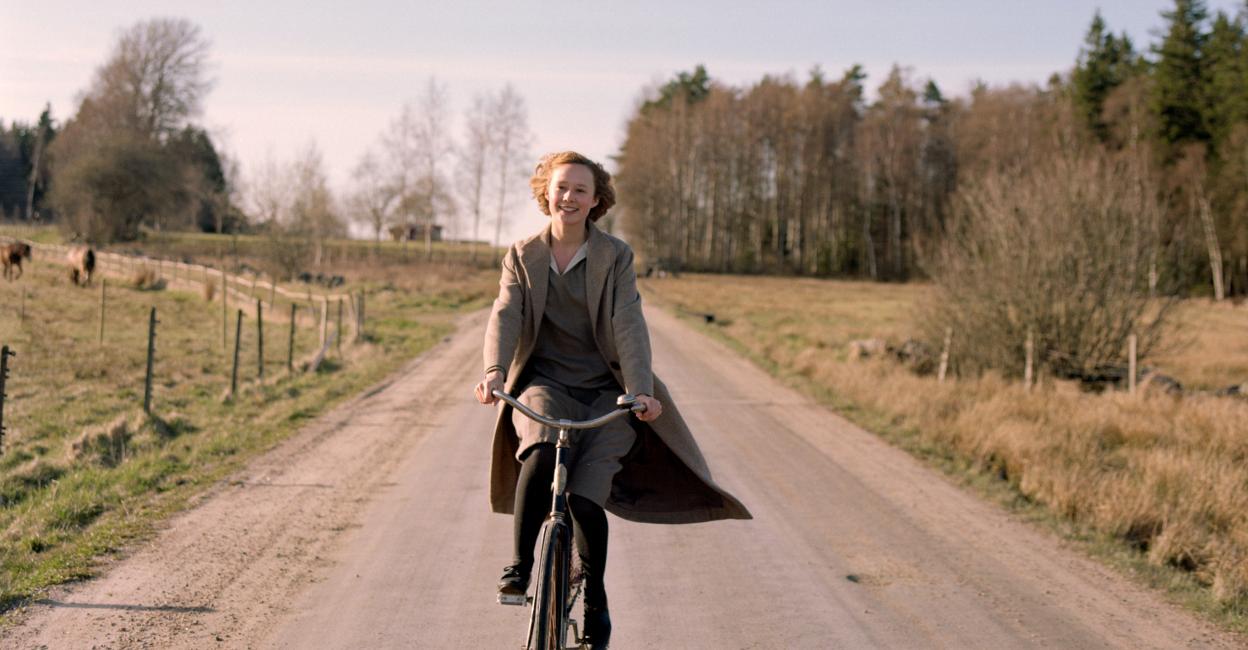 Top Photo: Astrid (Alba August) and her son Lasse (Marius Damslev)
Middle Photo: Astrid (Alba August) and Mr. Lindgren (Björn Gustafsson) in the office
Bottom Photo: Astrid (Alba August) riding a bike in the countryside
Photo Credits: Music Box Films
Q: Does Becoming Astrid pass the Bechdel-Wallace Test?
Yes.
Becoming Astrid is full of realistic inter-female conversations, surely about men, but also reaching far beyond to other topics that women living lives talk about.