From co-screenwriter Pamela Ribon, Disney's Ralph Breaks the Internet is a fun, thoughtful journey of two colorful arcade game character venturing into the world wide web. Undeniably imaginative and satirical without snark, this sequel to Wreck-It Ralph (2012) is a great addition to Disney's ever-growing list of decent sequels. (BKP: 4.5/5)
Review by Managing Editor Brigid K. Presecky
In Ralph Breaks the Internet, arcade game characters and best friends Wreck-It Ralph (John C. Reilly) and Vanellope Von Schweetz (Sarah Silverman) leave the comfort of their analog games in Litwak's Family Fun Center for the uncharted territory of the Internet. E-Bay is their destination, to replace a broken steering wheel on Vanellope's racing game Sugar Rush – a game she's outgrown but can't stay alive without.
While cleverly tackling pop-ups and comments sections, viral videos and online algorithms, Ralph and Vanellope's race through the web still manages to be fun, as what started out as a quest for a replacement steering wheel becomes increasingly complicated. For kids who are growing up with the Internet in their back pockets and parents who have probably forgotten what life was like without it, Ralph Breaks the Internet is a universal movie.
Despite all these clever nods to spam, online gaming, "likes" and click bait, the film really works because it is rooted in its main characters. All of the colorful manic energy created by the overwhelming new space of the Internet is brilliantly analyzed and animated, but it also simply serves as a backdrop for Ralph and Vanellope's story – he wants things to stay the same even though she's ready to move on to bigger and better games. You might even say she wants adventure in the great wide somewhere…
A highly-publicized highlight of the film is Ribon's decision to have Vanellope stumble across all of Disney's beloved princesses – and lovingly satirize their tropes in the process. Each princess is hilariously thought out, with blink-and-you-miss-them one-liners and cool new costumes. These women are updated for the times, but still emulate what made them great in the first place – thanks in large part to being voiced by their original portrayers, from Ming-Na Wen (Mulan) to Mandy Moore (Rapunzel). It's a high point of the movie, and one every true Disney fan will likely revisit.
With the help of Gal Gadot's Shank, a race-car driver from a gritty online racing game, and Taraji P. Henson's Yess, BuzzTube's personified algorithm, Ralph Breaks the Internet represents a different kind of "girl power." The kind that's so subtle and normal that even the antiquated phrase "girl power" doesn't really do it justice. It doesn't induce cringes by spelling out a message of gender equality for young female viewers, but simply shows all the ways women can be and things they can do, from princesses to race car drivers to tech wizards.
At the center of this theme is Silverman, who along with her animators helps make Vanellope funny, charming and a surprisingly reluctant protagonist. Her strength actually lies in her uncertainty – she wants something bigger than Sugar Rush, but she's afraid to leave it behind. It's a refreshing message you wouldn't really expect from such a colorful, busy narrative, but Disney actually gives its young audience credit.
Ralph could also serve as a metaphor for our times – we used to have plug-in games at the arcade, games we can now play on our phones and laptops. Ralph Breaks the Internet thankfully isn't a cautionary tale – we already know all too well the dangers of the web and its impact, a message that's handled especially well when Ralph mistakenly enters the soul-crushing BuzzTube comments section. But instead it's about growth, and the complications that come with it – not only in technology, but in friendship. Ralph and Vanellope aren't the only ones growing from simpler times to undeniably more complicated days, when everyone seems to be glitching.
© Brigid K. Presecky (11/25/18) FF2 Media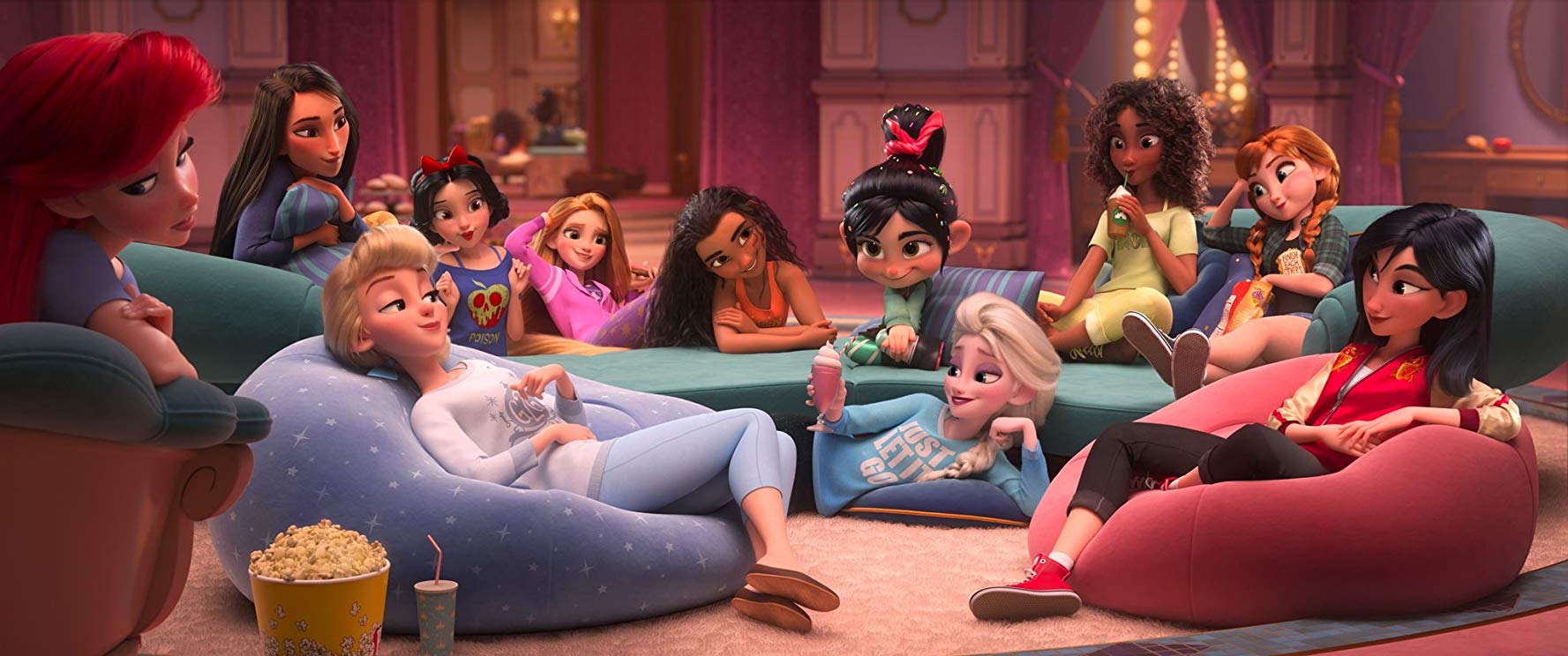 Q: Does Ralph Breaks the Internet pass the Bechdel-Wallace test?
A: With flying colors (of the wind).