"As Dolly would say, 'It's hard being a diamond in a rhinestone world,'" Willowdean Dixon's Aunt Lucy tells her in the opening sequence of Dumplin'. The popular Netflix feature directed by Anne Fletcher, written by Kristin Hahn and starring Danielle Macdonald is exactly that – a diamond in a world of rhinestone movies that try and fail to preach body positivity. Adapted from the novel by Julie Murphy, Dumplin' is an inspiring comedy for bigger girls everywhere, who haven't really had a protagonist they can count on – until now. (BKP: 4/5)
Review by FF2 Media Managing Editor Brigid K. Presecky
Willowdean Dixon (Macdonald) grew up loving all things Dolly Parton, thanks to the influence of her now-late aunt. She sings 9 to 5 in the car with her best friend Ellen (Odeya Rush), wears a t-shirt with the smiling country queen emblazoned on the front, and even keeps a Dolly headshot taped to the inside of her locker at work.
Her mother, former beauty queen Rosie (Jennifer Aniston), is more concerned with the local Teen Miss Blue Bonnet Pageant in their small Texas town than blonde country singers – which is one of many reasons she and her daughter "Dumplin'" butt heads. But their animosity toward each other really grows when Will decides to join the pageant as an act of "revolution," to change her town's opinion about what beauty really is.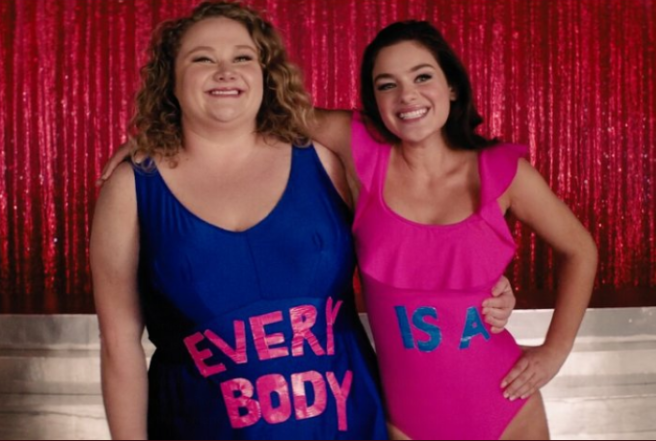 Will manages all of this while harboring a crush on the line cook (Luke Benward) at work, who can't possibly be flirting with someone like her – but he is. Of the film's many hopeful storylines, this one is especially affecting – the pain of a plus-size girl not believing that someone could be actually interested in her because of her weight.
Acting as executive producer and pushing for the project in its early stages, Aniston is practically perfect as Rosie. While she could be easily painted as a beauty queen cliche, a washed-up, small-town has-been who doesn't support her daughter, she never is. Rosie is hard-working and caring, and Aniston manages that balancing act with ease. It's no wonder she's won an Emmy, Golden Globe and Screen Actors Guild Award – she still lights up the screen, and is funnier than most comic actresses of her generation. Like Rosie tells Will, "the difference between winning and losing is in the details." And Aniston wins.
At its heart, Dumplin' is a well-managed story about friendship, understanding and confidence. Its message isn't subtle, but as more and more girls are inundated with images of skinny Instagram influencers drinking flat-tummy teas, it shouldn't be. It's human nature to think what we see on the both the movie screen and our phone screens is what we should look like – as Dolly sings in one of her new original songs written for the film, "I want to be like the girl in the movies."
All of us have that one thing that got us through a painful period in life – that work of art or television show or movie or song. It's clear from the start that Dolly Parton is that person for Willowdean. Though it may never reach Dolly's iconic status, I have a feeling Dumplin' might just be the thing that gets some girls through tough times, and make them finally feel like they can be like the girl in the movies.
© Brigid K. Presecky (12/14/18) FF2 Media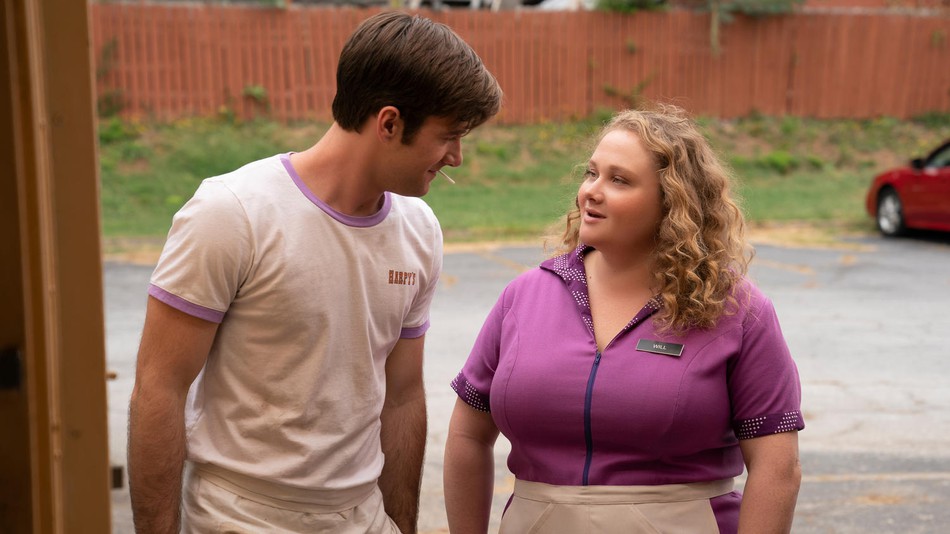 Photos Courtesy of Netflix
Q: Does Dumpli' pass the Bechdel-Wallace test?
A: Yes!
Almost all of Will's conversations are with Rosie, Ellen or her fellow pageant contestants.