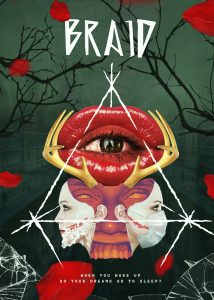 Mitzi Pierone's directorial debut Braid is a daringly original thriller that blurs the lines between make believe and reality. Fascinatingly beautiful and suspenseful, it disorients the viewer in the most pleasurable way possible. (HRM: 4/5)

Review by FF2 Intern Hannah Mayo
"Petula" (Imogen Waterhouse) and "Tilda" (Sarah Hay), two young fugitives on the run, decide to return to the home of their disturbed childhood friend "Daphne" (Madeline Brewer) to steal her fortune. In order to enter the house, the two must play along with the game the three of them would play as kids, Tilda taking on the role of Daughter, Daphne her mother, and Petula, a doctor. There are only three rules: everyone must play, no outsiders are allowed, and nobody leaves.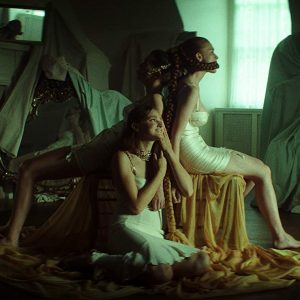 The seemingly innocent game turns violent under Daphne's maniacal leadership, and Petula and Tilda are left struggling to play along and running around the decaying mansion looking for the safe that holds the money. The situation further escalates as "Detective Siegel" (Scott Cohen), who has known the three young women since they were little girls, comes to the mansion looking for Petula and Tilda. Daphne's game rapidly takes control of the three of their realities, and the girls descend into violent chaos as mother, daughter, and doctor.
Mitzi Pierone's original story plays on many classic horror/thriller tropes, but mixes them into a bold horrorscape like nothing done before. It is clever, modern, and overall impressive in creating a reality for the characters to play in that is both separate from and at home in the real world, beginning with reality and spiraling into twisted imagination. Perhaps the most exciting thing about how all of it plays out is that it is a woman's story. The three main characters are equally empowered and are the driving forces behind  the entire film. While the three main characters aren't exactly role models, they are in complete control of the plot and in the end are empowered by each other and their sisterhood. Braid is truly the feminist thriller I didn't realize I needed but am now glad I don't have to live without.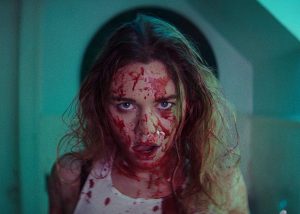 Most of the film teeters in and out of different realities, usually without the viewer even realizing it. This madness is supported by the beauty that is present in every shot; cinematographer Todd Banhazi used each frame to create an engrossing, expository piece of a larger puzzle, truly wrapping together the viewer's experience. The imagery in the film, from its cinematography to  its production design, seduces the viewer into enjoying the wild ride that is Braid.

Mitzi Pierone's impressive directorial debut is a melting pot of thrillers, horror films, eroticism, and feminist cinema. It is beautifully made, unwaveringly engaging, and overall thrillingly original.
© Hannah Mayo (5 February 2019) FF2 Media
Photo Credits: Daniel Feighery
Q: Does Braid pass the Bechdel-Wallace Test?
It does more than pass. If we lived in an alternate reality where the test were reversed (men have to have a conversation about something other than a girl) it wouldn't even pass it!