Directed by Shelly Chopra Dhar, 'Ek Ladki Ko Dekha Toh Aisa' is a groundbreaking Bollywood film about a failing writer who meets a beautiful girl with a big secret. 'Ek Ladki Ko Dekha Toh Aisa' is colorful and entertaining, while at the same time never forgetting the seriousness of the issues it deals with. (JRL: 4/5)
'Ek Ladki Ko Dekha Toh Aisa' turns the boy-meets-girl trope on its head
'Ek Ladki Ko Dekha Toh Aisa' begins by depicting Sweety, a beautiful young woman with a captivating smile, who lingers on the sidelines of an extravagant party. Another young woman approaches her and expresses her brother's interest in Sweety and, though Sweety is reluctant at first, he pulls her out of her shell and they enjoy the evening of  food and big dance numbers together. We then cut to Sahil, a failing playwright with disappointed parents, who is in the middle of rehearsals for a rather shallow play about a dating app romance. As Sahil watches the actors perform, Sweety enters, meets Sahil and comments on the plot. But before they can discuss further, a group of angry men enter the scene looking for Sweety, who then pulls Sahir into a full-on chase. Already smitten, Sahir willfully follows, landing them together on a train back to her home.
It is later revealed that the man following Sweety was her brother, who believes Sahir to be Sweety's secret Muslim lover whom she leaves home to visit periodically. In order to stop the scandalous romance, Sweety's family forbids her to leave and takes away her cell phone. Meanwhile, still intent on pursuing Sweety, Sahir decides to teach an acting class that he invites Sweety to, allowing him to get closer with her and to win over her family. However, when Sahir drunkenly confesses his love for Sweety, she reveals that her family was not the only roadblock in her ability to love him back: she is actually in love with a woman.
Sahir quickly accepts and embraces Sweety and resolves to help her find acceptance in her community and, more importantly, in her family in the only way he knows how—by writing.
As far as directing goes, 'Ek Ladki Ko Dekha Toh Aisa' has all of the characteristics of a great Bollywood film: upbeat dance numbers, bright colors, and melodrama. Its extravagant, performative quality is a delightful and a refreshing break from the seriousness and realism of most American films.
However, what's especially cool about 'Ek Ladki Ko Dekha Toh Aisa' is that it reclaims these old conventions to tell a new story. I'm definitely not an expert on Bollywood films, but research reveals that they typically feature star-crossed lovers with disapproving families. Usually, they're not meant to be together because of class differences or family feuds. But in 'Ek Ladki Ko Dekha Toh Aisa', Sweety and her girlfriend are not star-crossed for the typical reasons; they're star-crossed because they're gay. That's new. The way the film is structured—beginning with the boy-meets-girl plot line and then turning it on its head—shows that the film is a self-conscious rebellion against these overused heteronormative tropes. It's also apparently the first mainstream Bollywood film to center around a lesbian relationship after the Indian government legalized gay marriage, and for that alone it deserves props.
I am all for lesbian representation, but I take issue with the fact that, though the film's main romance is between Sweety and her girlfriend Kuhu, the narrative structure is focused on Sweety and Sahir. In fact, for most of the film, Kuhu is depicted in short flashbacks and only enters into the plot towards the end. This means that the film is more about the fight for love, rather than the love itself. This isn't a bad thing, and that sort of plot is valid, but for the first Bollywood film to depict a lesbian romance, I would have liked to see more of it.
'Ek Ladki Ko Dekha Toh Aisa' is a wonderful film. Not only is it making Bollywood history, but it's also just a whole lot of fun.
Bechdel-Wallace Test: Yes! There is, first of all, an adorable montage of Sweety and Kuhu's relationship, and second of all a scene in which they discuss the challenges of their scandalous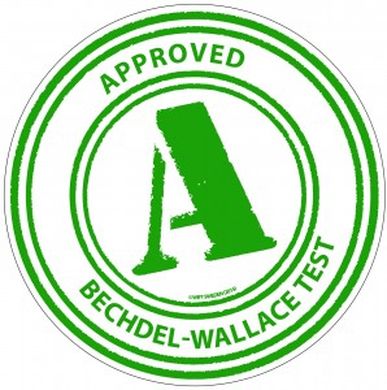 relationship. 
Commentary from Review Coach Giorgi Plys-Garzotto
Julia and I were discussing our lack of knowledge about Bollywood films after the movie, and how that made it harder to figure out how revolutionary Ek Ladki… was. Even if I had seen a similar film made in the West, though, I would have been taken with the plotline, since (surprise, surprise) Western media is only a hair ahead of Indian media when it comes to LGBTQ representation. As a queer person, it was great to see the trope of the "nice guy" protagonist getting the girl through persistence turned on its head (as Julia says), so that instead of being creepy the character turns out to be an actual nice guy by helping the lesbians get together!
Props should also go to the dazzling craftsmanship put into every aspect of this film. From the first scene I was spellbound by the sheer vitality of Ek Ladki…, especially when music and dance were involved. The musical parts were especially fun because the traditional Indian music incorporated influences from Western electronic music and dubstep, most notably in the party scene about midway through.
Lastly, I wanted to say that I legitimately teared up at the way the father-daughter relationship is handled at the end of this movie. It explores the father's own discomfort with the gender norms of Indian life, and delves into what it's like to be closeted in a traditional family. After Fun Home I've got a soft spot for lesbian daughters and their relationships with their fathers—and I can honestly say that Ek Ladki… creates a relationship here that is about as emotionally intense as the one in Fun Home.