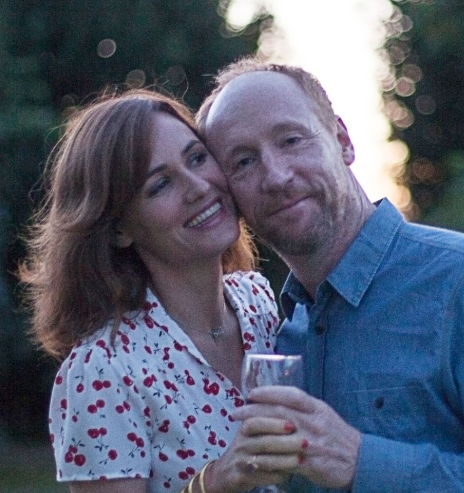 Under the Eiffel Tower is a romantic comedy co-written by Judith Godrèche, in which a middle-aged man is rejected by his best friend's daughter but finds romance in the French countryside. (BV 3.0/5.0) 
Review by Intern Beatrice Viri
Under the Eiffel Tower starts off with protagonist Stuart (Matt Walsh) in a rut due to a mid-life crisis as he was laid off his successful job in the bourbon industry. He is invited on a trip to Paris as an attempt by friend Frank (David Wain) to lift his spirits. There, Stuart, a man in his 50's, proposes to Seamus's 24-year old, freshly graduated daughter, Rosalind (Dylan Gelula) while under the Eiffel Tower. What is supposed to be a romantic gesture is completely admonished — Rosalind, her mother (Michaela Watkins) and father are extremely disgusted by the action and Stuart is banished from their family vacation. However, when waiting for his flight home, Stuart sparks a friendship with former soccer player Liam (Reid Scott) and decides to continue his initial plans to the countryside, partially due to his lack of funds.
On the train to their rural destination, the dashing duo meet a French businesswoman, the beautiful Louise (Judith Godrèche). Louise and Stuart seem to have much in common, namely a penchant for artisan alcohol, but Liam swoops in from left field and sets his eye on her as well. In their travels, they find that Louise is the owner of a successful vineyard, and in return Louise becomes their guide, their host, and their friend as the unlikely duet vy for her affections. Will Louise fall for Stuart's pragmatism, or will Liam's ruggish looks steal her heart? Will Rosalind come back into the picture — or will Louise help Stuart move on and look at the brighter things in life?
The coming-of-middle-age comedy is lighthearted, entertaining and rather short — perfect if you're itching for a quick romcom. Rosalind and her family's dynamic are the true stars; their inappropriate timing and Rosalind's mother's pushiness are the aspects that made me laugh the hardest. Liam's peddling patheticity is also rather humorous, though his knack for mischief was also rather irritating. It's also refreshing to see an interracial lesbian couple casually sprinkled in, if only for a few minutes — LGBT representation is still a somewhat rare feat in this particular genre. Under the Eiffel Tower's side characters are its true charms and add to the breezy atmosphere the cheerful countryside provides.
However, in contrast the main characters' budding romance felt rather lacking and shallow. Stuart and Louise had a spark between them from the beginning, but many of Stuart's lines felt pretentious and lacking in sincerity — though perhaps it's a flaw in his dry personality. It's also rather exasperating that Stuart's ordeal with Rosalind is that he put her on a pedestal, but he also essentially does the same thing to Louise, idealizing her and thinking preconceptions of her desires. The ending tries to resolve this in a scene where Stuart throws his inhibition to Rosalind behind, but ultimately their relationship just didn't feel believable since they'd technically only known each other for a few weeks at most. More time in their romance and the movie in general would serve Under the Eiffel Tower well, but if you're looking for something fun and cheesy to pass your time, this romcom's a good fit.
Read FF2 Media's interview with co-writer Godrèche HERE.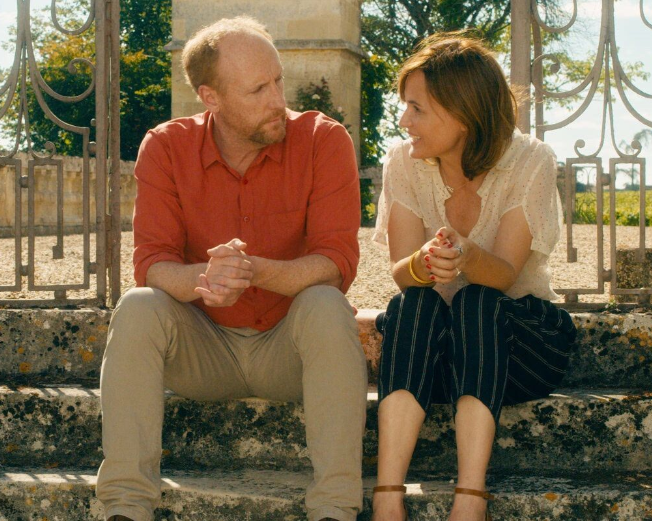 © Beatrice Viri (02/16/18) FF2 Media
Photos: Judith Godrèche and Matt Walsh as Louise and Stuart
Photo Credit: Noëmie Lekehal
Does Under the Eiffel Tower pass the Bechdel-Wallace test?
No. There are almost no female-to-female interactions, and they're mostly centered around romance with men.