What Men Want is a refreshing and hilarious comedy that celebrates women and people of color. While it follows the formula of 
Hollywood blockbusters, it will make you laugh and warm your heart. (HRM: 3/5)
Review by FF2 Intern Hannah Mayo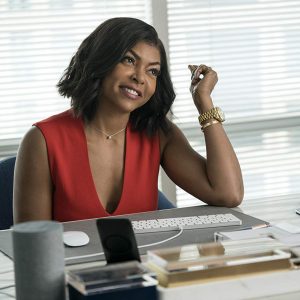 Career driven sports agent "Ali Davis" (Taraji P. Henson) is constantly struggling to work around her firm's boys club. After being snubbed out of a well deserved promotion by the less deserving "Eddie" (Chris Witaske), she blows off some steam with her father "Skip" (Richard Roundtree) at his boxing gym and later at a bar. There she meets "Will" (Aldis Hodge), and they have an awkward one night stand that ends with his son wearing her thong as a mask. That weekend at her friend's bachelorette party she confides in "Sister" (Erykah Badu), who gives her a mysterious tea, and gets 
knocked out clubbing later that night. The next morning Ali wakes up in the hospital, and through her assistant "Brandon" (Josh Brener) discovers she now has the ability to hear men's' thoughts.
At first Ali is completely overwhelmed by the constant male voices in her head, but she quickly realizes the power she has. She infiltrates the boys club, takes the lead on signing basketball star "Jamal Barry" (Shane Paul McGhie), and charms Will, while also using him and his son as a prop family to appeal to Jamal's father. Just when things are looking up for Ali, her power proves that sometimes knowing everything is too much.
A remake of the 2000 film What Women Want, What Men Want hits all the marks of a Hollywood romantic comedy and more. It flips the original story to celebrate the power of a woman of color, and doesn't fall into any expected white male gaze norms. My favorite couple in the whole movie is the gay relationship that forms between Brandon and "Danny" (Pete Davidson), which does not resemble the stereotypical gay relationship at all. The movie is celebratory of things not typically praised in standard Hollywood blockbusters, which is important and heartwarming to watch.
Yes, despite its inclusivity What Men Want is a standard, formulaic Hollywood studio film. The story is shaky, and it's clear that a star studded cast was meant to compensate for that, but this ended up leaving many characters feeling underdeveloped. Yes, while you watch you can easily feel the beats in the plot and the three acts. No, this is not a breakthrough, art house film that will transform the world of film. But that doesn't make it a bad movie! It is funny and enjoyable to watch, and I left the theater feeling happy, even though I admittedly walked in expecting it to suck.
What Men Want is exactly what it appears to be. It's a bit silly, with a far fetched story, but it is still a fun movie to watch. The celebration of women and people of color is refreshing and important to see in a blockbuster movie. It's the perfect movie to watch with family when you all just want to laugh and feel good.
© Hannah Mayo (16 February 2019) FF2 Media
Photo Credits: Jessica Miglio
Q: Does What Men Want pass the Bechdel-Wallace Test?
Yep! Ali and her friends have great conversations about things other than men.