Wrestle, written and directed by Suzannah Herbert and Lauren Belfer, is an emotional coming-of-age documentary centering on four boys and their struggle for recognition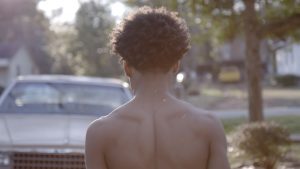 by participating in their high school's wrestling team, as an attempt to overcome the cycle of poverty they've been born into. (BV 4.0/5.0)
Review by Intern Beatrice Viri
Wrestle takes the viewer into the deep south of Huntsville's J.O. Johnson High School, a school on the list of Alabama's long-standing failing institutions. A component keeping the school afloat is its wrestling team, run by coach Chris Scribner, from the Northeast. Wrestling is said to be a "white boy's sport"; in tournaments we see how dominant white people are, compared to this team of primarily black students. Scribner is not used to the complexities of race and class that his students experience nearly every day, but ultimately uses his power and privilege to help them. At first, he seems like a "white savior", but his flaws are shown to make him human; he relates his past experiences as a recovering alcoholic to serve as a role model.
The film centers on the lives of four teammates–Jailen, Jamario, Jaquan, and Teague. Director Herbert documents their grueling trainings and fights towards victory. Each of them is plagued by their own obstacles and life-struggles: family neglect and abandonment, drug abuse, teen pregnancy, mental health issues, racial profiling–all unfortunate consequences of their disadvantaged environment. However, that makes each accomplishment even more important as their state tournament approaches. In this raw and compelling documentary, the viewer will cheer these underdog kids on as J.O. Johnson's set to close that year because in spite of that and everything they've been through, they keep fighting.
One aspect that makes the film so unique and obviously female-directed is its focus on family, specifically present mothers. A pivotal 'character' in Wrestle is Jamario's mother, who grounds him, and serves as a familial figure for Jaquan as well. Another is Teague's mother, who speaks of her son's mental disabilities and need for wrestling as it keeps him out of trouble. Wrestle doesn't just explore the dynamics of the team, but their backgrounds and support who founded their 'characters', making each teammate feel more real. When looking at the way the stories were captured, I think it's very obvious that the film crew got attached to the team. The press release said the crew filmed over 650 hours of footage; it must have been difficult to choose whose stories to tell, but having four specific subjects was a wise choice to keep the film intimate and un-convoluted.
A significant part of the film has Jamario mention the cycle of poverty, and how he wants to break the cycle and overcome it. Wrestle is not shy with its depictions, fully showcasing how present this cycle is in each of the teenager's lives–which makes the ending even more sobering. Some members do well, others do not, and their reality still must go on.
Though Wrestle doesn't fully delve into the horrors of police brutality and racial profiling, it does manage to scratch the surface and paint a picture of underlying privilege and class complications in the south. Directors Herbert and Belfer, as well as their entire team, have put together a film that is amazingly thoughtful and genuine–definitely a recommendation for those interested in advocacy.
Coach Katusha's Comments:
Wrestle does a great job of not beautifying or brushing over discrimination. Instead, director Suzannah Herbert eases the audience into the problems the students face one by one. I was worried at the start that we'd have yet another "white hero" saving this group of underprivileged teens, but we avoid that by seeing how relatable the coach finds the students' struggles to the ones he faced in his youth. This makes him less of a "stereotypical hero" and more a team player.
With so many characters, Herbert did a great job in piecing each story together, creating a very compelling narrative with excellent character arcs. I completely agree with Beatrice that having a female director gave the women from the students' families more of a voice. I would have also liked to hear more about Jamario's girlfriend and her backstory, but understandably the production already had too much cutting down to do with all the footage they shot.
One thing this documentary did make me think more about is the effect of the movie's title on the audience it attracts. With a title such as Wrestle, would more men be inclined to view it than women? As someone who has always been indifferent towards wrestling, I was worried that I would find the film uninteresting. How wrong I was! This definitely makes me think twice about the titling of movie: how important it is from the film's perspective in attracting the audience it wants, but also as an audience member to not 'judge a book by its cover'.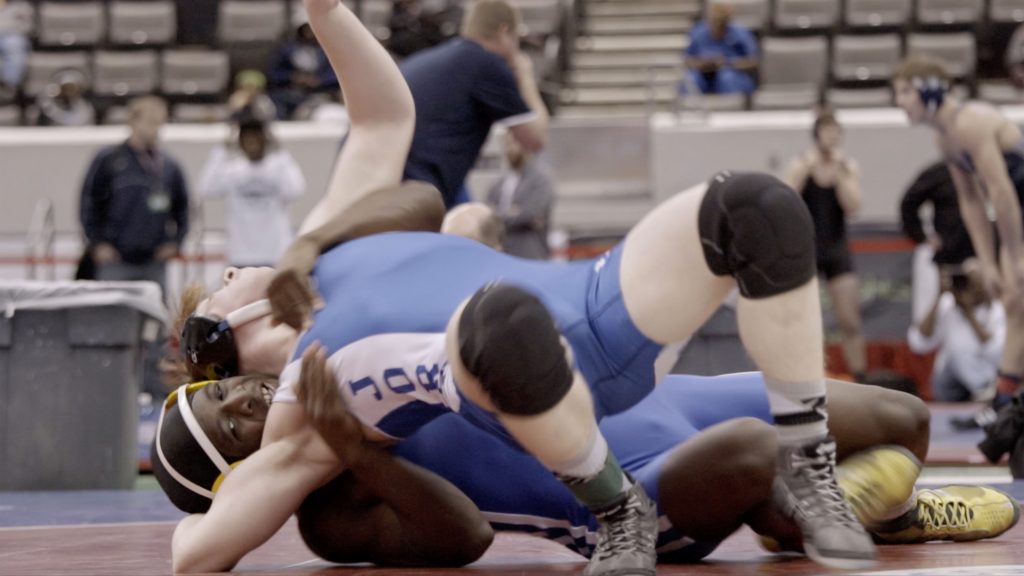 Photos: The back of one of the teens featured in the film, Jailen; a group huddle conveyed with hands; a wrestling match
Photo Credit: Sinisa Kukic
Does Wrestle pass the Bechdel-Wallace test?
Yes, but barely. The film is primarily focused on an all-male wrestling team, but some familial interactions such as those between Jamario's girlfriend Samara and his mother could count.